One-year-old Forest Kanode has spent the entire first year of his life in a hospital.
His parents, Gladys and Casey Kanode, would like to take him home to Bozeman — maybe even in time for Christmas. But they need help to make that happen.
The couple, both sitting on a hospital bed in the St. Vincent Pediatrics Department on Wednesday, took turns holding the toddler as they told the story of their young son's journey.
When Gladys was 37 weeks along in her pregnancy, doctors discovered her unborn child had multiple heart defects. For his safety and hers, she was sent to Children's Hospital Colorado to deliver the baby.
"He had surgery at 7 days old," Gladys said. "And then he had a second heart surgery at 2 months old, and he did great with those."
Forest's heart problems were just part of what he's dealt with. He was diagnosed with a milder version of CHARGE syndrome, Gladys said. CHARGE can affect a child's eyes; heart; sinuses, esophagus and trachea; development; genitals and ears.
"Each one of those things can be either zero percent or 100 percent affected," he said. "That's why CHARGE kids are such a wide range."
The baby, also born with bilateral cleft palate, underwent a third surgery at the Colorado hospital to have a gastric tube put in place to help with his feeding. By the time he was 5 months old, although his heart was healthy, he had suffered four episodes that required CPR.
"Forest would do great for weeks at a time just having a nasal cannula," Gladys said. "But for one reason or another, he would have these events that would (require) him to have CPR, and he'd be fine 30 minutes later."
At that point, physicians didn't feel comfortable releasing the couple to return to Montana with the baby until they were certain his breathing was secure.
Ultimately the couple agreed with physicians that the solution was a tracheostomy, in which surgery creates an air passage that is connected to a ventilator to help the patient breathe. It wasn't an easy decision, Gladys said.
"We knew that getting it would mean the possibility of a longer time in the hospital because of finding home nursing care," she said. "But we both definitely feel it was the best decision for him."
You have free articles remaining.
Keep reading for FREE!
Enjoy more articles by signing up or logging in. No credit card required.
Developmentally after the operation "he skyrocketed," she said. "For other kids who are his age in his position, he is doing great."
He can stand on his own. He'll likely start walking soon. Socially, he's very friendly and a happy baby, Gladys said.
After the surgery, the couple spent another month learning how to do Forest's trachea care. They were transferred to St. Vincent in June.
It's a lot easier making a two-hour drive home to Bozeman than the 10 hours from Colorado, Gladys said. But they'd love to take their little boy home to his bedroom, which is all ready for him, she said.
But therein lies the rub, said St. Vincent pediatric nurse manager Amber Pisk. Since the family arrived in the spring, the nursing staff has been searching for home nursing care for Forest in Bozeman.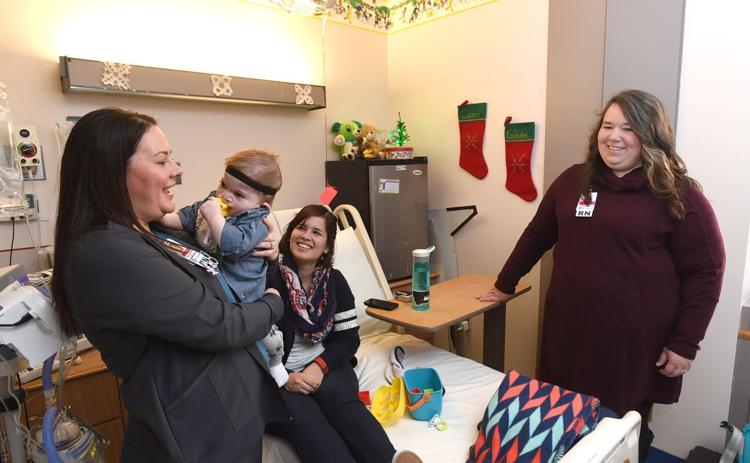 The staff has gone through its normal routes with nursing companies who have helped in the past.
"Sometimes it can take longer just because of special needs," Pisk said. "A lot of people are intimidated, since he's dependent on a ventilator and gastric-tube feedings."
The pediatric nurses thought if they could get the word out, maybe they could help find the right people for the job. The Kanodes agreed to go public with their story.
Both parents are very comfortable caring for their son's needs. They just can't do it 24 hours a day.
"We're looking for nurses that are competent in their skills. We can teach them to work with a ventilator," she said. "We're looking for ones with a kind heart, a willingness to learn and can be there for them in Bozeman."