MOLT — More than a week after a hailstorm bombarded the Big Lake Wildlife Management area northwest of Billings, the bodies of birds still line its shores.
Montana Fish, Wildlife & Parks estimates between 11,000 and 13,000 birds died in the storm.
The bird carcasses are in varying states of decay. Some have been scavenged and others partially buried in displaced vegetation and debris. Birds that appear unscathed are still living in the area, but among them are those whose uneven movements show their struggle with broken wings and injured legs. Divots from hailstones are still visible where icy precipitation the size of baseballs shot into the soft ground.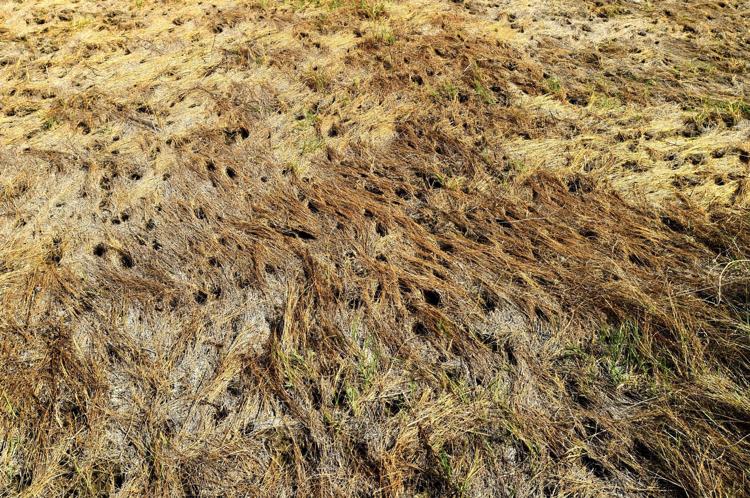 While only a portion of the bird population at Big Lake was killed by the storm, officials are concerned about the potential for the spread of disease and at least one expert wonders whether the severe weather event could become a threatening trend for avian wildlife in the region.
Localized extinction
As the news spread worldwide of the thousands of birds killed by the hailstorm, friends and family made sure the story reached Jeremy Ross, an assistant professor with the Oklahoma Biological Survey at the University of Oklahoma. Ross' research focuses on the effects of severe weather as it relates to ecology.
For Ross, the extreme event holds a place in the broader history of hail's deadly potential.
"The history of hail as a force of nature goes way back," Ross said. "It even had a role in the Hundred Years' War in terms of knocking back the English for awhile because the hailstorm was so severe it was killing their horses, so they took it as a sign of God to take a reprieve."
That incident took place in the 14th century. Hail has continued to claim lives since then, including two hailstorms in Alberta that killed between 64,000 and 149,000 waterfowl in 1953, and a hailstorm in North Dakota that killed an estimated 49,000 birds in 1973.
When severe storms hit small enough animal populations with enough severity it can cause what's called "a localized extinction," meaning a species population in an area is damaged beyond a point where it can recover.
Montana FWP believes that only a fraction of the birds at Big Lake were killed by the storm, although it's difficult to provide an exact number, according to Kevin Rose, the FWP regional wildlife manager responsible for Big Lake. Early information from Montana FWP estimated that 20% to 30% of the birds at the lake were killed or injured.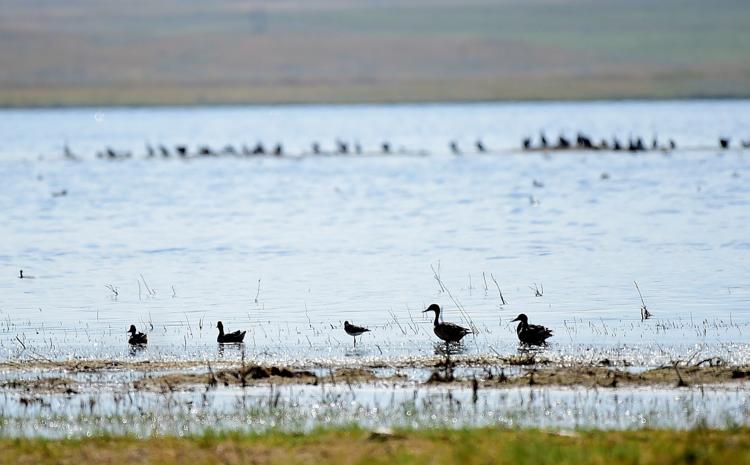 "I would not expect any population-level effects," Rose said. "Yes, a lot of birds died, but again, from a population level it's not catastrophic."
Big Lake is a seasonal lake and wetland used for nesting by ducks, Canada geese, double-crested cormorants, shorebirds, gulls, pelicans and other waterfowl, according to FWP. The lake covers about 6 square miles of land. Documented injuries to the birds include broken wings, smashed skulls, internal damage and other injuries from blunt-force trauma, FWP previously said. Winds at the time of the storm reached 70 mph, and a Washington Post analysis determined that large, irregularly shaped hailstones may have preceded the rain, meaning the birds probably had no warning. Waterfowl typically wind up at Big Lake this time of year for breeding.
"If you go to the lake and look around, you will notice a lot of broods (family groups with juveniles) on the lake," Rose said. 
Ross, the ecology researcher, pointed to concerns beyond a localized extinction that could still have an effect on the bird population that frequents Big Lake. 
Thin bones and a lightweight skeletal structure, along with the critical need to maintain intact feathers, also factor into the vulnerability of birds when it comes to hailstorms. Another factor in the risk injury poses to birds are their high metabolism, which requires more frequent feeding than mammals and cold-blooded animals, Ross said. Even birds that survive without physical injury can face health issues related to the stress of the event.
"If you have a fractured wing, especially at this time of season, there's no escaping that. There's no surviving a broken wing if you need to migrate out of Montana," Ross said.
Shifting weather
Forecasters with NWS Billings said the storm had characteristics more in common with something that would be seen in June. Waterfowl are adapted to the weather patterns. But if those patterns begin to shift, issues can arise for the animals, Ross said.
"The greater concern is the stretching of seasons and the geographic distribution of hailstorms."
If the hailstorms begin stretching into the breeding season or hit areas where birds were previously untouched, the effects can begin to add up. Already the animals have increasingly lost valuable habitat to development, according to Ross.
"With this hailstorm, tens of thousands of birds sounds like a lot, but with the global population of these species it can probably be absorbed," Ross said. "But if this is happening year after year range-wise, then those populations can start to incrementally decline."
You have free articles remaining.
"It's not one event, it's a series of events: habitat loss, drought, fragmentation. This is the concern," Ross said. "If that same event happens next year, maybe in that same region, maybe not even at the same lake, to some effect across all these individual events, it's akin to death by a thousand cuts."
Experts attending a 2018 conference at the National Center for Atmospheric Research in Boulder, Colorado, pointed to a need for more data to better understand the relationship between climate change and hail, according to the Associated Press.
One expert told the AP climate change will likely lead to fewer but more severe hailstorms.
There are indications that to some extent pollution is affecting the size of hailstones, Ross said. Pollutants can interfere with the processes under which hailstones form, leading in some cases to smaller hailstones but more of them, Ross said.
Big Lake
In describing the Big Lake area, Yellowstone Valley Audubon Society President Steve Regele settles on the word "jewel."
"I'm sure it is the single best place within 30 to 50 miles of Billings to go to for waterfowl and shorebirds," Regele said. "I mean it's world-class for waterfowl and shorebirds."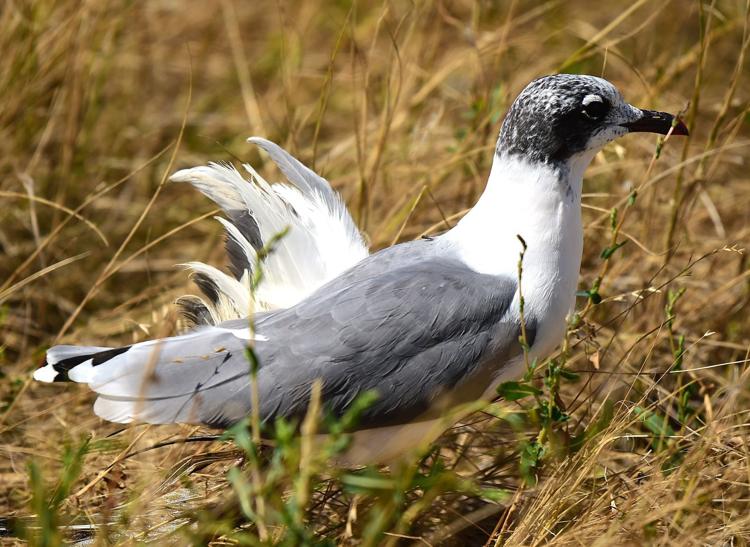 Big Lake per his description is part of a large basin stretching south of Rapelje down to Molt. Within the Big Lake basin is one of multiple playas, or basins from which water evaporates quickly. The Yellowstone Valley Audubon Society makes multiple trips a year to Big Lake and the surrounding area.
"Anytime we go out there in that basin area between the variety of hawks and eagles and grassland birds and waterfowl and shorebirds, we'll come home after half a day with anywhere from 40 to 100 species on our list," Regele said.
Other animals live in the area, which includes a geographic feature called Rattlesnake Ridge. FWP has gotten some reports of antelope killed by the hailstorm, Rose said, adding that small wildlife were probably also affected by the storm.
Regele guessed that it wasn't just waterfowl that the storm killed or maimed.
"They're a little easier to find because they get blown across the shore, but there are an awful lot of grouse, and I'm sure grassland birds that also took a big hit from this hailstorm," he said.
Further to the northwest near Rapelje is the Grass Lake National Wildlife Refuge, another area rich with birds and wildlife. Wildlife there appear to have been unaffected by the storm, said Paul Santavy, the U.S. Fish and Wildlife Service manager for the refuge.
"We did not experience any sort of hail-related injury or mortality to water birds," Santavy said Wednesday. "There's several thousand shorebirds and water birds out there right now."
Continuing concern
The wind and storm surge blew many of the birds killed by hail onto land. Others left in the water were fished out by FWP staff members and taken to shore.
For Big Lake the plan going forward for FWP is to continue monitoring the area for concerning developments related to birds decaying in the water. A small section of dead birds has been cleared along the shore of one body of water in the area so that Rose and other FWP staff members can track the appearance of new carcasses, but the vast majority of dead birds will remain on shore.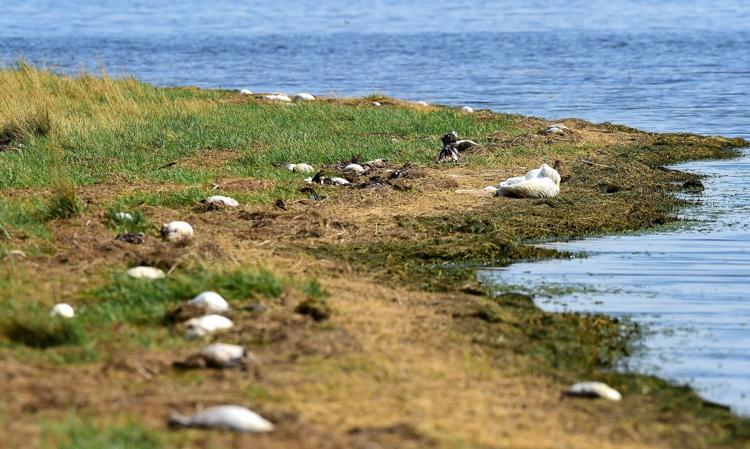 "That would be a monumental task, and quite frankly that would not have any real biological impact on the potential for disease," Rose said of clearing all the carcasses.
The immediate risk for wildlife in the area is that birds decaying in the water will create a flush of nutrients that could lead to a blue-green algae bloom or allow botulism to take hold. That could then kill more birds, which could lead to more potential for decaying carcasses in the water producing more nutrients to further feed the dangerous conditions.
"What we would do is try and get as many of the dead birds out (of the water) as possible because it becomes kind of this snowball rolling downhill," Rose said.
But Rose cautioned that such a scenario wouldn't carry on indefinitely because other conditions like high heat are necessary. Fall temperatures should help on that front.
"If there are birds that are submerged in the lake, we have no way to find or remove them," Rose said. "We certainly cannot say there will not be any kind of disease issue from this. At this point there's not a whole lot to be done besides monitor."