Ross Kasun, a New Jersey superintendent, has withdrawn as the next superintendent of Montana's largest public school district. 
Jeana Lervick, a lawyer who represents the Billings Public Schools, said Kasun withdrew his name because of family reasons. Kasun reportedly had school-aged children and didn't plan on having his family locate to Billings.
In interviews with trustees, Kasun had cited wanting to work in the Mountain West because one of his children is considering attending college in the region. 
The job offer will now go to Upham, Helena's second-in-charge. Upham was passed over for superintendent jobs in Helena and Billings. 
Upham told the Gazette he's still interested in the job. 
"I am interested in the job, and I look forward to the conversation when and if it comes from the board," he said Wednesday afternoon.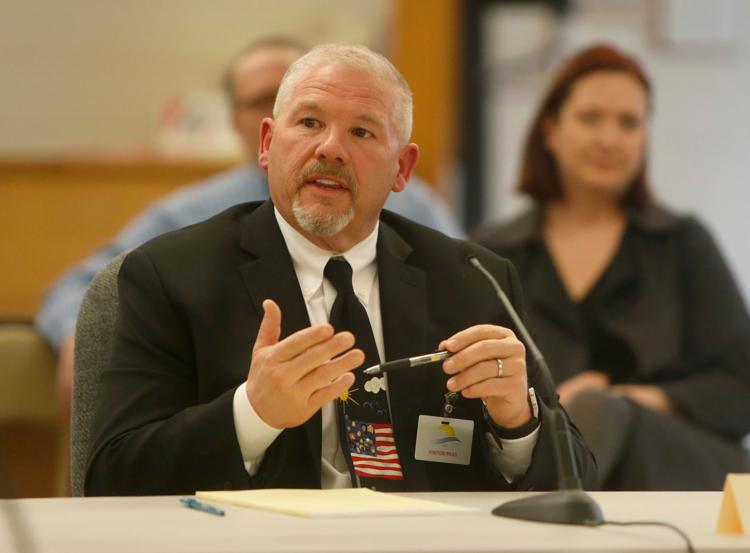 Lervick said the district was already reaching out to Upham to gauge his interest. Upham said he hadn't heard from the district yet, but that he'd been out of the office for much of the day. 
If Upham were to decline, the district may look at several options, including appointing an interim superintendent while it searches again. Current Superintendent Terry Bouck is scheduled to retire at the end of the school year, and has announced his candidacy for the Montana House of Representatives. 
"This news is still very new to the board members, and they are just now exploring the options," Lervick said. 
Trustees were notified individually Wednesday afternoon. 
"We're very hopeful Mr. Upham will consider our offer," Lervick said. "The board went around and around about both candidates, and we were very fortunate to have both." 
Lervick said the conversations between the board and Kasun had not even progressed to specific discussions of compensation and benefits.
You have free articles remaining.
Keep reading for FREE!
Enjoy more articles by signing up or logging in. No credit card required.
"He came to the conclusion that it just wasn't the right time for his family," Lervick said. "I am grateful that he came to that conclusion at this point rather than down the road."
Kasun had positioned himself as a "change agent" who, when asked about why he wanted to come to Montana, said that he believed Billings could become one of the best school districts in the nation. Trustees bought into that vision. 
"Things change, and we have to move to the next level," said trustee Janna Hafer during the April meeting when the board selected Kasun. 
Upham
In the vote selecting Kasun, trustees Gordon Klasna and Mike Leo dissented, arguing in favor of Upham. Trustee Tanya Ludwig also advocated for Upham, but she abstained from voting because she didn't attend all interviews. 
Klasna cited Upham's experience with existing priorities for Billings schools, like implementing professional learning communities and raising ACT scores. 
In his semi-finalist interview, Upham, like Kasun, positioned himself as a change agent, highlighting initiatives in Helena like expanding access to Advanced Placement classes and the establishment of a career-focused pre-apprenticeship program.
But he tempered that perspective in his finalist interview. 
"This is not a change-type position that you're looking for," he said. "It's to support the good work that's going on."
Trustees asked him why he thought Helena selected a Texas administrator over him this spring for that district's superintendent job. 
"I think there was some pushback on the PLCs (professional learning communities)," Upham said. "I think that was it, I really do. ... Maybe the rollout was too fast."
Upham was the only Montana educator in the district's semi-finalist pool, and he emphasized how home-state roots could benefit Billings. He had a strong endorsement from former SD2 superintendent Jack Copps, who has served as Helena's interim superintendent. 
Upham said he's kept tabs on Billings initiatives and worked with current district administrators.
"I know there's a strong appetite here for academic achievement," he said.