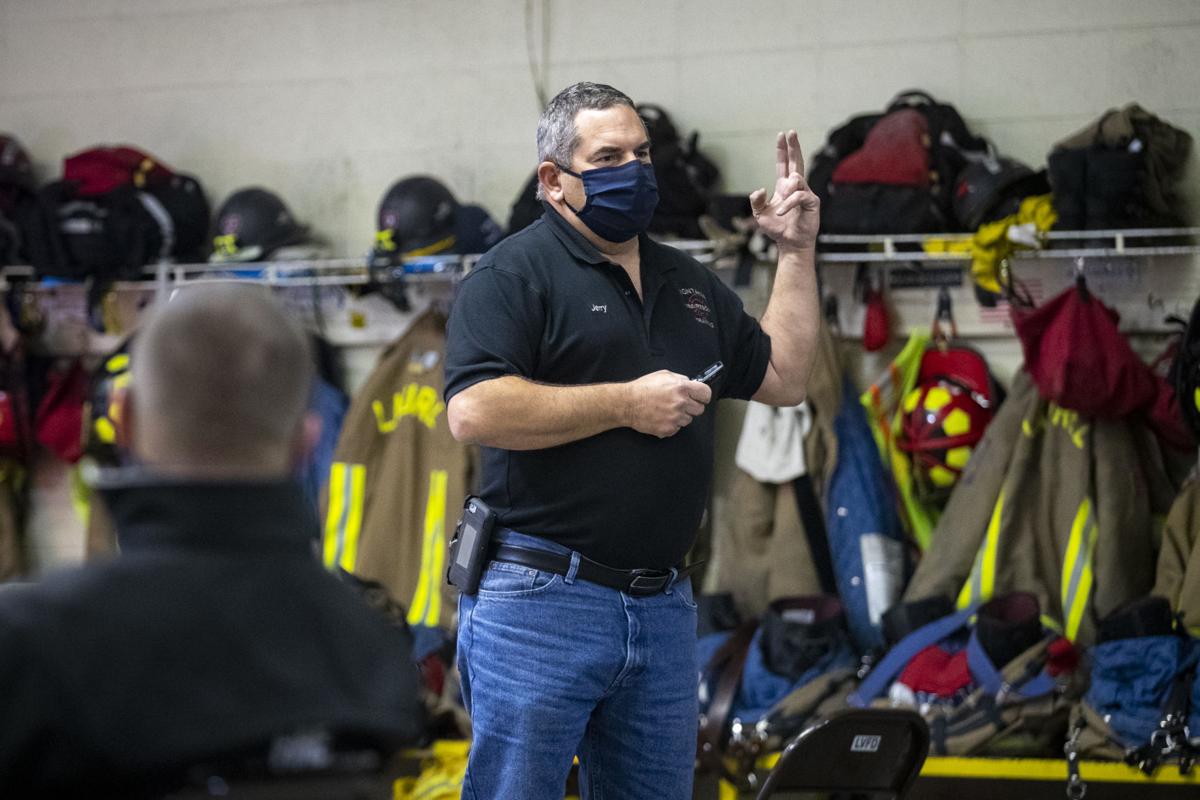 In four hour increments, Jerry Prete and a group of volunteers are trying to get first responder agencies in the state to think about how to more safely respond to traffic incidents on the state's roadways.
Prete, a longtime firefighter and manager for the MSU Fire Services Training school, is the state coordinator for a federal program known as Traffic Incident Management or TIM. That program, in Prete's words, is a federally administered program to teach first responders how to work safely on the highway, provide safe passage to the motoring public and reduce interruptions to the flow of traffic.
Prete and other volunteers work for free, hosting training sessions across the state that run about four hours. He said that a phone call or an email is all it takes to get the ball rolling on finding a time to schedule a class.
"The program is to show them the areas we know have created issues with us interacting with the public," he said.
Alongside those issues, there are the risks from who Prete calls "D drivers." 
They come in five different types—distracted, drunk, drowsy, drugged and dumb. Prete said that distracted drivers pose the greatest risk, and that distracted behavior in many cases comes from cell phone use.
These factors not only make the work of first responders harder to do, but more dangerous as well. 
The Centers for Disease Control and Prevention reports that 49% of all EMS provider fatalities from 2013 to 2018 were related to car crashes. Between 2008 to 2018, 109 firefighters died as a result of car crashes. And from 2005 to 2016 31% of all line-of-duty deaths for law enforcement came from car crashes. Those crashes caused the deaths of 564 law enforcement officers in the U.S.
A summary of the study on the Centers for Disease Control and Prevention website notes that death rate is more than 15 times the 2.8 deaths per 100,000 population for all U.S. private industries combined.
The leading causes of death for the years reviewed were motor vehicle accidents, followed by contact with objects and equipment.
"Motor vehicle incidents frequently involved workers on the side of the road being struck by passing vehicles," the summary of the study says.
Prete described how his approach to the training isn't to dictate exactly what agencies should be doing, but to instead challenge them to reconsider their practices from different perspectives including, for example, that of a driver passing through a crash scene.
"I say, well last time you were carrying a patient out of a ditch did you have to look down so you could actually see because your lights are blinding?" Prete said. Which then leads to the question "What do you think those lights are doing to the cars that are driving through?
Prete, who is based out of Miles City, described the course as "augmenting" some of the training that responders may already have. When multiple types of agencies show up for a training an opportunity arises to think through how to best work together and ideas for improvement can be exchanged.
In recent years Prete said he has emphasized a strategy he picked up in Wisconsin for dealing with vehicles that have gone off road and into the ditch during icy weather. If conditions remain unsafe and likely to be a danger to responders because of the potential for other crashes, Prete advises responders to leave the vehicle where it is, transport the driver to a nearby safe location like a hotel, and wait until traffic is lighter and it's safer to remove the vehicle. For some, that runs counter to their typical approach of moving the vehicle immediately, even in bad conditions.
In Stillwater County, where shaded portions of the interstate can lead to ice and quickly multiplying crashes in bad weather, Prete has learned of a truck the county uses that has both a sander and a reader board on the back warning of a crash ahead and if a driver should move over left or right. 
The county has found the truck effective, which can help conserve resources that can run thin when bad weather strains first responder groups. 
New approach
Prete has also had the opportunity to discuss new experimental roadside signage developed in Montana to offer drivers the additional instruction on where to move over. Those signs, used by Mr. T's Towing and Repair in Bozeman on the top half say "Slow Down" and on the lower half say "Move Over" with an arrow indicating which lane. Which lane drivers are asked to move into can be adjusted using Velcro. 
The sign is simple, but Prete said described its remarkable effectiveness. The towing company has been putting a "wrecker ahead" sign up, then another 200 to 500 feet after that the experimental sign. 
Terry Morrison is the owner of the towing company which got permission from the Department of Transportation to use the experimental signs, according to Prete.
"With no cones or anything else he's getting almost 98% compliance of everybody moving over and staying in that lane and not having to do anything else," Prete said. "Because we've told them (drivers) there's a problem and we've told them what we want them to do."
He added that "If you think about it that's all people ever want to know. What's going on and what would you like us to do?"
"The biggest thing I talk about, especially with the interstate, is you have to give them proper advanced warning. You can't give them 500 feet from whatever the normal flow of traffic is irregardless of the weather to really slow and (merge) all in one lane. You can't do that in 500 feet, it doesn't go well," Prete said. 
The other consideration is whether or not a sign warning of an incident ahead is placed too far away. If drivers are given too much advance notice, some will ultimately move back over before they reach the incident. In other cases drivers will see the sign but not know what to do, which is why the extra direction, like displaying which lane to move into, can be effective.
Spreading the word
Prete estimated that about 50% of first responders in the state have received the training, including 700 to 850 in this year, despite a three-month period in which no classes took place. He's hopeful that an upcoming "train the trainers" event will create more instructors that can reach more agencies.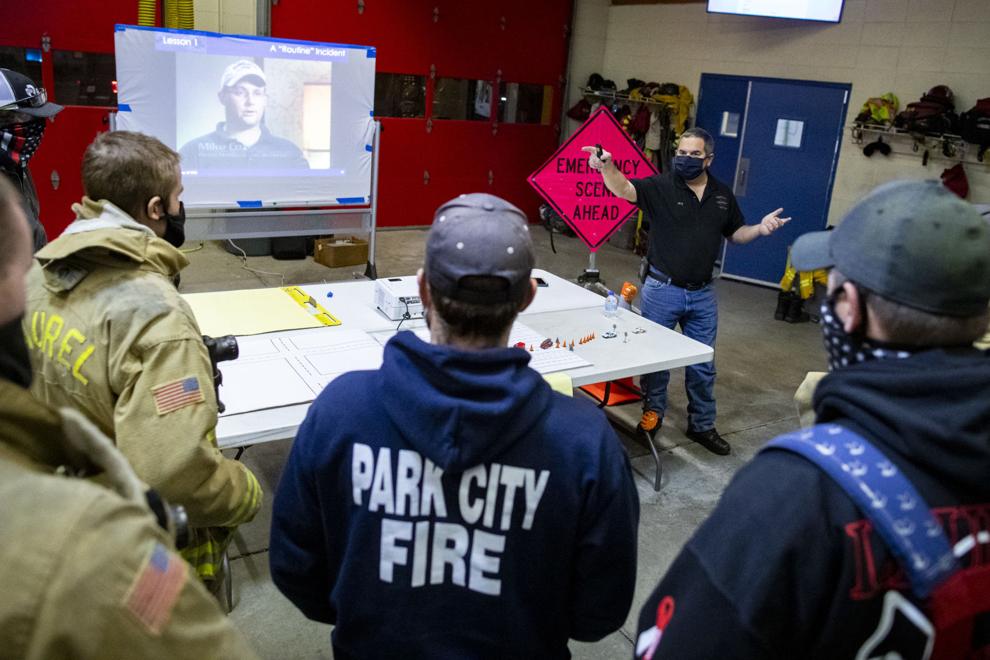 Some of the basic principles that Prete communicates are the importance of warning the public of an incident up ahead, channeling drivers to a specific spot and taking precautions, in many cases using large fire department trucks, to protect a scene from possible impact by drivers. 
Of course, class doesn't always go off without a hitch. A recent training at the Laurel Fire Department was quickly interrupted by a call for service. That's not unheard of when dealing with professionals who can be called out on a moment's notice. Even things like wildfire season can create hurdles for scheduling training classes.
Another benefit of the ongoing classes is to build connections for what Prete ultimately hopes can lead to a group of people representing different first responder groups coming together to come up with a plan to enact meaningful change, hopefully through the state legislature. 
The specifics of what that change could look like will have to do with the conversations and feedback given, but Prete said he believes more needs to be done beyond strengthening fines for people violating traffic safety laws related to first responders.  
One way to build the case for change is through better data collection. It's not unheard of for a responder vehicle to be damaged while dealing with an incident on one of Montana's roads, but for that incident to never make it into the public eye because no one was hurt or killed. Even some tragedies that are made public can be overlooked by people. Prete pointed to the fact that some people remain unaware that two EMTs were killed in Montana in 2019 in traffic incidents. 
Prete and Beth Rehbein manage the Move Over Montana Facebook page, which is aimed at raising awareness of roadside risks to responders in the state. Prete said that Rehbein's husband, a law enforcement officer, has been hit twice in the last five years. 
After Hanser's Automotive tow truck operators Casie Allen and Nick Visser were hit and killed by a truck while trying to remove another truck from I-90 in icy October weather, Prete said the interest in traffic incident management training has increased, along with support for trying to improve the safety of first responders working on Montana's roads. 
"Unfortunately, in most occupations, what drives change is tragedy," he said.
"Not only did that night out on that Friday night affect Montana, but it happened all over the United States that night," he said. "It was amazing. Now is the time. We're coming into the legislative session. We need to get our ducks in a row and figure out what we're going to do going forward."
First responders are our community's unsung heroes. Here are ten exceptional first responders, nominated by you, who were selected by a panel …