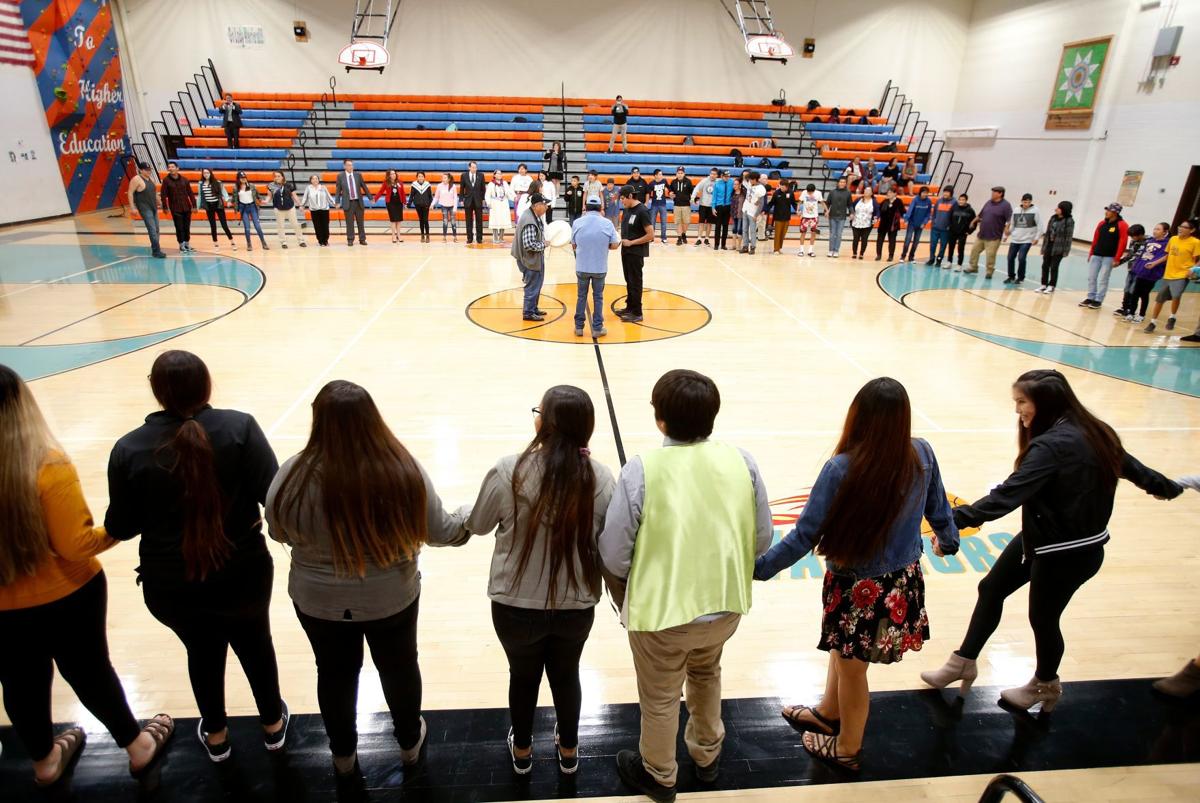 It's not often Secretary of Education Betsy DeVos' right-hand man rolls into Montana, much less Billings or Pryor. 
Mick Zais, a former U.S. Army brigadier general and South Carolina education superintendent, toured Pryor public schools and Skyview High on Tuesday as part of a series of trips federal officials are making. 
The trips offered a wide-ranging snapshot in both a rural and an urban school.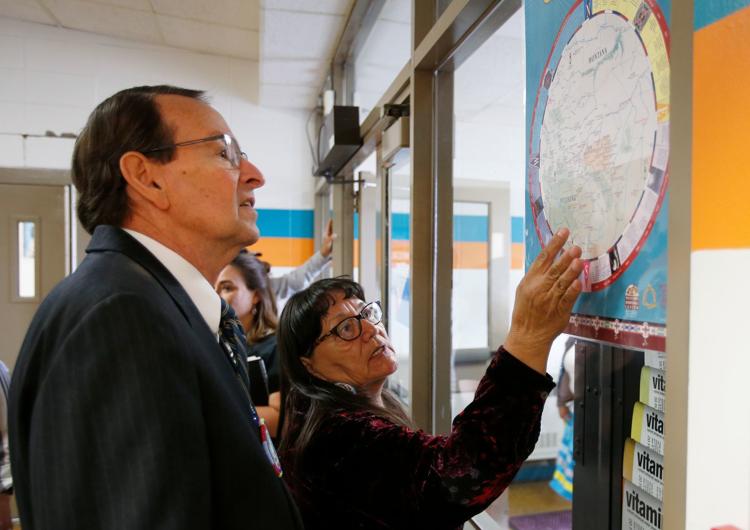 He lauded cultural initiatives at Plenty Coups High School and toured buildings that school officials fear might not last through the year. At Skyview, he emphasized alternatives to college and visited a class where students can earn college credit. 
Between applauding schools' efforts, he stuck to his GOP guns, advocating for a smaller federal role in education regulation and limited federal spending.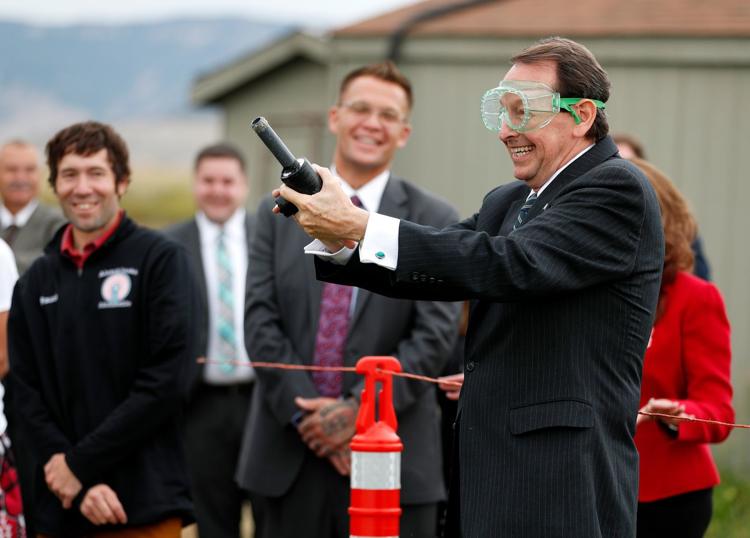 While administrators at both schools advocated for their priorities, Zais said that the trip was about highlighting what schools are doing, not taking lessons back to Washington D.C. to blend into federal policy. 
"All federal policy is top-down driven, one-size-fits-all," he said.  
Zais also emphasized the importance of career education and pathways other than four-year universities, even while speaking to a group of students in an Advanced Placement class where they can earn college credit. 
"One of the things you'll hear from your teachers, well-meaning and well-intentioned, is that 'you've got to go to college,'" he said, with a nasally, nagging emphasis on the latter section. He called the idea "unfair and untrue," citing trade industries, two-year degrees, and the military, and said that early career exploration is critical. 
That career exploration support resonated with Billings Public Schools superintendent Greg Upham, who has advocated for introducing students to tracks plotting out high school courses that would point students toward specific careers. 
"It's right in line with some of the moments that are going on in D.C.," he said. 
Potato guns and leaky roofs
In Pryor, Zais and Superintendent of Public Instruction Elsie Arntzen were honored with gifts, took part in a round dance and observed the Crow Flag Song. Zais shot off a potato gun outside, where students were using the starchy projectiles to study velocity. He chatted with kindergartners and applauded teachers' work.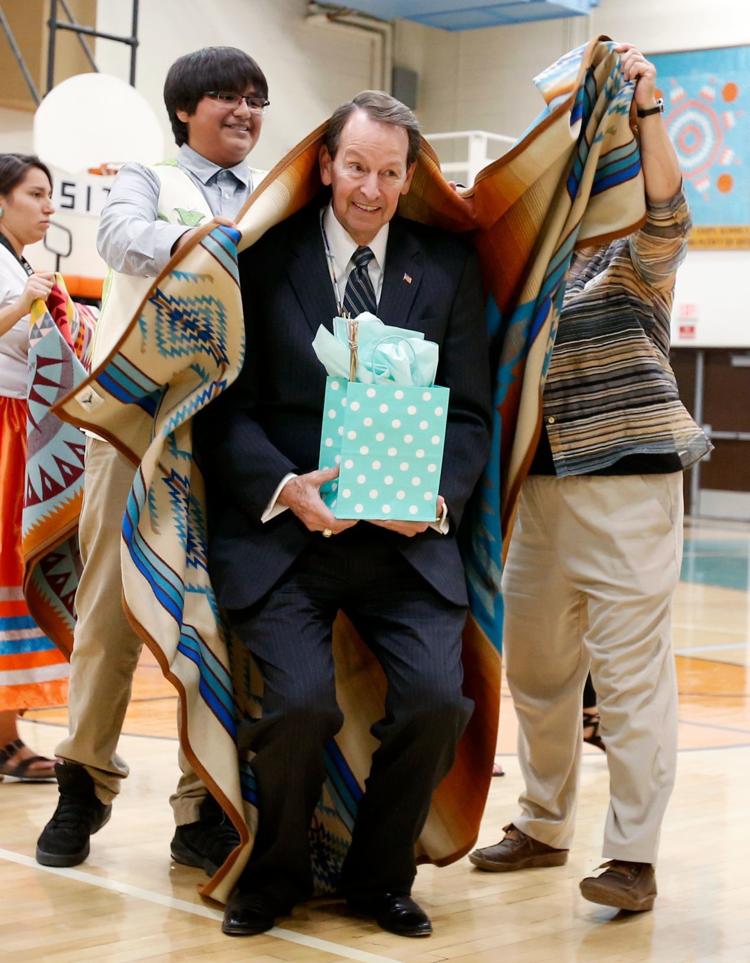 But he also got a full dose of policy issues that affect schools like Pryor, which is one of the lower-performing schools in the state. In Montana, the lowest-performing schools are generally isolated reservation schools.  
"There's nothing to sugarcoat. We are in the beginning stages of a turnaround," said new superintendent Coul Hill. 
As the school year approached, the district had no kindergartners enrolled and had no kindergarten teacher hired. So the district took advantage of a state law that allows them to enroll 4-year-olds, ramped up outreach, hired a teacher, and now has 13 kindergartners enrolled. 
Other obstacles could be more formidable. The district put about $35,000 into the K-5 school to get it operational for this school year, but underlying problems like a leaky roof remain. 
"That building is at the end of life," Hill said. "We will be fortunate if we are able to finish the year with it."
Funding for a new structure is tricky for a community like Pryor, which has an exceptionally small tax base. The district is looking at grant options and other financial means, but Hill also emphasized the importance that federal funding plays in Pryor's operating budget, specifically through Impact Aid.
The district has also made strides; it's purchased new Chromebook laptops and is building its first website. Shop classes got new tools, and the high school program hopes to build a house as a year-long project that will serve as teacher housing when completed. 
School board chairman Sampson DeCrane emphasized the importance of the federally funded after-school program 21st Century.
"We don't have a Boys and Girls Club. We deal with alcohol and drugs, meth," he said. "That 21st Century program, that's a saving grace."
Pryor is only a few years removed from participating in Schools of Promise, a state school turnaround program administered using federal money allocated under the Obama administration. The program wasn't mentioned during the visit — rather, officials talked about the work still to be done to shift student achievement. 
Zais said that federal grants like the one Pryor previously participated in aren't the solution. 
"The federal government doesn't have the money," he said, continuing to advocate for a reduced federal role in education and saying that state governments need to take the lead on education funding. 
The day at Pryor began and closed with statements from Perry Rock Above, the father of Plenty Coups High principal Bianka Rock Above — herself a Plenty Coups graduate. 
"Our leaders, from way back, they advocated to educate," he said. "We're proud of this school, as a community."
---
Photos: Deputy Secretary of Education Mick Zais visits Pryor schools
Get local news delivered to your inbox!
Subscribe to our Daily Headlines newsletter.