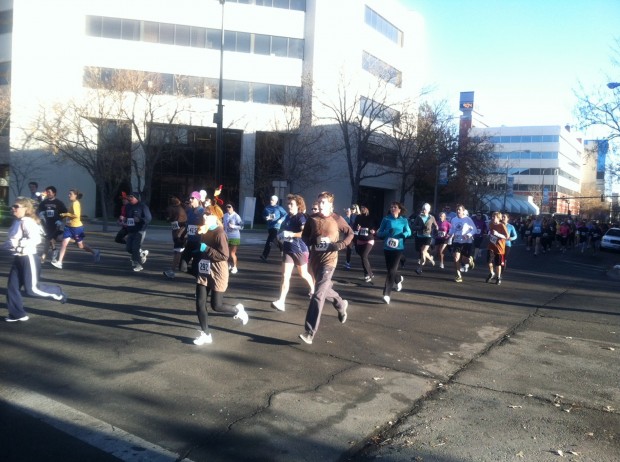 Billings' first Thanksgiving Day race event generated more than $14,000 for the Billings Food Bank, organizer Kelly Fulton announced Thursday.
"We wanted to break even and give away a little money," Fulton said.
But nice weather and a flurry of last-minute registrations helped the Run! Turkey Run! Street Mile Dash and 5k Road Race attract just shy of 1,800 people, including volunteers.
"We were shooting for 300," Fulton said. "We ended up having to order 600 extra T-shirts and 500 pint glasses."
He initially ordered 1,000 of each, figuring he'd have plenty left over to use at this year's run. Those who didn't get a T-shirt can pick one up at Time Out Sports, he said. On the day of the race, so many people were registering that volunteers were writing the racer's bib number on their registration form and hurrying them to the starting line.
Sheryle Shandy, executive director of the Food Bank, was impressed with the $14,393.22 check the race organization wrote to the Food Bank after its first event.
"That's a significant amount, because I realize that it costs a lot of money to put on a race," she said.
True. Fulton said the event brought in about $41,000, but over half went to overhead costs such as portable toilet rentals, a city permit, a timing service and the sound system. As seed money for next year's race, $2,500 was set aside.
Another $500 was paid back to the Yellowstone Rimrunners club for footing the bill for the race's insurance.
"On average we charged $20 per runner," Fulton said. "We were able to give $9.48 back to the community. The other $10.52 was the cost."
The check to the Food Bank will help with the organization's annual expenses of about $541,000. All told, the facility hands out about 9 million pounds of food a year with only 2 percent of the facility's total expenses going to administration, which includes heating and lighting bills.
The donation comes as the Food Bank is preparing for Friday's Twelfth Night event, one of the nonprofit's three annual fundraisers, which will feature food, music and a cash bar.