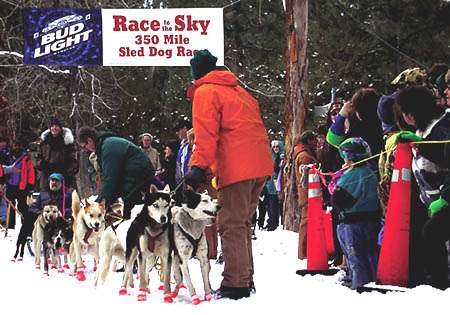 LINCOLN (AP) – Twenty-three sled dog teams and their mushers started the 17th annual Race to the Sky sled dog race here Sunday at noon.
MARTIN J. KIDSTON/Independent Record One of more than 24 teams gets ready to head into the Montana backcountry on the 350-mile Race to the Sky in Lincoln, Mont. Sunday, Feb. 10, 2002.
Harry Lambirth of Black Duck, Minn., was first to hit the 350-mile trail. The other teams followed last year's runner-up, three minutes apart.
Top names in the race include five-time Iditarod champion Rick Swenson of Two Rivers, Alaska and John Barron of Helmville, a two-time John Beargrease Sled Dog Marathon winner. The field also includes 81-year-old Dave Armstrong of Helena, who hasn't run a Race to the Sky for seven years.
The course runs from Lincoln through the Lolo National Forest to Holland Lake Lodge and back, with checkpoints at the White Tail Ranch outside Ovando, Holland Lake and Seeley Lake before returning to Lincoln.
The winner should cross the finish line at Hi-Country Beef Jerky sometime Tuesday.
The teams returned to the starting point late Sunday night, finishing the first leg of the race.
Copyright 2002 Associated Press. All rights reserved. This material may not be published, broadcast, rewritten, or redistributed.
Get local news delivered to your inbox!
Subscribe to our Daily Headlines newsletter.