A U.S. District Court judge has ruled against a polygamous trio who sought a marriage license two and a half years ago in the wake of the U.S. Supreme Court's ruling on gay marriage.
Nathan, Vicki and Christine Collier filed their lawsuit in federal court in August 2015 after Yellowstone County denied an application for a marriage license between Nathan and Christine, his second wife.
Nathan, 49, and Christine, 41, had a religious wedding ceremony in 2007 but did not apply for a civil license in order to avoid bigamy charges, Nathan previously told The Associated Press.
Nathan married his first wife, Vicki, 45, in 2000 and owns a refrigeration business with her.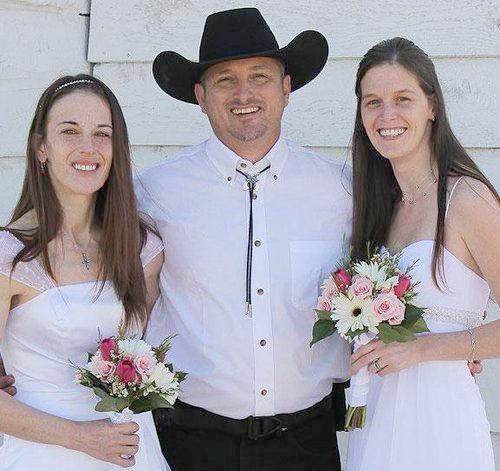 In findings and recommendations filed Feb. 22, U.S. Magistrate Judge Timothy Cavan found that Nathan and Christine Collier do not have standing to challenge the state's bigamy laws. Judge Susan Watters adopted the findings Friday.
The Colliers had cast their complaint as a marriage equality issue, saying they were inspired to seek a marriage license for Nathan and Christine after the U.S. Supreme Court legalized gay marriage in 2015.
The Colliers named Gov. Steve Bullock, Attorney General Tim Fox, Yellowstone County Attorney Scott Twito and Yellowstone County Clerk of District Court Terry Halpin in their complaint.
The Colliers' attorney, Elinor Swanson, described the Monday ruling as a win because it provided clarity to polygamous families across Montana.
"I believe all of them will be breathing a sigh of relief to know that they're safe now from prosecution," she said in a joint interview with Nathan Collier. Vicki and Christine Collier were unavailable for the short-notice interview.
Swanson, who is a Libertarian candidate for Montana's lone U.S. House seat, insisted the ruling was a win for the Colliers, despite the fact that the judge ruled against them and did not grant the orders they'd sought. (The Colliers had asked the court to make a ruling that the state's bigamy laws violate the First and Fourteenth Amendments to the U.S. Constitution.)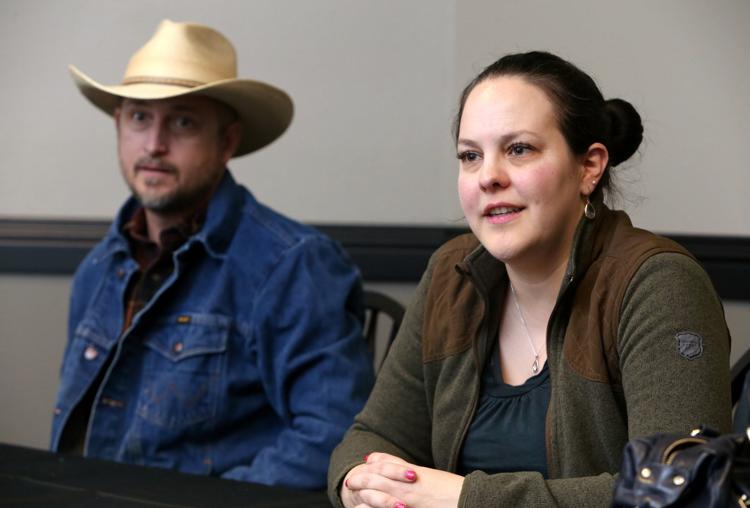 They have no plans to appeal, she said.
But the state's position from the start has been that the Colliers haven't broken bigamy laws simply by living together. And the family offered no proof that they were threatened with prosecution, Cavan wrote in his findings.
Cavan wrote that the case presented the "unusual situation" in which the state said the Colliers' conduct was not criminal but the Colliers insisted it was, and unfairly so.
"The State Defendants have taken the position that Nathan's and Christine's declaration to be husband and wife, without the accompanying possession of a state-issued marriage license, is insufficient to violate the Montana bigamy statutes," Cavan wrote.
The Colliers argued the state's bigamy laws prevented them from sharing finances and jointly raising children as they wished, but Cavan's findings found no evidence the law infringed on any fundamental rights. 
You have free articles remaining.
Keep reading for FREE!
Enjoy more articles by signing up or logging in. No credit card required.
The findings noted there was no evidence in either of the Colliers' romantic relationships of dishonesty, coercion, fraud, abuse or violence.
The Colliers moved to Lockwood from Utah in 2004. They were excommunicated from the Mormon church in Billings in 2010.
"The missionaries had come to my house and wanted to talk to us," Nathan Collier said. "I introduced my wife, Vicki, then I introduced my wife, Christine. And when I did that, well, they left like the building was on fire."
Nathan has since become an atheist, while both his wives are Catholic, he said.
"Although they're probably not considered good Catholics," he said.
The women were "shunned" by their churches for practicing polygamy, Nathan said, but continue to practice their faith independently.
In 2015 the family was featured on "Sister Wives," a reality television show about polygamous relationships.
Currently, Vicki Collier lives in Lockwood and Christine Collier lives on a ranch in Roundup that the family purchased last summer. They have been raising their collective eight children together.
Last year, Nathan Collier sought to adopt Christine's children from a previous relationship but was denied.
"We've never gotten a dime of child support from their father," Nathan Collier said. "He's had no contact with them at all. I was good enough to take them in. We raised them, we provided for them, we've cared for them. But I can't adopt them because my family looks different from yours? So as long as my family is denied the right to exist as a family, my fight will go on."
Nathan Collier said his family was not trying to promote polygamy, but the basic belief that individuals, and not the government, should be free to determine what their family looks like.
"I don't want to encourage anyone to enter into plural marriage," he said in a text message after an in-person interview. "It's actually quite difficult to balance."
Attorney General Tim Fox applauded the ruling in a press release issued Monday.
"Polygamous marriages are illegal across the country, and Montana is no exception," Fox said, in the emailed statement. "This ruling upholds the institution of marriage as a legal union between two people."
Twito said his office was pleased with the court's decision to adopt Cavan's findings.
"We think that the opinion is correct because it follows state and federal law, and so we're pleased with the outcome," he said.