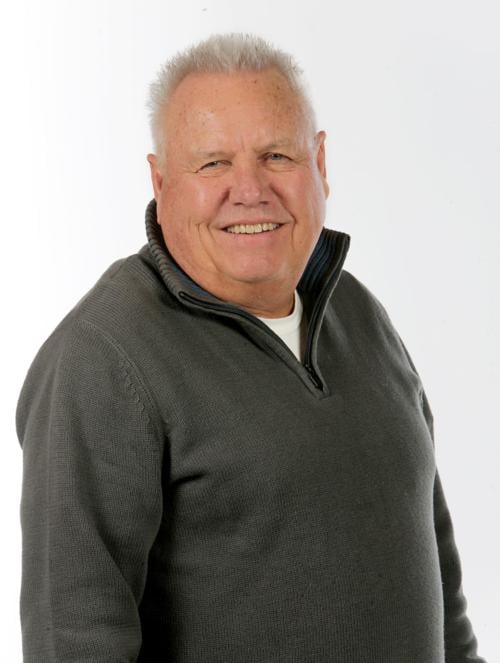 Gary Burrow was in the U.S. Navy from 1966 to 1970. He graduated from high school in California and completed basic training at Great Lakes Training in Illinois. This is part of his Vietnam story. For the complete interview, please go to billingsgazette.com/Vietnam.
Gazette: When you joined the Navy, was Vietnam even on your radar?
Burrow: "Not really. It was kind of just getting going. ... Part of the reason I went into the Navy was that my family was pattern makers, so they built tooling for metal castings. That was three generations ahead of me doing that. The Navy is the only armed services that had pattern makers. I thought I'd get pre-training for that. I had worked in the business for summers for years. (The Navy) had other thoughts — that I fit the damage controlman pretty well."
Gazette: What is that? What does that do?
Burrow: "You handle all the areas of the ship if there's a catastrophe — fire, flooding, pipes breaking, nuclear disaster, chemical, whatever."
He went to training in Philadelphia for four months.
Burrow: "In training, every time they'd put you through a new scenario, they'd just put you in and say, 'This is what it is,' and say, "Go do it.' They'd tell you how to turn the oxygen-breathing apparatus on or the fire hose on, and you went in there not knowing how to do any of it. Then, they'd show you how to do it properly.
"You'd do one sequence for a week or two and then you'd move on. They had a simulation of a ship's compartment on a pipe and they'd start flooding and you'd start tipping like it was going to capsize and you had to get it plugged before it was capsized."
Gazette: Was it what you wanted?
Burrow: "It wasn't so bad. It could get kind of scary. You knew you were safe there, but you were trying to figure out what to do and how the equipment works. You'd lose it on the first go-'round and you were supposed to save it by the end."
He was assigned to a ship in San Diego, a landing-ship tank that had spent two years in Vietnam and had come back.
Burrow: "We were called the 'Gator Fleet.' We'd come up on a beach with our bow doors open, and we'd drop a ramp and the tanks or supplies drop off. The ship I was on at that time was built in 1943, and so there was nothing modern about it. I spent a year on there and had a senior first-class damage controlman, and he liked what he saw in me and he took me under his wings and he pushed me to move forward and how to run a department.
"And so in 18 months, I was an E5, second class and as soon as I made that, I was transferred to another LST that was home-ported in Guam. ... I got checked in ... came to the ship to go onboard, and all I know was that I got assigned. I came to the quarterdeck to check and there's a senior chief there, standing. He looks at my orders and says, 'Man, it's about time you got here.' I said, 'What are you talking about? I am right on time for what my orders say.' He says, 'You're relieving me.' I said, 'But you're a senior chief, and I am brand-new second-class petty officer.' He says, 'Right. You just inherited a whole repair division on this ship.'
"Two months before my 21st birthday and I am in charge of an entire repair division on a ship which is everything on the ship other than the electrical and engines ... plumbing, decking, rust problems. ... He said, 'I have two more hours on watch, and then I'm out of here.' Luckily, it was just like the ship that I had just spent a year on."
Burrow had three others on his crew. They were ported in Guam for about three weeks after Burrow arrived. Then, they went to Vietnam for six to eight months.
Burrow: "We went over there and basically started running supply duty from Da Nang to the Cua Viet which is right on the demilitarized zone. We would come up, unload in Da Nang during the day, steam all night and about dawn, we were ready to head up the river. You'd go up the river about half-mile and make a 90-degree turn and pull into a sand ramp there. You'd drop your bow doors and start off-loading supplies.
"On the upriver side, you'd have duty guard with rifles and percussion grenades because the Viet Cong would like to float explosives down in piles of brush and hit the side of the ship and try to blow it up sitting there. You'd be there working away, and all of a sudden there'd be an explosion go off because they threw a percussion grenade or whatever. I think only a couple of times did anything real happen there.
"You have to watch that the guys throwing the percussion grenades didn't blow the packing tubes out of the screws for the propellers. If you throw them, don't throw them in that area. A few times we had a mortar attack while we're setting there off-loading. It was get the ramp up and back off. You'd pull a stern anchor — a big anchor with a two-inch cable to pull that off the beach. We're going out with the surf coming in the river while we're closing the doors just to get out of there."
Gazette: When you got to Vietnam, what were your impressions?
Burrow: "We went into Da Nang harbor, got there, unloaded and there wasn't really anything going on to make you feel concerned. You could have been in the Philippines, Japan or anywhere, and you wouldn't have really known anything much different at that point. Once we got up where we were a few hundred miles away, and we're up in the river and they start shooting at you, you have a different feeling at that point."
Gazette: What was your first encounter with them shooting at you like?
Burrow: "I think that was when we were sitting there on the beach. You're used to hearing the percussion grenades going off. But, when a couple of mortars drop, that was a little different sound. Nothing had ever hit the ship, but it was around us. They were more concerned probably with hitting some of the supplies coming off and the troops there unloading. I don't really know.
"A lot of times, we'd bring troops up with us and they'd off-load there and they'd get in small mike boats and head up the river. While it was scary for the moment, you just do what you were trained to do and get things packed up and get out of there."
Gazette: What are you normally off-loading?
Burrow: "We'd carry supplies and we'd carry beer. We'd have water, tanks, Jeeps, sometimes it was troops. It could be most anything. ... About the farthest inland we had ever went was about 75 miles, which is pretty far to go in a 300-foot long ship. But, they had big rivers over there. We went in carrying causeways, which is like building a metal pier, a big dock thing. You could put four of those on an LST and then you'd drop them into the water, and then they'd start maneuvering them around with smaller boats and they'd build a dock or a floating ramp. We did that a number of times and we'd normally take supplies up, too.
"Sometimes, we'd actually take fire going up the river. Usually, small arms fire. Occasionally, some artillery or mortar type rounds. We got hit a few times and they put a few holes in the ship, but they didn't have a whole lot of effect on the ship."
Gazette: When they hit the ship, and you're a damage controlman, I imagine that's when you swung into action? What do you do when that happens?
Burrow: "You go up and first, did you have an explosion? Do you have a fire? You address the damage that's caused, first.
"An armor piercing round just has a hole in it and if it's above the water line it doesn't necessarily do a lot. That's the more the type of thing that we had. A mortar round would more typically blow up on the deck and would maybe cause some disruption on the metal and burn the paint off, but it wasn't real damaging. At that point, we didn't have anything below the water line. We'd address whatever happened.
"If there was an emergency repair, then you'd start dealing with that, torch cutting, getting it out and getting steel plate to fill it. Something above the waterline, you didn't worry about it. You cleaned up and left the hole until you could get some place a little more comfortable to do the repair. Sometimes we'd be in general quarters going up the river, sometimes a kind of stand-down general quarters — go about your business unless there's a problem.
"The biggest hit we ever took, luckily we were not at general quarters and the shell went off and exploded in the repair division headquarters where you would have had a whole bunch of guys sitting in there waiting in case there was a problem. Luckily, at that point, there was nobody in there."
Gazette: When that happened, what did you do?
Burrow: "When we got in there, there was a minor fire, a little bit of one. We put the fire out, got everything cleaned out and then went in there and went in with torches and put a plate in there as a patch — generally you put it there as a temporary, and when you go in for a yard repair and they'd fix it the way they need to be fixed."
Gazette: Is Vietnam something that factors in your life, something you talk about often?
Burrow: "I almost never talk about it. If somebody asks me, I'll do some of what we did here. I don't go on this long typically and give them a brief synopsis of what I did. If they ask questions, I am more than happy to answer, but I don't just come out and say, 'I was in Vietnam and this is what I did.'"
Gazette: What do you hope people remember about Vietnam?
Burrow: "I had a different experience in the Navy and being along the coast was different than being a foot soldier. I would guess any of them would say that we were there to help those people have freedoms that they still don't have today. Everybody deserves those freedoms to make their own choice and live their own life and I would hope we would always support people to be able to do that anywhere in the world."