Jesse McMurtry served in the United States Air Force from 1961 to 1989. He traveled from the Great Falls area to be a part of the Vietnam Voices series. This is part of his Vietnam story. For the full interview, please go to billingsgazette.com/Vietnam.
McMurtry was a professional film processor for Kodak in 1961. He decided to join the Air Force because he wanted to fly. Because he needed electronics training to be in the aviation cadet program, he went to training. During that time, they closed the program, opting instead to take all pilots from the U.S. Air Force Academy. He continued with the electronics program. He was trained in radio and radar.
In March 1962, he went to Opheim Air Force Base in Montana.
McMurtry: "I asked, 'Where was Opheim?' They said in Montana but nobody seemed to know. So, I made my way to Opheim, was assigned to the 779th Radar Squadron."
After a year of training and study, he got orders assigning him to a special project called "Project Steampipe" in late 1963. That project took him to Saigon and then Da Nang, via the Philippines.
Gazette: You get orders to Vietnam. Did you know much about it?
McMurtry: "No. As a matter of fact, the orders never did say Vietnam. The orders were just assigned to the Project Steampipe, and it was a classified assignment. I was to get further instructions en route which was Clark Air Force Base in the Philippines, with the 5th Tactical Control Group. That's where I learned that I would be going on to Vietnam. I did not know about Vietnam — had never heard of the country, much less where it was located.
"I was in the Philippines for about three or four days in processing there, getting briefings on various things. I went on to Saigon and was there a week waiting for a flight up to Da Nang. That was my final assignment, detachment three of the 5th Tactical Control Group."
Gazette: I am guessing there wasn't much awareness of Vietnam in 1963, '64. You're probably not thinking, 'This is our next war,' are you?
McMurtry: "Never even entered my mind. It was just another radar maintenance job, and I did not even know we were going to be called 'advisers' until we got there and then I was told I was going to be an 'adviser.' Well, who were we advising? There were no Vietnamese assigned with us at the time. It was just strictly the Americans.
"We maintained the radar there at Da Nang, which was basically a few buildings at that time — red mud runway with some pre-fabricated steel plating for a ramp. There was no hint of anything like that."
Gazette: What was Operation Steampipe? What did they say you'd be doing there?
McMurtry: "They never did said what this project was. They just said it was a classified project."
Gazette: You just go, and do whatever you're told?
Gazette: What are you trained to do? What's your job?
McMurtry: "Our job was to maintain the radar so it was 100 percent online for long-range radar capabilities. We also had a height finder radar which gave us the height of the aircraft we were tracking. My specific job was to maintain that so that it was online 24/7."
Gazette: When you got to Da Nang, what was it like?
McMurtry: "There was no travel at night. There was too much Viet Cong activity at night and we were not allowed to travel at the hour of darkness.
Gazette: Were you a target for the VC, even though we weren't really in full combat then?
McMurtry: "There was still some activity out there. The Marines took care of the brunt of it. That's one of the things that we found out, that we were non-combatants. ... There were no guns in the initial stages. It was only afterward that we got a gun. Even then, it was two 20-round magazines.
"They were just fearful because we had the new AR-15 rifles that if you were captured, that (enemy) would have a lot of ammo and a brand new weapon. And, it was a very deadly weapon. So, they limited you to to two 20-round magazines. That was it. If you got captured, that was the most ammo they were going to get off you.
"But, the Marines were always looking for door gunners on their missions. We did have some Air Force folks volunteer to become door gunners on their helicopters and they loved the hell out of that."
Gazette: It sounds kind of deserted, dusty and desolate.
McMurtry: "You wondered, 'Why do we have this radar site out in the middle of nowhere and what are we doing, really? What are we doing with a radar in a foreign country that we're not even allowed to have an American flag?'"
Gazette: Why not? Explain that to me?
McMurtry: "Really, it was just that you were in a foreign country and we're not supposed to be there and we were just there as advisers, or at least that's what we were told. Who were we advising? At that time, no one. But they just said that you're not allowed to identify yourself as an American. Therefore, you couldn't have a flag.
" ... It was just roughly 100 guys in our outfit and that was the extent of it. No ARVN (Army of the Republic of Vietnam) or Vietnamese contact at all, until probably around April 1964. That was when we brought Monkey Mountain online. That's when the Vietnamese moved in, and we started exerting our adviser role by training them."
Gazette: Again, you're doing all of this, and no one is telling you why were doing it or what the end game is? You're just following orders?
McMurtry: "Nobody said a thing about what we were doing this for. We were just told to go assist RCA, and we were assisting RCA until the time they lost their contract. They couldn't get parts in. They needed parts and they'd order them and the boxes would come in and they'd be pilfered. They were just exasperated and couldn't get the parts they ordered up the mountain and complete the contract.
"Eventually, it was around February or March, they just said, 'That's it,' and gave it up. So, the Air Force brought in a team from Japan, called 'Somama' to complete the installation and that was GIs. With them and the five of us. We got the site operational around the first part of April 1964."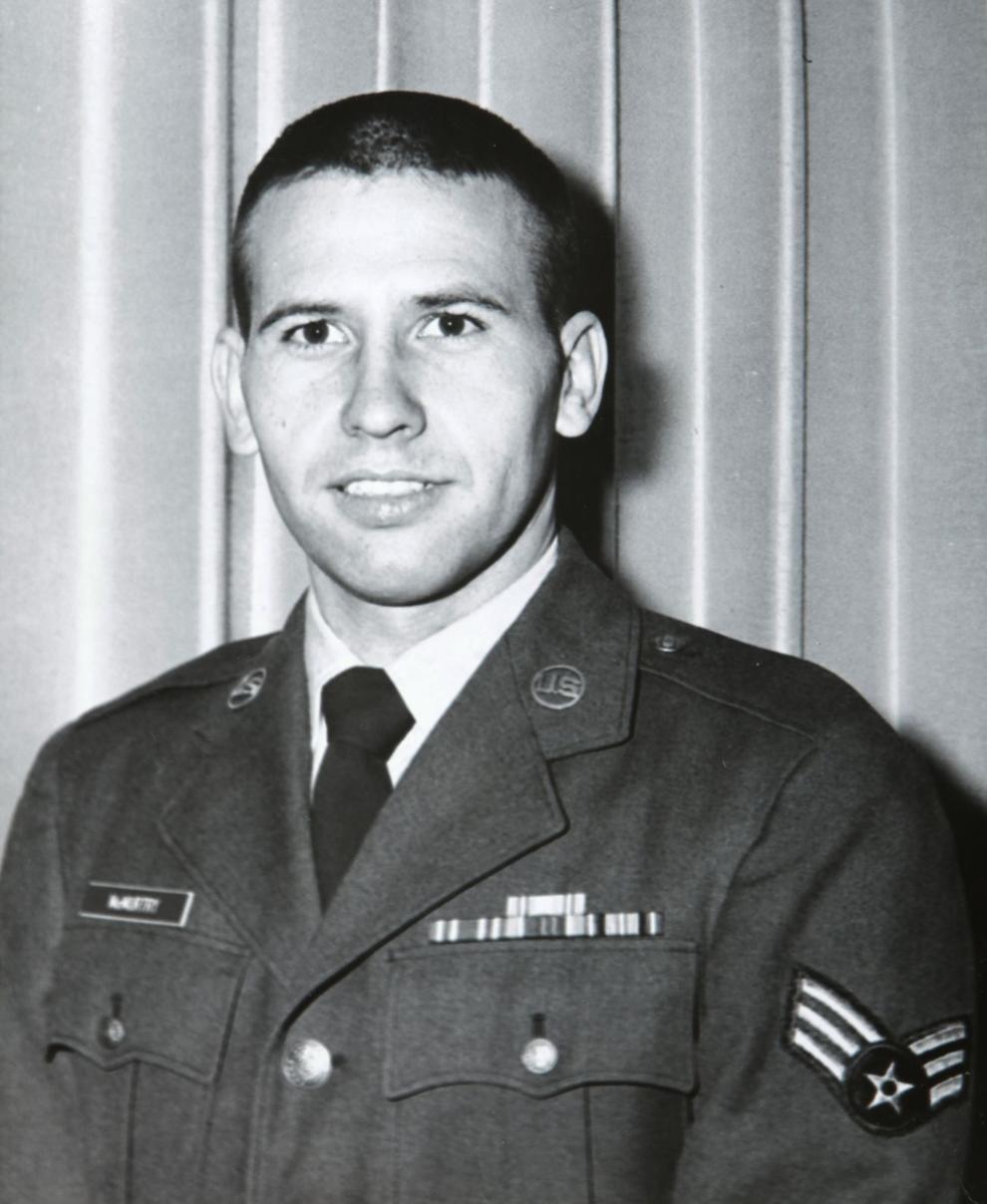 Gazette: That's something else to think about: You can't get parts because they're pilfered.
McMurtry: "That was the norm. Anytime that you go to a foreign country, you find that there's graft and as such, somebody wants something or somebody needs something, the best way is just to steal it off someone else. That's what was happening. We couldn't buy fatigues over there for some reason. But you could go to the black market and buy all you wanted.
He was there during the coup of Nguyen Khanh. 
"It was probably a couple of days later that we realized that the government had been overthrown. What did it mean? I don't know, really because we don't overthrow our governments. Here, we're in a country, now, all of a sudden, the government that was there yesterday was there no longer. Somebody else has taken over. It was not even something you rationalized as something that could happen because it was just so foreign to us that you could have a government overthrown."
Gazette: When you got back on Monkey Mountain what happened?
McMurtry: "Prior to going back to work over there, there was a group of us that grabbed a truck and we decided to take some photos we were going to go down to China Beach and Marble Mountain area, which that was a hang-out if you had a day off. You could go down there to the beach. We went down there and the guys were bartering with some of the local artisans for statues made out of marble.
"A couple of them said, 'We can see the top of the mountain.' Yeah, that's Monkey Mountain and if it's clear, we can take some pictures. So, let's go down to the mountain and we'll take some pictures. We drove down, caught the ferry and went across and made our way down to the lower compound. The gate, which was normally closed, was open, so we just drove on in.
"As we drive in, now suddenly out of fox holes, out of buildings, out of everywhere, here are a bunch of ARVN rangers. We drive up to this building that is just before you can turn to the right and go up to the mountain. This building now has concertina wire higher than the roof of that building. There was one gentlemen standing inside the concertina wire. There were guards around the concertina wire on the outside.
"One of the guys that was with us, Mike Hammer, he had an 8-mm movie camera. He wanted to take some pictures of the guard who was standing up there, so we drove a little closer, and he gets out and stands in the back of the truck, and he pans the whole area. The guard stands there with his rifle at his breast, smiling. The guy that was at the side of the compound, he was just wandering. He walks up to the fence and he's looking at us, over the shoulder of the guard.
"Mike finished up taking his pictures, hops back in the truck, and the guard opens the gate to let us up to the upper compound, and we took off and made our way up.
"Probably half way up the mountain, there was a pull-out that we could let vehicles go by. We are taking photos of the bay and Da Nang city. I noticed that there was a weapons carrier vehicle coming up the mountain. I told the guys that we should wait until this guy gets by us because he was moving up the mountain. And, I said, 'We don't want to get out on the road with these dudes.'
"We waited until the vehicle passed, except it didn't pass, it stopped. They hopped out.
"It was a group with their guns and they hop out and a guy approaches with sheets of paper in his hands. He said something in Vietnamese, but we didn't speak Vietnamese, so we didn't know what the heck he was saying. We finally figured out that he wanted to identify who we were and what name was on those lists. So, we each identified ourselves and showed our ID card and we showed him we were on this list.
"So, he hopped on the truck, turned around and away they went. We got in our vehicle and went up to the top of the mountain and by the time we got up there, it was cloud covered and couldn't see anything ... and we decided we had spent enough time in the clouds and we headed back down and we're probably 300 yards from the lower compound, when out of the jungle, we're surrounded by ARVN Rangers.
"I mean these dudes come out, they had both sides and the front of the vehicle surrounded. We're wondering, 'What the heck is going on, because we had just shown this guy that we were authorized to be on the mountain, yet why had they stopped us?' We didn't know, but we did know one thing, they meant business.
"They had the rifles right underneath your nose. The windows were down in the truck. They did not tell us anything or say anything except screaming and hollering out of the jungle. We're sitting and wondering what the hell is going on, and I notice an Air Force truck coming down the road below us on the main road to the compound, and it was shortly thereafter he came up the mountain where we were.
"It turned out to be the noncommissioned officer in charge of our group on Monkey Mountain. He spoke French, so he was speaking French to this ARVN Ranger lieutenant. He came up to the truck. He said, 'Guys, they want your film.' He said, 'Do not, under any circumstances, try to hide it, do anything. Give it to them. That's all you have to do.'
"We had the 8-mm and 35-mm cameras, and there were other cameras that we had, so I was kind of sitting there, trying to figure out how to get his film out. This guy still has a rifle pointed under my nose. I really didn't want to give it up because I hadn't taken any pictures. Sgt. Reed told me, 'Don't try to hide it, just give it to them.' We said, 'OK.' We gave all the film.
" ... With Mike Hammer's movie film, he takes about three feet of it, and holds it up to the sky, turning it and doesn't see anything and rolls it back up and hands it back to Mike. The rest of the film was confiscated.
"Sgt. Reed told us, 'OK, you're clear to go. Get your ass across the river, and whatever you do, do not say anything to anybody about what happened here today.' We said, 'Alright.'
"We still had no idea why they had confiscated the film or why we had been stopped in the first place. ... Once we got back on the other side of the river, we spoke with Reed, and he said, 'You damn near caused an international incident today.' He said, 'Just keep it to yourself.'
"Well, we got with Mike a little bit later, and asked him about his film. He said he had about 15 feet on his reel that wasn't exposed, so he thought it was OK. He shipped it back to his wife to be developed. He stuck it in an envelope and got it developed and a few weeks later, we asked Mike if he had heard about the film, and he said, 'It all turned out great.'
"He had the only film evidence of what was occurring on Monkey Mountain at that time. It was only after a period of time that we learned that the individual behind the concertina wire was Gen. Duong Van Minh. The general had been overthrown in the coup a few weeks earlier and they were hiding him out there. The rest of the government officials were being hid at China Beach. But for Gen. Minh, he had been secreted away at Monkey Mountain, unbeknownst to us.
"We had him on film by sheer accident, dumb luck."