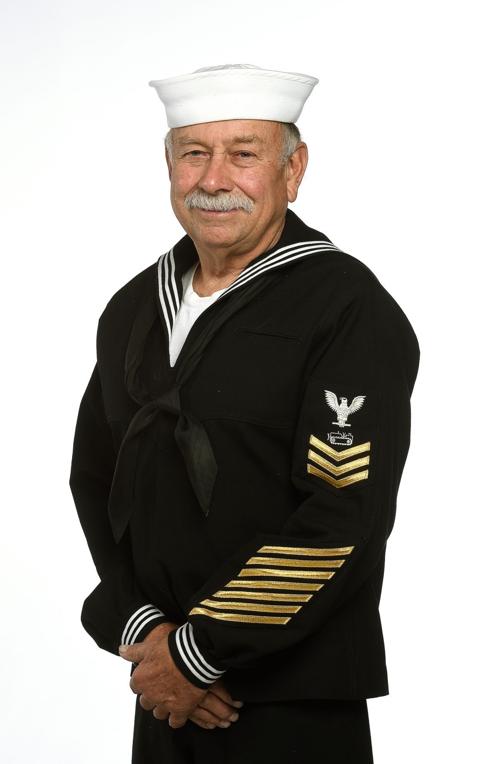 Doug Braun served in the U.S. Navy from 1965 to 1993. He originally went into the U.S. Navy Reserves. He was from Terry, and his father served in World War II as a Navy "Seabee." He graduated from Columbus High School. This is part of his Vietnam story.
Braun: "The reason I joined the reserves is ... we get $63 a month. That's cool because I worked every night at a corner gas station. ... I worked five hours a night cleaning the place, selling gas. I had to clean the place, and this guy that owned the place wanted me to use Comet cleanser take and spray the floor down with hot water and wherever it was greasy, put comet cleanser down and scrub it with a brush. Wow, $63. ... At that time, I was making $1.75 an hour. I asked my boss ... for a raise and he said, 'Ha, I can get men as good as you for the same price.' So that really threw me backwards, and that throws your ego all over the floor. I joined Pearl Harbor Day, Dec. 7, 1965."
Braun went to boot camp in 1966, as part of the reserve program. When his grades slumped in 1967 as he was in college, he got a letter from the Navy.
Braun: "I goofed up and flunked a chemistry course. And I got a letter from the Navy, 'Dear Mr. Braun, we regret to inform you that you are going on active duty because of your low grade-point average. You are going on active duty as an enlisted man.' Of course, Vietnam was hot. Everything was just crazy, and they were taking almost anyone and I was already in the service. It didn't bother me. I'm a big boy. I signed on the dotted line."
Braun went to electrician school in San Diego as part of advanced training. He was assigned to the USS Enterprise, in southeast Asia.
Braun: "It's not what I really wanted; however, that's the way it is."
Gazette: Going to Vietnam: Was that a scary assignment?
Braun: "I thought, 'Wow.' As a young man, you're concerned if you're going to get killed and you don't know what will happen. I am an educated person, but you just don't know. But you signed the dotted line and want to serve my country, so it was just the way it was. The Enterprise was the Rolls-Royce of ships. It was the first nuclear-powered aircraft carrier, and it had eight nuclear reactors. I was so proud that I got to go aboard the Enterprise. I was just ecstatic.
" ... They had commercial airliners fly into Travis (Air Force Base). There were 200 military people on this plane, and the bulk of them were Army and Marine. There were six of us (sailors) in the back of the aircraft, and I can remember looking down the aisles and seeing all the young guys. I figured being on ship like the Enterprise, I'd probably be pretty safe. I mean, if that blew up, that'd be something else. I figured I'd be safe even though we were off the coast of Vietnam sending in our aircraft for airstrikes. But it was depressing looking down the rows, wondering, 'How many of our young guys were coming back?'
"... Our first stop was Wake Island, and there was a map on the wall, and it was about 3 in the morning and it was pitch black. We went into the terminal to use the bathroom. ... Wake Island is in the middle of the ocean, and there was a little red light (on the map) and it said, 'You are here.'
The Enterprise was stationed at "Yankee Station" in the Gulf of Tonkin.
Gazette: Were you close to Vietnam?
Braun: "I don't know how far we were, but you could see bomb flashes. I am guessing we were 15 to 20 miles off the coast. The captain would come on the PA system every morning and say, 'Well, we blew up so many truck convoy and bridges,' and kind of give us a report on what happened.
Braun worked on aircraft elevators for the aircraft carriers and smaller elevator circuitry.
Braun: "We had nuclear weapons on the Enterprise. Of course, that was all classified and nobody was supposed to know that. ... We had a small detachment of Marines, and that was their job to guard the elevators. We had probably — from what I can remember — two main elevators to down to where the bombs were stored. You had to have a secret clearance to be down in there. Of course, they give you that, they give you the clearances you need.
" ... Occasionally we had bad boys aboard the ship. The Marines would bring them to chow and march them to chow, and I can remember if you got thrown in the brig on the ship, there weren't too many people — maybe a dozen prisoners — but they'd take them down and cut their hair completely off — shave them bald. Then the Marines were in charge of them and kept them in jail on the ship."
When the ship was recalled to Oakland-Alameda for dry docking and repairs, Braun recalls being anxious to get back home to the United States.
Braun: "Before we did, we were anchored off the coast of San Francisco, a short way out. But we were anchored there for about a day, and they flew this serviceman's body aboard the ship and we had literally a burial at sea.
"I can remember it: We were all anxious to get into port because we wanted real food and drink a fresh glass of milk and we were about there for about a day. It's kind of weird on the edge of the flight deck, they had a little rack built where the coffin fit in this rack and pointed downward toward the ocean. It was a murky day, overcast, and the waters were pretty choppy, except the Enterprise is so big, you really couldn't tell. There was just a slight movement in the rough water. I can remember they had this ceremony for the veteran, and then they just dumped him overboard."
During the daily announcements, the captain would also announce if any planes from the Enterprise had been lost or crew members.
Braun: "They would bring a lot of the people that got killed in Vietnam on this ship. They had these big coolers that they'd put them in, and then they'd transport them back to the United States."
Gazette: Were there transport planes coming off and on the ships?
Braun: "Yes, but they were smaller. The COD mail planes were probably the largest, and they could hold a body or two."
Gazette: Were you ever under the threat of attack? I imagine the Enterprise was pretty well guarded.
Braun: "I can remember one time pretty vividly, when you're in the Navy aboard a ship, battle alert is called 'general quarters,' and they come over the PA system, 'General quarters. General quarters. General quarters. All hands man your battle stations.' I can remember as an electrician, my battle station was No. 3 Aircraft Elevator machinery room. We were on sound-powered phones with everybody — other electricians in their locations and I don't know who else; probably an executive officer or two. When you were in general quarters, you were in contact with a lot of people."
Gazette: Was that scary when that happened?
Braun: "What we had is two MiGs come after us. So we went to general quarters. Then, right away, they launched two F4 'Phantoms' with heat-seeking sidewinder missiles. They get behind the MiGs and they'd be quite a way away and they'd shoot in their direction, and because they were heat-seeking, they'd literally go up the afterburner and blow that airplane apart."
Gazette: When you were in general quarters, what did you do?
Braun: "You had your tools with you. You always had tools in case something broke down. You were in contact with other members of the shop. You were just down there in case something happened. You just had headphones and you were in contact with a lot of people."
Gazette: Even though you're not on land on Vietnam, you're constantly seeing these planes take off, bombs load, come back, do you have a sense that this is war?
Gazette: So what was the camaraderie like on the ship?
Braun: "Well, you're pretty depressed because you're out there for at least 30 days of time before you get to pull into the Philippines, and then it's party time. It's pretty depressing because I can remember before when I was a mess cook, in the scullery — where you bring your dirty dishes, scrape the food off, rinse it off and put it in the steam cleaner — I was probably at that time 20 years old, maybe 21 ... and there was this guy, and I am not a fighter. I've never been a fighter. But, the tensions can kind of run high, and so this one guy said something, and we decided we were going to duke it out.
"... They'd court martial you if they caught you fighting, so they had what they called 'sponsons' on the side of the ship. There's a hatch door that you can go out on this. You could store stuff on them and they're not a very big area, they're probably about the size of the room we're in, which is probably 20 by 30. It was actually stupid. I can remember this guy and he went out in front of me as I went out, he nailed me as I walked out through the hatch way.
"So, we were scrambling around and slugging each other and somehow I'm not a fighter but I managed to be on top of him, and he's about my size. And, I said, 'What are we doing this for?'  ... And he said, 'You're right.' But we were just wired.
"The tensions were just high. ...We were in close quarters all the time. What was really dangerous about that was that the ship is constantly moving. If one of us would have fallen off, they would have never known we were gone. If we'd have both fallen off, no one would have known.
"It's pretty spooky out in the middle of the ocean at night. There's nothing there."