Dale Lacher was in the U.S. Army and served as a dustoff (medevac helicopter) medic. He graduated from Billings West High in 1968 and was inducted into the Army in July 1968. This is part of his Vietnam story. 
Lacher: "I joined the Army six days after my 18th birthday. I wanted to go in earlier, but my parents wouldn't sign the papers. The last two years of high school, every afternoon, I'd watch the news and I'd see the war. I felt like I needed to do something. I wanted to go in, and my parents didn't want me to, but after you're 18, you can do whatever you want, so there I was."
Lacher's father had been in World War II, fighting in the Battle of the Bulge. He wasn't a career military man, though. Three of Lacher's uncles served. One was injured at Iwo Jima.
Gazette: So your father really wasn't hip on seeing you serve?
Lacher: "No. Not even close."
Gazette: Some vets enlisted to beat the draft. Others waited and went if called. But you seemed ready to volunteer, even knowing about the danger of war. You seemed even, well, eager.
Lacher: "I was. I looked on it as an adventure. I was naive and maybe even dumb, but I wouldn't change a thing. If I had to do it over again, I'd do it again. I did exactly what I wanted to do."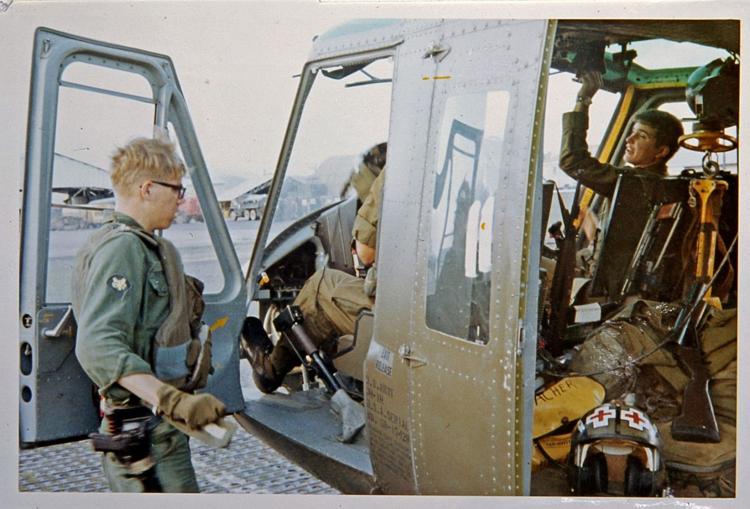 Gazette: Did you know what you wanted to be? A helicopter medic?
Lacher: "I wanted to be a medic, and I didn't want to be up in the jungle. I thought flying would be an adventure. For sure, I wanted to be a medic and that's what I got in my enlistment contract. I just wanted to fly. I thought it'd be an adventure, and it was."
Gazette: That's interesting that you got to do what you wanted to do. That didn't always happen.
Lacher: "Flying wasn't in my contract, but being a medic was. I worked that out when I got to Vietnam. I was originally assigned to the Eighth Field Hospital, and I was waiting to be introduced to the commanding officer and to be formally processed into the hospital and I saw a dustoff land at the emergency room, and I saw them take off and saw where they landed over at the airfield and I walked over there and presented to the orderly room and asked to talk to the commanding officer and asked if I could fly. They happened to need a medic and he had my orders changed and I slept in the unit that night. I was in the dustoffs that night when the sun went down."
Gazette: That's amazing. You took a lot of initiative.
Lacher: "I didn't know any better."
Lacher went to Fort Lewis for basic training, then to Fort Sam Houston for field medic school. He went to airborne school at Fort Benning, Ga., and went to Fort Carson, Colo. It took so long there, Lacher actually put in a 1049, a form requesting to go to Vietnam. He went through a three-week training school, similar to the ranger school.
Lacher: "When I got out, my orders for Vietnam were waiting for me."
Gazette: What you were doing in Vietnam, did it live up to what you had signed on for?
Lacher: "Oh yeah, absolutely."
Gazette: What were your first impressions of Vietnam?
Lacher: "Really hot, and it smelled bad. Really bad."
Gazette: Smelled like what?
Lacher: "Cam Ranh Bay is really a swampy area, right on the coast — rotting vegetation around it."
Gazette: Do you remember your first taste of being a medic?
Lacher: "I flew with another medic for about a week. He showed me the ropes and what was expected of me, not just as a medic but as a member of the crew, told me what my duties were. Then, after about a week, I was on my own. We were a small unit. We only had six helicopters and six medics."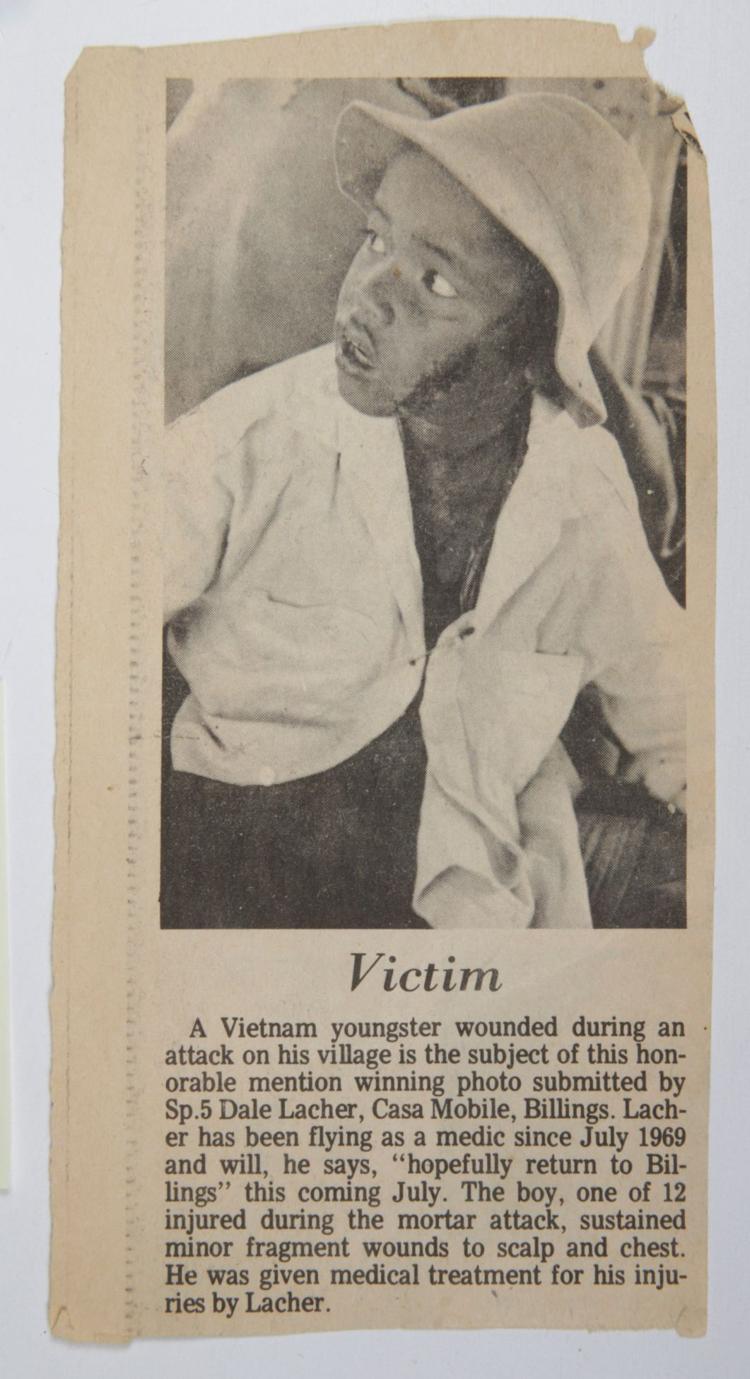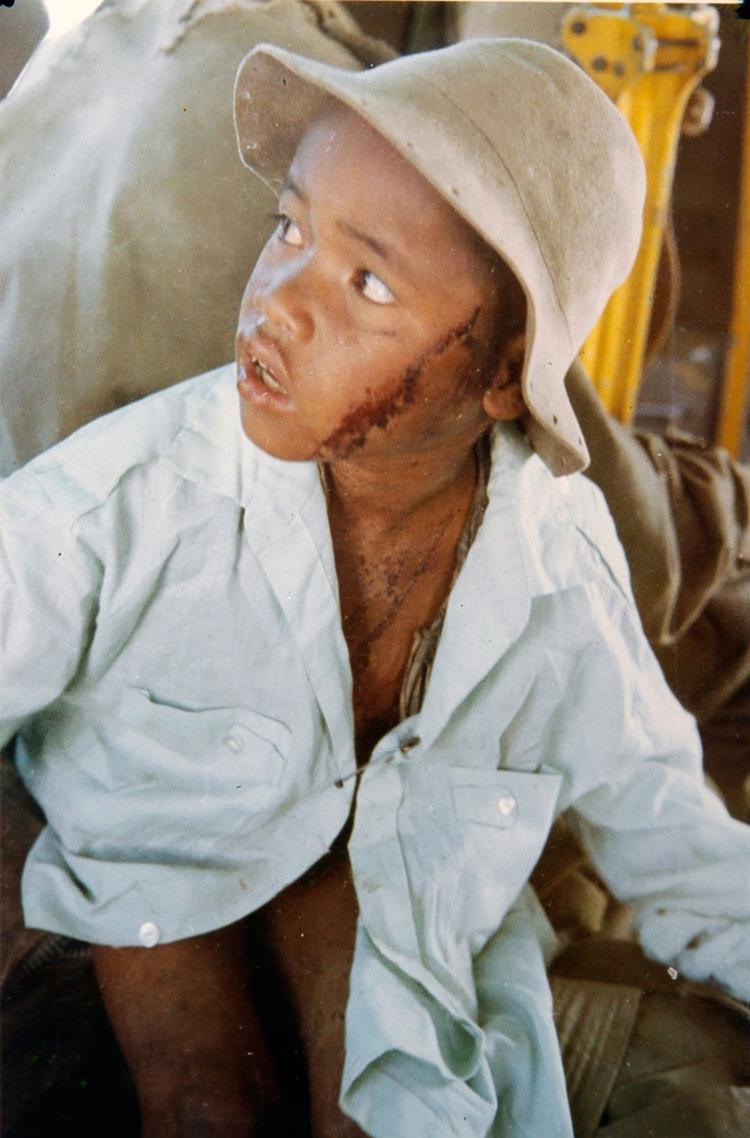 Gazette: What's an average day like?
Lacher: "There was no average day. We weren't assigned to fly every day. But, if you were assigned to fly, you'd go out and get your gear ready and be able to jump on the ship at a minute's notice. We had a siren that went off in the unit whenever a mission would come in. We'd fly into Nha Trang and then we'd have field sites that we would send the helicopter for a week or so. And when we'd do that, we were there all the time.
"You never knew where you were going or when."
Gazette: What's a busy day like?
Lacher: "The busiest day was the first of April, 1970. There was a lot of activity. A lot of places were hit at the same time along the Cambodian border. We were flying out of Ban Me Thuot, and we flew all that night and a good part of the next day."
Gazette: Do you just keep flying and flying?
Lacher: "You'd fly until we needed gas, and then we'd gas up and go fly some more."
Gazette: How many people could you fit into a dustoff helicopter?
Lacher: "We could put in four litters. We had litter poles. We'd put two litters up on poles and one litter on the floor. We'd break that litter to make room. So, four that are patients. We had areas in the hellholes where we could put a couple of ambulatory patients. If they were Vietnamese civilians or soldiers, they were smaller, so we could cram a lot of people in there. I think we have had 13 in there at once."
Gazette: When they came on board, did your job switch then from being a part of the crew to a medic?
Lacher: "Absolutely. I kind of triaged them as they got on board. We usually knew what to expect because when a mission is called in, they'd give us some idea as the level of injuries and the number of patients. It wasn't always the case when we got there. I'd evaluate the patients as we loaded them, and I'd start working on the first one that needed me the most and do what I could until I got where we were going."
Gazette: How long does it take you to load with patients?
Lacher: "Not long. The crew chief would help, and the people on the ground would help. We'd get in and get out just as quick as we could. Depending on the conditions, if it was a hot (landing zone), we were pretty quick getting them on and getting out. It was just a regular uneventful pick-up, we were more relaxed."
Gazette: After that, then where did you take them?
Lacher: "We took them to the nearest medical facility, sometimes that was a battalion aid station, like at Phan Thiet there was one doctor and a couple of medics. In Nha Trang, we'd take them to the Eighth Field Hospital. If it was a neurosurgical patient, we'd take them to Cam Ranh Bay or Qui Nhon because that was the only two places that had neurosurgeons. Ban Me Thuot, we'd take them to the dispensary there, where they'd be stabilized there and another ship would come back and haul them to the hospital or field hospital or evac. We would take them to the closest place there was a doctor."
Gazette: How long did that take you to get to a landing zone and back?
Lacher: "Twenty minutes, roughly, was about average."
Gazette: When you're a medic, does that 20 minutes go by fast or slow?
Lacher: "Very fast. I worked as fast as I could. Mostly what I did was start IVs, put on pressure dressings, stop bleeding. Pretty basic first-aid stuff. Nothing fancy. I did a couple of airways. Mostly it was IVs and pressure dressings."
Gazette: Are most of the injuries bullets or shrapnel?
Lacher: "Blast injuries were the most common thing I saw — traumatic amputations, multiple frag wounds, mostly blast injuries. Quite a few gunshot wounds. By far, the majority were blast injuries."
Gazette: So mines and grenades?
Lacher: "Traumatic amputations were a big thing I dealt with."
Gazette: You'd have to get them ready for ... further procedures?
Lacher: "The field medics did a lot of the work before I got there. They were really great. They would sometimes start an IV. Usually, they did a pressure dressing. By the time I got them, they'd already seen a medic. They'd started on the process."
Gazette: When you were working on some of these guys, could you hear anything? Could you have conversation?
Lacher: "You had to yell. It was pretty loud. I'd put my face down to their ear, pretty much yell. Hueys were pretty loud, and we'd fly with the doors open almost all the time."
Gazette: One of the things that I think would be particularly challenging about being a medic is you're transporting a lot of people, but you didn't know them. Did you ever find out what happened or want to know what happened?
Lacher: "Very rarely would I ever see a patient again. I remember one guy who was in a fight up at Ban Me Thuot, and he got knifed. We dusted him off. I saw him a few weeks later and he was grateful and he thanked me. That was the only time I saw anybody who said thank you. That was OK.
"... Once we dropped them off, I am on to the next one. I let go. I learned to let go real easy over there."
Gazette: How do you do that?
Lacher: "You just do it. You have to. You can't let it build up, and it would be too much to deal with. I was there to do a job and I did and when I was done, I moved on to the next."