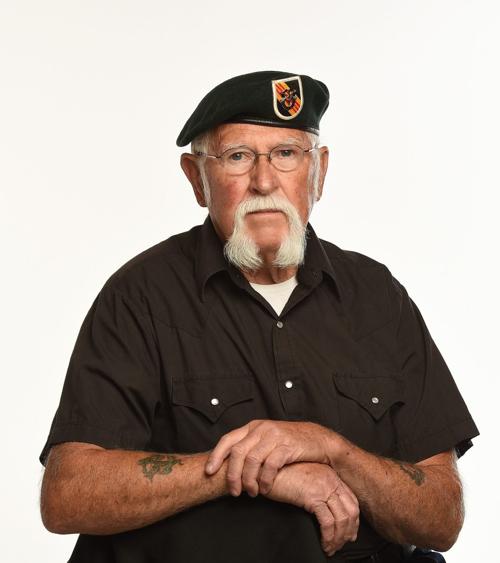 Robby Robinson was with the U.S. Army from 1960 to 1972 and with the U.S. Navy from 1974 to 1984. This is part of his Vietnam story. 
Robinson: "It started out when I was 6 or 7. I was playing with an old shoebox full of old World War II paratrooper pictures of somebody in the family, and I made up my mind at that time that I was going to go to war and I was going to be a paratrooper. I was sort of an orphan. I grew up with an aunt and uncle who took me in. I grew up tough on a dairy farm. My uncle was a big man, tough man, but he was Christian ... the way I grew up, I feel most fortunate because that laid the groundwork for wanting to be a Green Beret."
Gazette: What about that background helped with the Green Beret?
Robinson: "Working tough. In the second grade, 5 o'clock in the morning, I worked on a dairy farm. It's seven days a week. I (had) chores every morning and night until the day I graduated. Then, work ethic — toughness, no complaining, being physical, responsibility. He laid a lot of responsibility on me.
"So, when I went into the Army and went through basic, I just couldn't quit smiling. I thought I'd died and gone to heaven the way I worked hard growing up. This was nothing. Then, I went to airborne training. I had a problem smiling too much because the instructors want to be tough — they want to hurt you. So, one instructor took me behind a radio shed one time and his arms were as big as my thighs, and he made me quit smiling.
"... Then I went to the 82nd Airborne, started out as a machine gunner and 1962, President Kennedy came to Fort Bragg, and I was still in the 82nd Airborne and I was trying to work my way into Special Forces. He's the one who authorized the special forces to wear the green beret openly."
Robinson went into the Special Forces in 1962.
Robinson: "Special Forces was doing a lot of operations (in Laos). They sent me to take French courses and training and the war went over into Vietnam. ... In between there, we were having troubles with Russia. Russia and America weren't getting along too good. We were afraid of nuclear warfare. They sent me to school to train on the suitcase bomb. It's a nuclear bomb you can carry. ... You could free-fall with it. You could jump with it.
"Me, being a machine gunner, I was used to carrying heavy loads. I jumped a GP bag, it was called, you could pack your machine gun and ammo, extra batteries and grenades and all the extra stuff. That took up a lot of my time. It was interesting, but thank God, we never had to deploy any, but we were ready.
"All this training and training and here's the deal: I was focused on going to war and ... the Bay of Pigs; we trained hard. I was still with the 82nd. The company I was with, boy they were gung ho. It's like fighter jet pilots. They trained and they want to fight. They want to put that training to work. Well, we do too. ... It helped me out in special forces all the hand-to-hand training and the physical training. Running three to five miles before breakfast, that's no big deal. That's good for you.
"We were all packed up and we had my PA bag. Boy, they weighed me down. Camouflaged. I was going to be on the second wave to jump in on the Bay of Pigs. They locked the doors. Put chains on the doors in the barracks, and we were gone. You talk about some big disappointment when they called that off. History points out that was a big mistake that we didn't do that. I think President Kennedy felt bad because there were a lot of guerrillas on the ground waiting for us. That's what we were trained with."
Robinson re-enlisted to keep working with Special Forces.
Robinson: "... Now the war is getting hot over there in Vietnam. I says, 'Man, if I don't hurry up and get over there, I am going to miss out on this.' Then they sent me to Vietnamese school. Then they sent me to code school. ... They saw that I couldn't get up to 18 words a minute so they said they were going to change me to demolitionist. Ah, that's more like it. So, it just seemed like it took forever training in schools. I talked with a personnel man and I said, 'Here's the deal. I'll give you $20 for a team going to 'Nam.' I was afraid I was going to miss out."
Gazette: What year was that?
Gazette: You were worried in 1965 that you'd miss out on Vietnam?
Robinson: "That's five years of training and training, and I was getting pretty good at training. I wanted to get involved in the war and believed in what our country was trying to attempt. I was always for the underdog. Special Forces mantra is 'Free the Oppressed,' and we really believed that. We were trained to do just that, come down to their level — win the hearts and minds of the people.
"The personnel man came up and said, 'You don't need to give me $20. You're slated on the team.' They were going to send me to a pretty serious area. They called us all in and made sure that we had life insurance and the family was covered and all those details.
"So, off I go. It was kind of neat back them, and I'll bring this point out because it shows you how the attitude of the country went downhill pretty quick as far as respect for the military. I first flew over — somewhere out of California — they brought our meals to us on the plane, they had actual silverware, real metal forks and spoons. The stewardess said, 'Soldier, you need a beer don't you?' I said, 'Well yeah, you can't fly on one wing, bring two.' But they treated you nice and friendly.
"So I go off to Vietnam and land in Saigon and wow. I could tell pretty quick I was in a hot area. I see flares going off all around Saigon and everyone carrying a weapon. Everybody was pretty serious. I went through the briefing there, and they were going to send me up ... in the I CORE. We're going to put you on a hot spot up there. I said, 'OK, let's go.' You had to fight your way out of Saigon. That's how the war was going then. You didn't  just drive in a jeep unless it was a convoy and armored, so that's pretty tense.
"I got up there to Da Nang. They said, 'We're going to send you to a team and they need a good man out there. Ain't going to be easy, but we can't get you in right away because they're surrounded. Charlie's got them pinned down, kind of. The weather's kind of bad. We're waiting for the weather to break.' We'd like to jump you in with some resupplies, but the guy you're replacing out of there, so we're going to wait until the weather breaks and the situation calms down and we'll insert you.'
"That was Dec. 5 and (it took) until Christmas Day to get into there. We took off in and we landed. They said, 'We got something special for you take into the team.' Well, I went in there and they were glad to get a turkey. They could care less about me. They weren't impressed with me. When they saw that can of turkey.
"Well, guys were pretty tough. The team sergeant says, 'Well, you know, we got to find what kind of stuff you're made out of. We have to know whether we can depend on you. You haven't been under fire yet. We're going to get you checked out pretty quick.' Two days later, he said, 'We're going to send you out on a mission. We're going to send you with a good man and we'll find out.' I said, 'Alright, I'm ready. I'll do my best.'
"... Here I was new to the camp and of course you got fresh jungle fatigues. These guys have been out in rice paddies, washing their fatigues in the river and they really had some wear. With my new goddang jungle fatigues, I stuck out like a sore thumb. Thank God Charlie's a poor shot because they were trying to get me. There were rounds hitting around me. That's probably what saved my life."
Gazette: What was that first mission like?
Robinson: "They had intelligence about where there was a concentration of (Viet Cong). We just wanted to go in and kick butt, you know? There was a bunch of them there, but that's what I like about Special Forces. We were are own leaders. We planned our own operations. We got the objective and we'd plan our primary and alternate routes and rendezvous points. We were in charge."