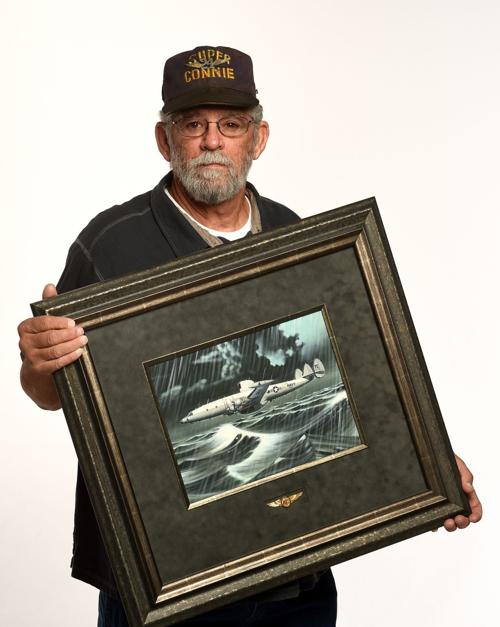 Ken Olson served in the U.S. Navy from 1969 to 1973. He is the former mayor of Laurel and graduated from Laurel Senior High in 1967. This is part of his Vietnam story. For the complete interview, go to billingsgazette.com/Vietnam.
Gazette: This marks the first time in this Vietnam Voices series that another journalist has joined me in the studio for one of these interviews. Erik Olson, of The Billings Gazette, is here with his father, Ken. It's pretty special to have father and son here, in studio to have this conversation.
After some study at Eastern Montana College, now Montana State University Billings, Ken decided in 1969 to do something else.
Ken: "I just thought at that time to go to enlistment and see what they had to say. A buddy of mine and I went up. He didn't go in; I did. I signed, went home, told the folks. They weren't too happy. I was above 18, and got into a good position. I didn't go in until a few months later. ... The guy who signed me up asked, 'Well, what do you want to be?' At the time, I thought electronics because in 1969, 1970s, that was kind of the buzz. Everybody wanted that. He said, 'I'll see you get into that school.'
"He got me into a one-year long school in electronics. During that time, they said that I had some choices, and that's when I volunteered to go to Vietnam and volunteered for flight. They then gave me my orders for VW-1, which is in Guam, and I went over to Guam, and I was ship's company for about six months, which means you clean barracks and serve food. You don't do anything that has to do with flight ... you do all the work that supports the activity.
"I eventually got into a billet, which was a radioman. They sent me to a crypto school, which ended up with a top-secret crypto clearance, which was kind of unique.
"They told me to tell my parents that there would be somebody coming to town to check on me for this clearance. I just thought, I was in the service and these guys were always feeding you lines. I didn't call back and pretty soon I got a call from my dad, and he said, 'Hey Bud, how's it doing?' And I said, 'What are you doing calling me?' And he said, 'We have a couple of guys here walking around town, checking you out.' Oh, about that. I forgot to tell him. I never realized.
"Later on, as I became acclimated to my position, the position I allowed myself to be put into was a little more important than what I had thought it was. Not so much my presence there, but the overall mission was very important, and it had a lot of substance to what was going on throughout through all spheres, typhoons, the (Sea of Japans) and the GOTs — Gulf of Tonkins. They were all very important and very quiet and of the utmost ability to perform. I like to think I did all right."
Gazette: Had you come from a military family?
Ken: "Dad was a staff sergeant in World War II. He never got overseas. He stayed here. He developed polio when he was younger. One foot was smaller and one leg was shorter, and consequently he couldn't do a lot of walking. He ended up being a clerk."
Gazette: They weren't too amused when you came home and said, 'Guess what?'
Ken: "No. They wanted their only son to be some type of professional. That would have been fine with me, too. But, I think a fellow at one time or another wants to leave and get their own roots going. I graduated from high school, but never left the house. I went from graduating from high school to going to college from the same house. I think that was part of it. I wanted to get out and feel how I would be accepted going forward and that was one of the options.
"As I look back on it, sometimes you didn't feel like I made the right decision because of the circumstances around you. But, other times, you really felt that you were blessed because there were some things that were going on that could only be explained by being there, not by just hearing of it. I really feel that other than people trying to kill you, it wasn't too bad of a spot over there."
Erik Olson: What were some of your thoughts about the war in the late 1960s, before you enlisted?
Ken Olson: "That's a good question and a lot of people dwell on that. I didn't. I don't know whether that was the naivete of me not being familiar with the surroundings (of the war). I just didn't get into that.
"I now know looking back on it — I'm retired, so sometimes I get a chance to look at the Netflix and there's these old films that I see how people were dealing with Kent State or a lot of things like that. I said, 'My goodness, what were people thinking back then? Why did I do what I did?' You know in my sphere and area of control, it didn't really play a part in it.
"I can remember writing a letter back to mom and dad from 'Nam and saying there's not going to be anyone to tell me what I feel I should be doing as compared to what they think.' Erik knows this better than anybody that I am a very independent guy. Erik's the same way. If it didn't influence me in my fiber, I didn't let it affect me. ... I felt that ... to a degree, I had a duty to go because country called. That was part of the decision to go. It also came to the part in my life when other things were not what I thought they'd be and I needed a change.
"Vince Johnson ... I was really fortunate as an airman to be chosen as the second radio. He was the first radio ... He was just a kid, like I was — maybe one or two years older. He went about his work with deliberate effort, everything he did had a reason. He took his position very seriously. There were some guys on crews that didn't. We weeded those guys out pretty quickly. It's a fact that if somebody screwed up on the crew, you jeopardized everybody.
"... Vince was the guy who instilled upon me that if you're going to do something of importance, then it deserves our full attention. It woke me up about the second time I was out with him on a flight. If he was on the radio, he was on the radio with professional manners and he performed to the utmost of his ability. It wasn't perfect, but it was the best he could do. ... He went about teaching by example, and I only knew him for about a year.
"I was put on the fast track for radio, and by the second mission, they cut me loose and I had my own position. But, I think those type of people that had that type of focus of what was going on around him, they were extremely rare, and I was fortunate to be involved with during my time. ... He was not just there. He was more of an insightful person. Every action deserved thought. He taught himself Japanese — how do you do that?"
Gazette: What was your job on these Navy flights, besides radio operations?
Ken Olson: "Depending upon which one it was, basically, I had the responsibility of all the communication and navigation aboard that aircraft. ... When we were doing (Gulf of Tonkin missions) we were listening and reacting to what they were doing. ... They would try and cloud what they were doing so that we didn't know.
"Whenever they had 'bandits wet' that meant MiGs over water. Whenever they had MiGs over water, they're not supporting any ground action. They were coming after us. That was the primary reason. I, being in the radio spot, picked that up one time. 'Bandits wet' — well, whatever aircraft carrier was down below, they had two planes that were up there ready. They were on the launch pads. As soon as 'bandits wet' they'd launch those two, we'd drop from 10,000 feet to 500 feet and the aircraft carrier would then intercept bandits. That happened once."
Ken Olson flew on C-121s, weather and electronic surveillance.
Ken Olson: "We had people come aboard every mission — 'spooks,' we called them 'spooks.' They came out of (communications and navigation centers) in the morning. When you get the plane (communications) all set up, these guys (from intelligence) would come in, just walk in. They were assigned to your flight. They go in the back and they'd be listening to the voices ... They were always to themselves. You'd be on a flight for 14 to 18 hours and they would never come out of the back part of the plane."
"I had responsibility for the electronics of the whole aircraft ... As an example, we had a B-52 — we called them "Buffalo Hunters" or "Sky King" — it had to land in DaNang, and they put it in the revetment next to us. It was kind of cool but not so cool because it didn't take long before (the enemy) found out there was a B-52. So, they started shelling us.
"They shelled us one time, and I was on the post flight and we were dinking around chasing electrons. They hit us. Well, my responsibility before I leave the aircraft is to make sure everybody is off the aircraft and it's secured. In other words, all the electronics is shut down and can't be a fire started. You can't have the guys leave with a couple of wires crossed. So, you make sure it's secure. So, they started hitting us, and I remember that I was down there beneath the power panel and I was chasing some type of panel and they started hitting us and yelling. Everybody shut their stuff down, and I crawled up out of the hole and I went to the power panel and made sure that all the power was secure, and I looked around and my buddy was gone.
"I walked to the back of the plane and there was this ladder that came down and when I got to the back of the plane, to the ladder, they hit over there. It blew up and nothing happened to me, but all the dirt and crapola came around me. I ran through that cloud of stuff and got to the bunker, and the other guys had got there earlier. They were counting heads and they said, 'Jesus, where's Ole at?' I came around and storming in there, and they said, 'Are you hit? Are you hit?' And I said, 'That's just the dirt in my hair.'"