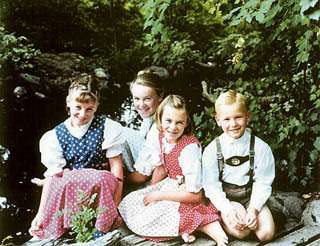 KALISPELL (AP) – In the beginning, Stefan and Annie von Trapp weren't sure they wanted their four young children to follow in the family's famous "Sound of Music" footsteps.
They were content to home-school their children at their rural Kalispell home, to cheer them on at soccer games, to let them sing for small groups, family and friends.
While the von Trapps still enjoy their quiet country living, they're on the brink of something much bigger. The remarkable musical ability of their Austrian ancestors seems destined to continue, again through the sweet, angelic voices of children.
The legacy was solidified as the foursome mesmerized audiences during a recent cross-country tour. When the siblings sang for recovery workers at the World Trade Center site in New York City, the response was overwhelming.
"There's something special about the blend of their voices," said their mother, Annie von Trapp. "We'd see the reaction of the people, and afterward so many would come up to us and say how touched they were. We had never really understood the magnitude of it."
The von Trapp children – Sofia, 13; Melanie, 11; Amanda, 10; and Justin, 7 – are the great-grandchildren of Capt. Georg and Maria von Trapp, whose singing family was portrayed in the popular musical, "The Sound of Music," set against the spectacular Alps surrounding Salzburg, Austria.
Their "Opa" – grandfather – is Werner von Trapp, of Waitsfield, Vt., the fourth child of Capt. von Trapp and his first wife, Agathe, who died of scarlet fever at 32.
As the story goes, the flamboyant Maria was sent from a convent to tutor the seven motherless von Trapp children. She eventually married the captain and they had three more children. After their escape from the Nazis in 1938, the family toured in America and abroad until the late 1950s.
The recent cross-country trip for the Kalispell von Trapps wasn't intended to be a full-blown promotional tour for their first CD, but they got plenty of exposure as word got out that another generation of von Trapps was performing.
They combined the tour with a trip to Vermont to spend time with the children's grandparents. Opa suffered a heart attack last summer and wasn't able to make his annual sojourn to the Flathead Valley.
The CD, produced by University of Montana associate music professor Anne Basinski and released in December, includes a couple of "Sound of Music" songs but is largely a mixture of sacred music, Austrian folk songs and contemporary tunes.
One "Sound of Music" song, "Edelweiss," is endearing to audiences, especially when they learn the story behind the melody.
Edelweiss is an Austrian flower that grows only high in the Alps, where mountain climbers had to risk their lives to gather them.
Because of this act of courage, the flower symbolizes a deep love for the recipient – a love that's more important than the giver's own life, according to a story shared by the children's grandmother.
Time spent at "ground zero" in New York City in January was gratifying because the children's singing was a way to give something back to the recovery workers. They performed at St. Joseph's Chapel, which has been transformed into a cafeteria and haven of rest for workers.
"They were able to make these guys forget the sorrow for a while and laugh," Annie von Trapp said. "Some called their wives and had the children sing over their cell phones."
The message recovery workers wanted the von Trapps to carry with them to other audiences was how grateful they are for the hundreds of cards and notes sent from people everywhere.
Singing occupies much of the children's spare time these days, but it's not their only interest. Amanda dreams of being a dress designer or a famous soccer player one day. Justin, with typical 7-year-old spunk, said he wants to be a dinosaur, and if that doesn't work out, a policeman or secret agent will do.
Sofia, who has been performing "for as long as I can remember," says she'd like to pursue a career in science. She's content to sing for the future, though, because of the connection they make with their audiences.
"We sang for this old woman at a hospital in St. Louis, and she was so happy," Sofia said.
Melanie, the soprano of the bunch, hasn't decided what she'll pursue one day. She thoroughly loves music.
"I want to sing for a long time," she said.
The von Trapp family is considering a contract that would commit the children to a national tour and performances at several large music festivals. A Christmas CD is another project in the works.
"Before they started the (first) CD, they wrote a letter to every member of the family, asking for their blessing," their mother said. "It's important that they understand they're connected to something very special."
Only one other member of the von Trapp family, Stefan's sister, Elizabeth, has performed in the public eye since the original von Trapp singers toured.
It's a legacy Annie and Stefan don't take lightly.
"They've always loved singing, and we feel God has given them this special gift," Stefan said. "Above all, we want their music to stand first for God, family and country. If we can give this gift to people and represent the family, we'll let them sing."