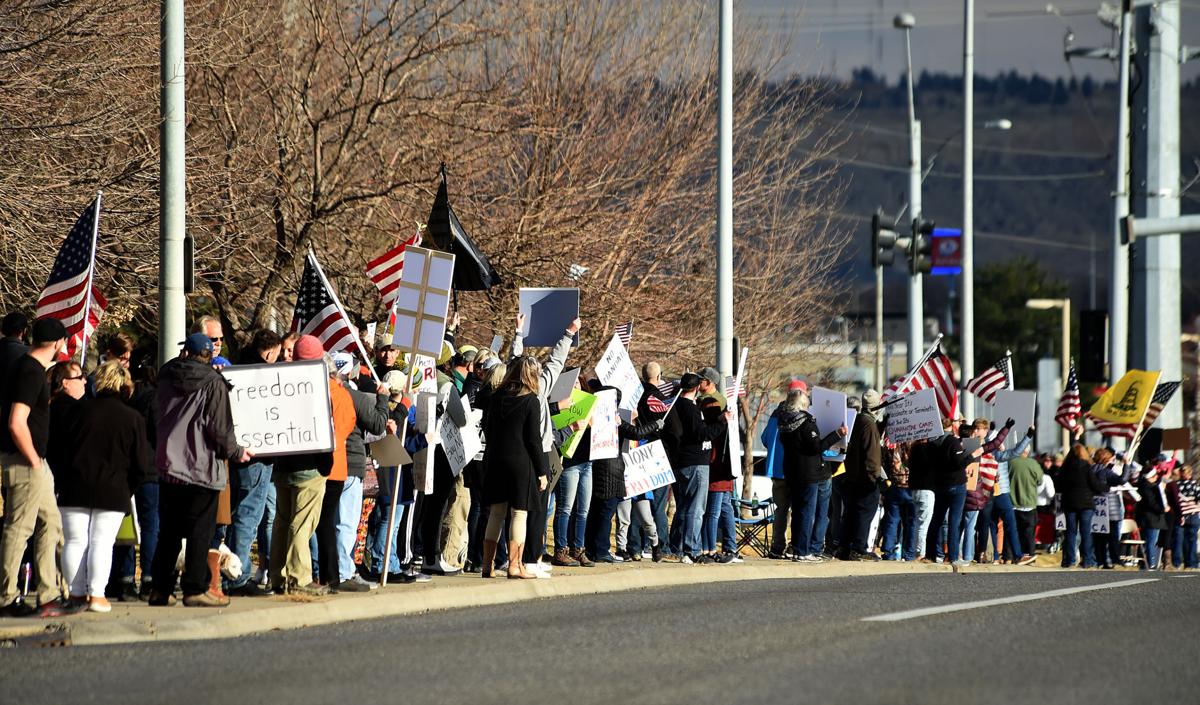 An event already drawing controversy is scheduled to take place on the Montana State University Billings campus later this month.
The group has organized several "Rally for Medical Freedom," events or anti-vax protests in the state recently, according to the organization's Facebook page. A Billings protest took place Sunday, Nov. 28 on the corner of 24th Street and King Avenue. 
Information on the Facebook page reads "there are people in this group who are entirely against the jab itself, those who are on the fence, and those who are against mandated medical intervention."
Screening questions asked of users to also join "BSLA-backup," which lists ground rules for the page, include this caution:
"This group has been created as a platform for communication amongst healthcare workers and other employees who are against the vaccine mandate. This is NOT a place to argue about the vaccine."
In a social media post, BSLA announced Dr. Bryan Ardis, a well-known anti-vaxxer, will be speaking at the Dec. 13 event in Billings at 7 p.m.
Ardis has appeared on various media outlets including American Faith, a media outlet founded in 2020 by a senior pastor of Influence Church in Anaheim, California, where he voiced conspiracy theories and advised listeners to not go to the hospital if sick with COVID and avoid the intensive care unit at all costs.
"Do not let your family go into the ICU," Ardis said in the interview.
Ardis holds a D.C., doctor of chiropractic. He has not attended medical school and therefore is not a medical doctor.
Chiropractors attend a four-year chiropractic program and all states require a D.C. in order to practice.
In a 2008 disciplinary action report by the state of Tennessee, Ardis is listed as failing to properly maintain or submit sufficient continuing education credits and faced $600 in penalties. His practice is listed as permanently closed.
He currently operates Ardis Labs in Texas producing "all natural" acne treatment called "The Ardis Acne System," which he stared in January 2019, according to the website.
MSUB regularly offers on-campus space to entities not affiliated with the university through a rent agreement, said MSUB Director of Communications Maureen Brakke.
To her knowledge, the university has never turned away a speaker or organization who commits to the renting agreement.
In an official statement, the institution separated itself from BSLA and the speaker, saying that "the University cannot make a judgment about whether to rent out an event space based on an entity's perception, the propriety or impropriety of their speech, or public disapproval. MSU Billings is not sponsoring and is not affiliated with the Big Sky Liberty Alliance event and is generally not affiliated with external entities who rent their event space. University funds are not used to support this event or any other non-university event unless explicitly stated."
Throughout the pandemic, the MSUB campus has followed guidance from public health partners to mitigate the spread of COVID-19 among students, faculty and the community. Brakke's concern is that since the event is happening on campus, there will be confusion regarding the institution's commitment to an evidence-based approach to managing the pandemic.
"MSU Billings has followed a consistent and evidence-based approach to COVID-19 since the beginning of the pandemic and continues to support the health and safety of its campus and larger community. The University plans to stay the course with the current COVID-19 protocols out of an abundance of caution, to ensure the health and safety of the campus community," according to the statement.