Pretend money, families and events all played a role in a United Way of Yellowstone County simulation designed to offer insights into the lives of Americans struggling to get by.
A few dozen people participated in the simulation Wednesday, which organizers hoped would encourage action.
"We know we always have more to do," said impact analyst Dean Wells. "We challenge everybody to think about what other actions they can take."
The goal wasn't to make light of poverty, but to offer a different way of understanding the challenges some people face in their daily lives, Wells said.
The simulation was designed to illustrate a month's living, with every week given 13 minutes, followed by a two minute weekend. To access services at any stop along the way, a person needed to present a $1 transportation pass. Transactions were carried out with fake money.
Yellowstone County has 15,767 people living in poverty, with 1,940 of them children age 5 or younger, according to information provided by United Way to participants.
An individual is living at the poverty line in Yellowstone County if their annual income is $12,140, and a living wage for a single person is $22,714, Wells said. 
Two adults with a dependent in need of child care are at the poverty level if they have $20,780 in income. A living wage for the same people would be $55,328 annually, according a Massachusetts Institute of Technology poverty calculation Wells provided. 
Participants were dealt identities of people who live along a range between the poverty line and a living wage. Each person was given a folder with a list of objectives, traits, assets and background information for their identity. Some people were asked to assume the roles of children or grandparents or teenagers, and people were grouped into family units.
After participants learned their new identities, Wells pointed out stations set up around the office.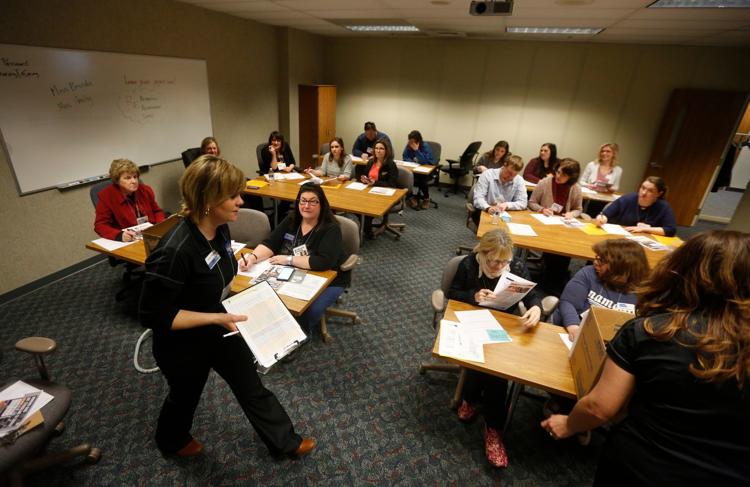 In one corner sat a community action group, next to a mortgage and realty office. Social services could be accessed across the way from medical services, the bank, a pawn shop, an employer space and a quick cash checking business, all staffed by desk-bound volunteers playing pre-assigned roles. 
Some participants had to go to school in a pretend classroom. Others had to show up for work and sit in a chair while their employer dealt out assignments.
Good luck or disaster could be meted out at random in the form of cards dealt to families and individuals.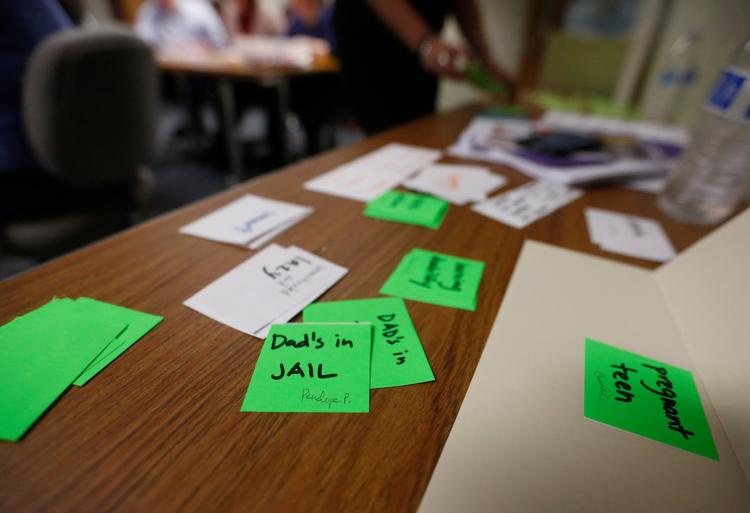 Limited resources, random bad luck, and confusion of navigating services and locations challenged the participants. Add to that the constant need to pay for transportation and the tight timeline of each "week" in the simulation, and few participants at the end raised their hands to say they felt the lives of their characters had improved. Most thought they'd made no progress at all. 
"Today is more about having this experience and getting fired up to do something," said Kristin Lundgren, director of impact for United Way of Yellowstone County.
United Way aims to continue outreach toward participants, who Lundgren called a "diverse group" made up of public officials, and representatives of both local businesses and the nonprofit sector. 
"In some sense, Rome is burning for us right now in Billings with all the budget cuts," Lundgren said. "People are receiving notices every day that services are being cut off."