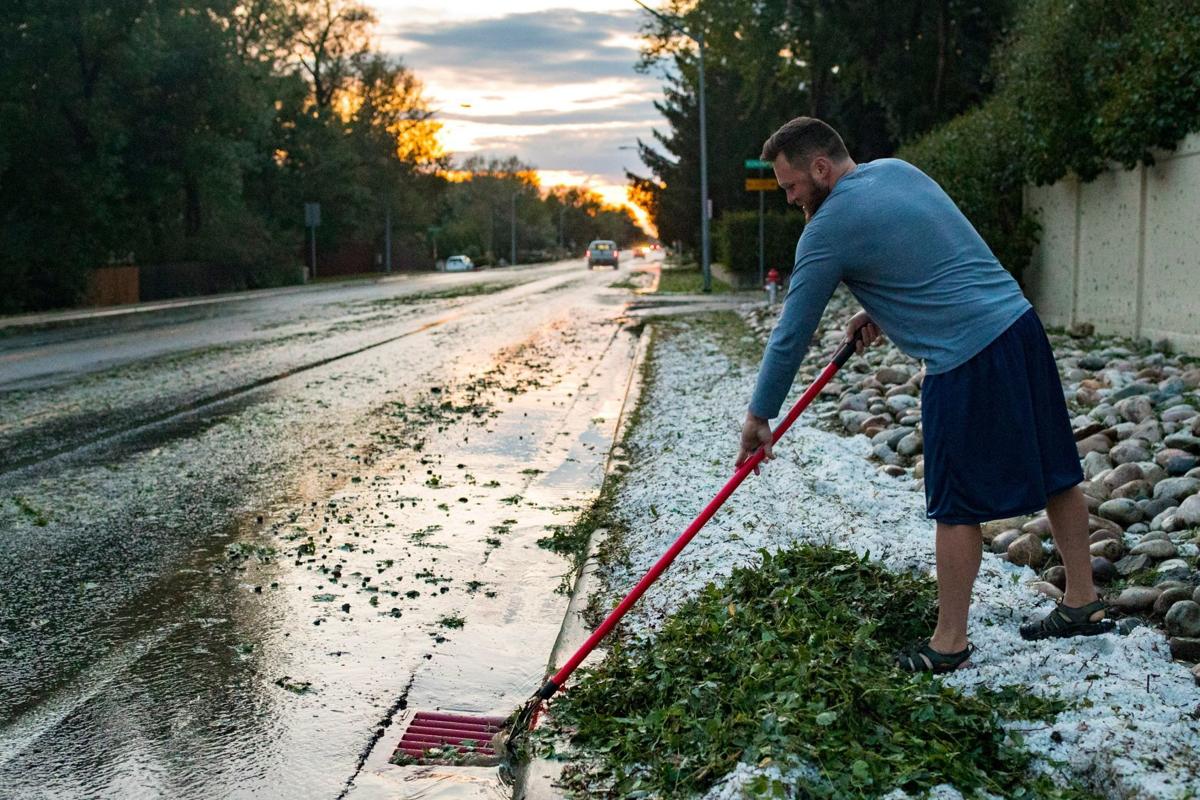 Terry and Patti Schiesser were out eating dinner when they got a call from the Billings Fire Department that part of the metal roofing of their business blew off.
A storm that blew into the Billings area on Thursday night left the Schiessers' business partially without a roof.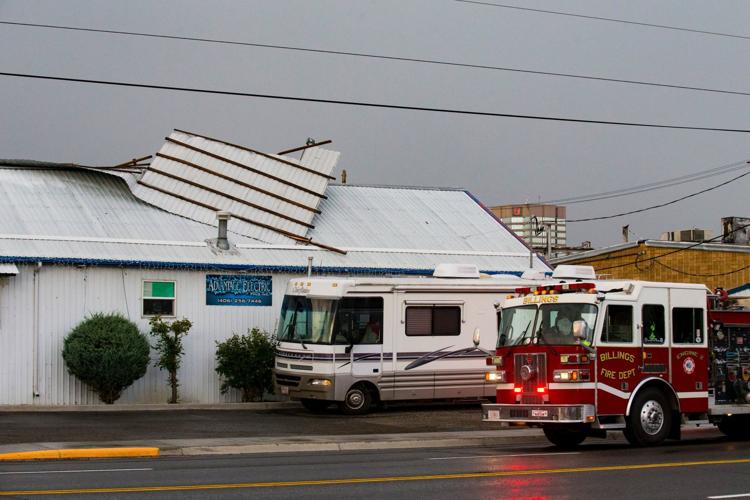 Once they got the call, they arrived at their business, Advantage Electric Plus Inc. on 1st Avenue South, Thursday evening to see a large part of their roofing had torn off and landed across the street. The roofing had cut a few power lines nearby. The attic was exposed but intact.
The National Weather Service issued a severe thunderstorm warning for central Yellowstone County and south-central Montana until 7:45 p.m. Thursday.
The severe thunderstorm was located over Billings' Heights and moved northeast at 15 mph around 7 p.m.
The advisory warned of 60 mph winds and quarter-sized hail.
Hail damage to vehicles was expected with the storm, as well as wind damage to roofs, siding, and trees. The storm also pushed Billings to a daily rainfall record, with almost an inch of water piling up, according to the weather service. 
The Schiessers owned the building since 2002, and they've never seen anything like this.
Their Winnebago parked in front of the building received minor damages from a piece of metal that detached from the roof.
"I'm glad we weren't inside the building," Terry Schiesser said, chuckling. "That would have been wild."
None of the contents of the warehouse and office areas were touched by the storm, but Terry Schiesser hoped the storms were done for a while so water wouldn't flood in from the exposed attic.
They kept a good sense of humor, however, and said it was covered by business insurance.
You have free articles remaining.
"We struggle along sometimes paying it, but I'll get a little bit of my money back out of it," he said.
On the West End, a Billings Gazette photographer spotted pea-sized hail.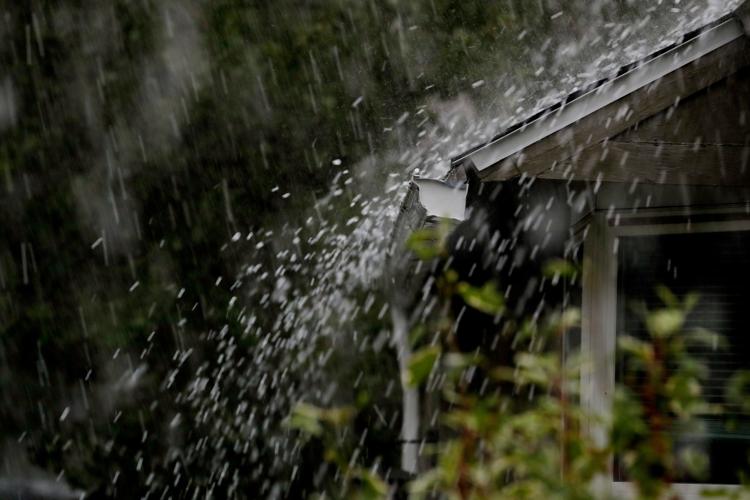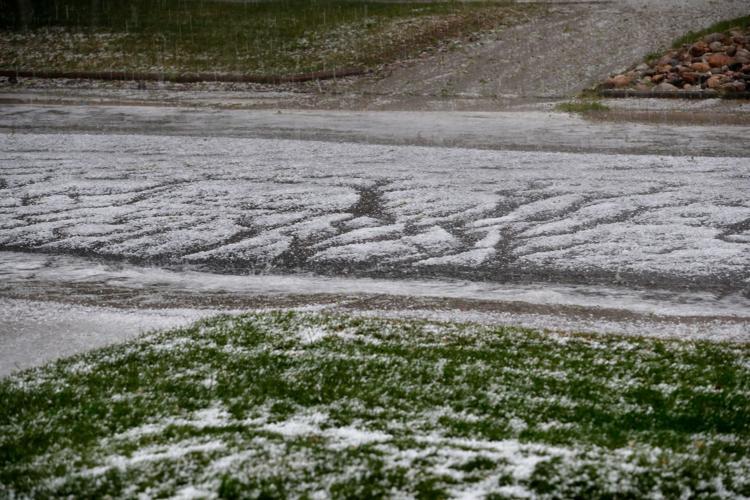 Rimrock Road saw quite a bit of hail, with a few sections of the road filled with water.
Braxton Thelen, who lives on Ronan Drive that connects to Rimrock, noticed that cars were struggling to drive through the water. He grabbed a rake and started removing tree debris from a nearby street drain.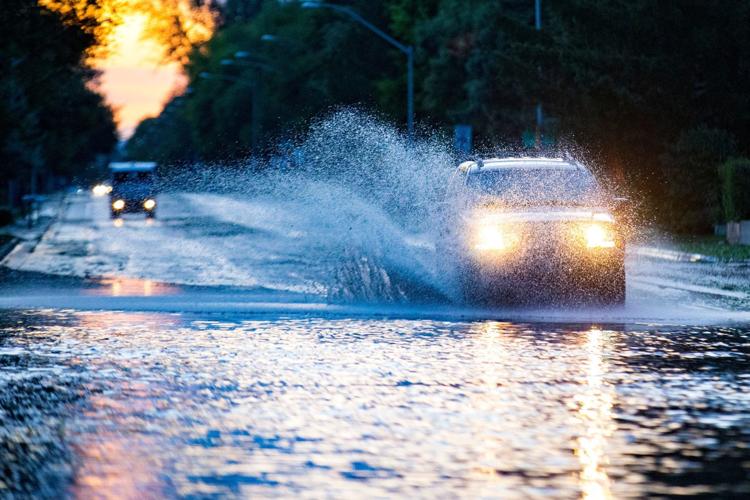 After a half hour of raking, a decent sized pile of green leaves accumulated below him on the curb.
Thelen's home didn't receive any damages from the storm except for a minor leak.
"I've gotten a few splashes, but not too bad though," Thelen said. "I figured since I live here, I had some responsibility."
Areas affected by the storm included Billings, Lockwood, Shepherd, Huntley, and Billings' Heights.
The weather service advised people to move to interior rooms on the lowest floor of the building they were in during the storm.
The storm seemed to hit suddenly, leaving hundreds without power in Billings' midtown, according to NorthWestern Energy's outage map.
Damage following a hailstorm and high winds in Billings on Thursday, Aug. 22, 2019.