The Polar Service Center employees are both recovering with non-life-threatening injuries at the University of Utah Health Care Burn Center in Salt Lake City, according to their family members.
Polar is a Houston, Texas-based company with 28 locations across the country, and it has been cited in the past for numerous safety violations and dangerous situations, including at the Lockwood location.
Video from inside the warehouse where the employees were working shows one man standing on the open diesel tanker while the other stood on the ground nearby, Lockwood Fire Chief John Staley said Friday.
"You can actually see the vapor from the gas … the vapors just ignite, and we had kind of an initial explosion at ground level and then a larger explosion almost simultaneously" near the tank's opening, Staley said.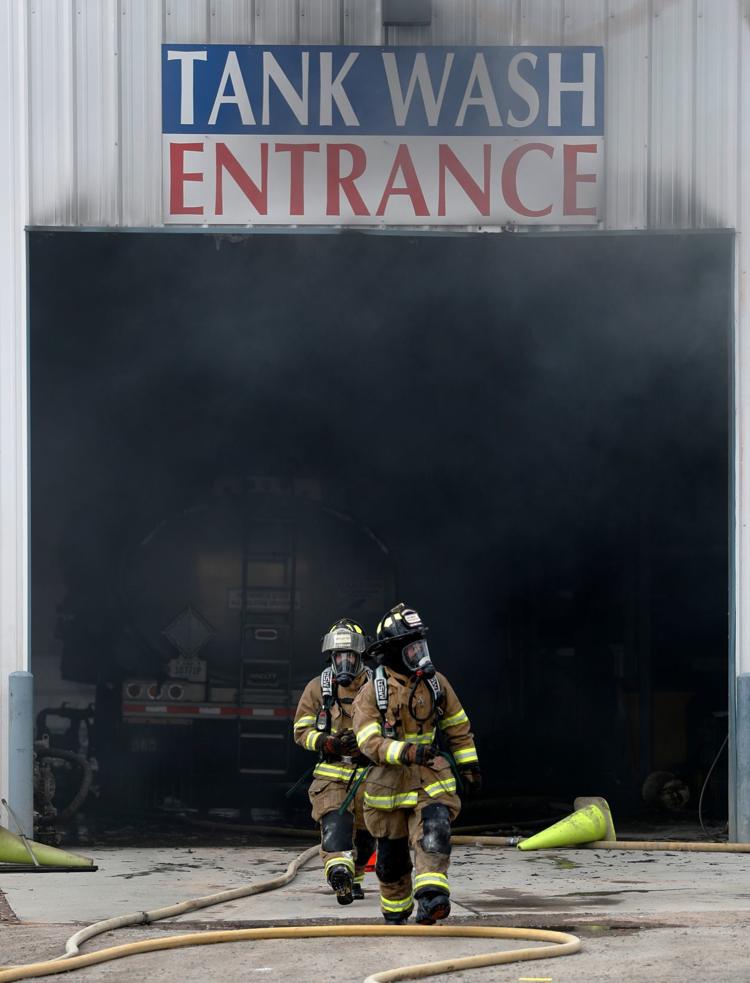 Polar Service Centers is a nationwide chain of facilities that clean, maintain and sell industrial tank trailers and trucks. The two men were technicians responsible for cleaning and maintaining tanks brought to the Lockwood facility, company president Jerry Cignarella said Friday.
The worker on top of the tank trailer, 23-year-old Josiah Coulimore, was strapped into a safety harness, and both Staley and Coulimore's wife, Danielle, said Friday that it apparently prevented him from being thrown from the trailer. But, Staley said, the video shows the man unable to unbuckle himself from the harness as a fire broke out around him.
"It was fortunate that it pushed him to the back of the trailer, because the flames were off to the sides," Staley said. "It didn't stop him from getting burned, but my guess is that it stopped him from getting burned more significantly."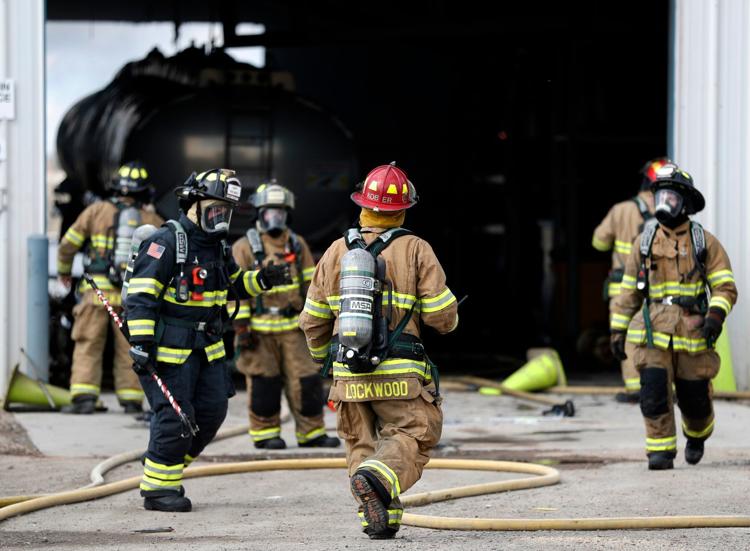 Danielle Coulimore said her husband suffered second- and third-degree burns on one of his hands, and had second-degree burns on the other. His elbows and the tips of his ears were also burned, either during the explosion or the fire. The hair on the back of his head was also singed, she said.
Coulimore called her as soon as he had escaped from the fire, but because he was being rushed into an ambulance, he only had time to tell her there had been a fire and he was going to the hospital.
"I was wondering whether I was going to find a husband with missing limbs," she said, recalling her drive to the hospital. "I didn't know what I was going to find when I got there. I was just glad he was alive, obviously."
Coulimore's co-worker, 41-year-old Jarred Berns, of Billings, suffered third-degree burns on one of his hands and partway up his arm that may require skin grafts, his mother LuAnn Barman said Friday. He also has second-degree burns on his other hand, his face and his neck, causing substantial swelling and making it difficult for him to talk or eat food. Berns' back was also burned.
"He remembers all of it," Barman said. "We thank God that they both survived … Jarred said he just keeps reliving it. He shuts his eyes (and) he can just relive it."
The force of the explosion was substantial. The tank, which Staley estimated had a capacity of 4,000 to 5,000 gallons, could be seen lifting more than a foot into the air, he said, and added that the video also showed Coulimore being pushed back "6 to 10 feet" from where he had been standing on top of the tank.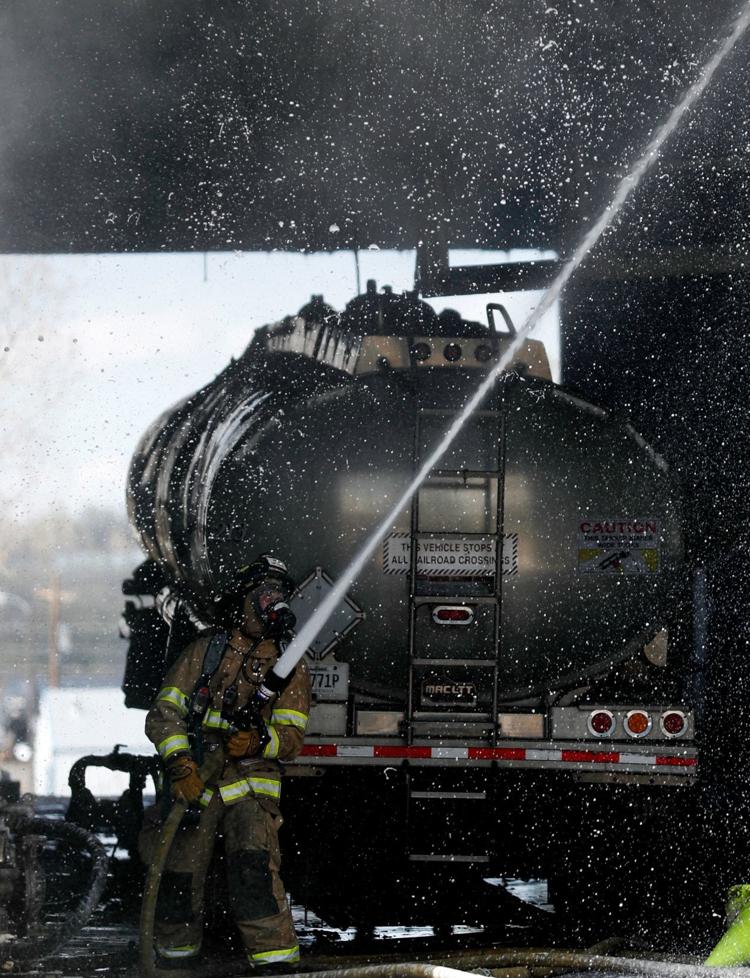 Trevor Foos, who owns Metal Works Construction next door to the business, said he was welding in his metal fabrication shop Thursday when he felt the blast.
"It was a good bang. I mean, it shook the whole building," Foos said, estimating that his shop is more than 100 yards from where the men were working. "I know a good explosion when I hear one, and it was a good one."
As smoke began pouring from the tank-washing warehouse, concerns about hazardous chemicals leaking from the facility prompted emergency response officials to establish perimeters and ask the public to keep away. Staley said he did not have a list of what chemicals were present.
"There were corrosives, there were flammables," he said. "There was a nice collection, and some of them in pretty good supply. When I say pretty good, I mean over 100 gallons."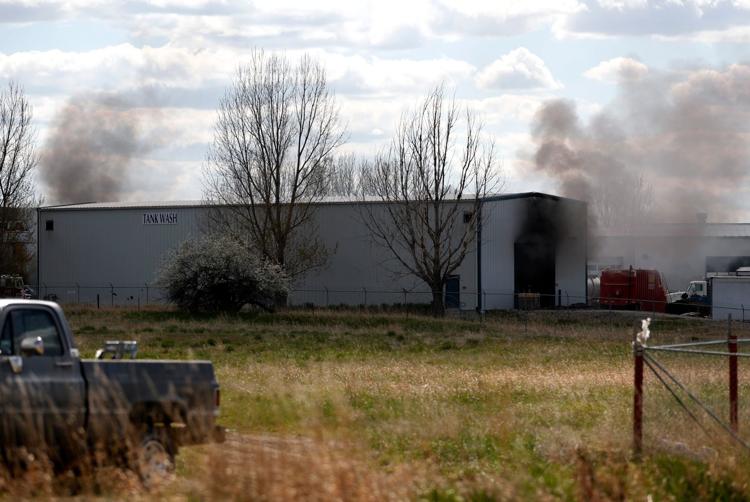 Staley did not believe there were any significant chemical releases into the environment. None of the firefighters who responded have reported any symptoms of exposure to harmful chemicals, he said.
A history of violations
Cignarella, the company president, said as of Friday afternoon he did not have any updates on the medical conditions of the two injured workers. Cignarella said the Lockwood location employs about 20 people.
"We wish both employees a speedy recovery," Cignarella said. "We've got the local management team right now focused on working with the families to make sure we get them what they need."
That includes paying their travel expenses, he added.
Cignarella declined to speculate on what went wrong to cause the explosion, saying instead that a team of employees are headed to the Lockwood site to work with investigators from the federal Occupational Safety and Health Administration.
The company has been cited by OSHA before for safety violations. In 2017, an explosion at the Polar Service Center in Commerce City, Colorado, sent "debris raining down" into a neighborhood across the street," according to a local television station. No one was injured in that incident.
"In Colorado, we had an un-similar, I would call it, someone who was welding on a tank," Cignarella said when asked about the incident.
In 2011, OSHA officials proposed more than $150,000 in fines against the company's Lockwood location. The safety oversight agency identified 13 serious violations, including: exposing workers to "acute illness, incapacitation or death from" hexavalent chromium and potentially toxic gases, an oxygen-deficient atmosphere and possible explosions; failure to develop safety protocols for employees exposed to those conditions; and failing to require employees to use emergency, rescue, testing and monitoring equipment.
The citations were handed down months after an employee at a Polar Service location in St. Gabriel, Louisiana, died after climbing into a tank to repair a valve.
"We take safety seriously, and we go to great strides to try to keep employees safe," Cignarella said when asked about those previous incidents.
Danielle Coulimore said that the day before the explosion, her husband had come home feeling sick, and ended up vomiting that night after cleaning out a tank that had been used to transport an industrial acid.
Cignarella said he had not been made aware of any safety complaint raised by any workers at the facility.
"If an employee expressed a concern, through the proper channels, I would have known," he said.
Regardless, Danielle Coulimore said her husband's brief tenure at the facility was over.
"He's definitely not going back to work there," she said. "I know that for sure."