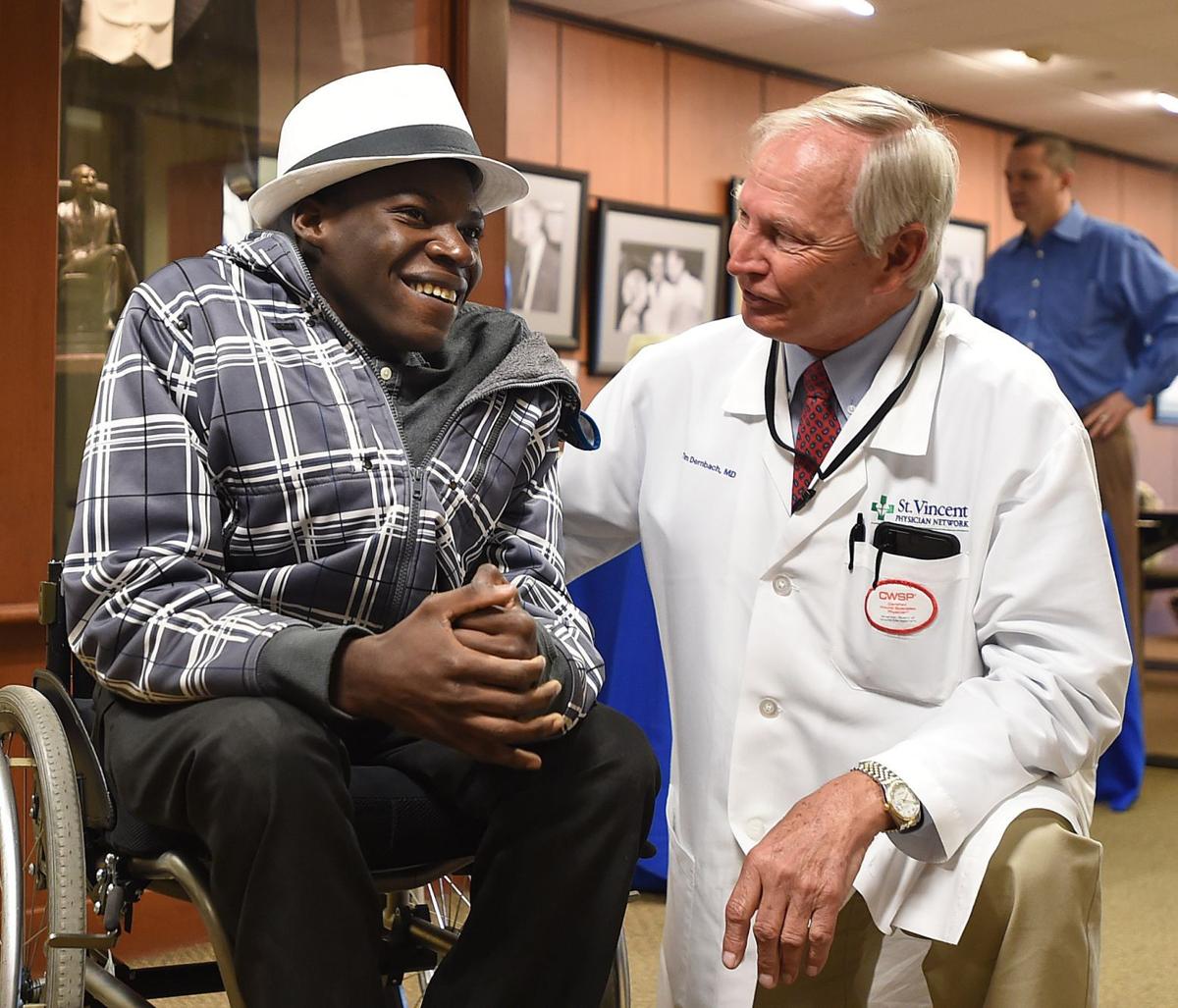 Rogers Ssembatya came to Montana from Uganda in 2014 with pressure sores and a bone infection that could have led to his death.
Instead, months of treatment through St. Vincent Healthcare in Billings restored the paraplegic's health. It allowed the now 18-year-old to lead a normal life, to smile again.
Ssembatya's story kicked off the third annual Wound Care Conference sponsored by the Billings hospital at the Mansfield Health Education Center. Participants at the two-day conference watched a short video produced by MiMedx about Ssembatya and his long, difficult medical journey.
St. Vincent donated all the costs of Ssembatya's care, and MiMedx donated $34,000 in products toward his treatments. Both Ssembatya and Terry Fettig, his American guardian, were on hand for the start of the conference.
Watching the video Thursday, he said, it brought back a lot of the pain he experienced during those difficult years.
He's glad to be on this side of all the medical care he's undergone. It has left him with a gratitude for all the people who have helped him on his way, including Fettig, the physician assistant from St. Vincent he met in Uganda, and the many physicians and other medical professionals.
"I don't know how to thank them," he said. "Just be who I am, go to school and give back. That's what it's all about."
Back and forth
Back in 2006, Ssembatya was discovered in a small village by Nadine Hart, a St. Vincent physician assistant, who was in Uganda on a mission trip. He had no clothes, was wrapped only in a blanket, unable to extend his contracted legs.
Ssembatya was severely malnourished. He was often the last one to be fed since no one thought he would live long.
Hart did what she could for the boy. When she returned to the United States she told Fettig, then-president of AIDSpirit USA, about the youngster.
Fettig, a Billings contractor, traveled to Uganda in 2007 to help start a sponsorship program for children to go to school. While he was there, he met Ssembatya, made sure the boy had clothes and a new wheelchair.
He and Hart helped him get admitted to a rehabilitation hospital, where he was diagnosed with TB of the spine. The pair worked long and hard and eventually got Ssembatya to St. Vincent in 2010.
There, for the next 18 months, his condition was evaluated and treated, with all the costs covered. In 2011, Ssembayta underwent delicate surgery to remove part of his spine, which was then realigned and fused.
In 2012, he remained under medical care, needing doctor visits to check the hardware in his back and prevent infection. When Fettig returned to Uganda that summer, he brought Ssembatya with him so the youth could see his mother, who was terminally ill.
When it was time to return, complications arose over the youth's travel status and he wasn't allowed to return to the U.S. Fettig placed the youth in safe care and returned to the U.S.
By then, the youth, who relies on a wheelchair, had developed deep pressure sores and a bone infection. That's where Dr. Timothy Dernbach came in.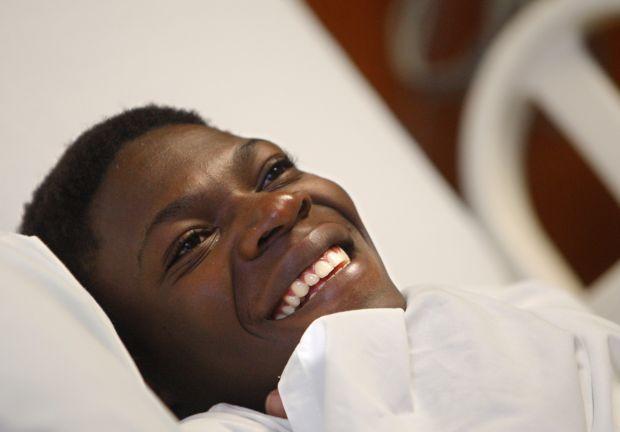 Wound care
Dernbach, a vascular surgeon and certified wound specialist at St. Vincent, spoke in an interview after the video about his work with Ssembatya. The youth, Dernbach said, was diagnosed with the pressure ulcers and an infection in his pelvic bone.
"In the olden days that wasn't even treatable," Dernbach said. "Virtually all those patients either carried those wounds till their death or they died from them, from sepsis."
The wound specialist used a trio of treatments. They included surgery to remove the infected bone, hyperbaric oxygen to get oxygen and blood to the involved area and IV antibiotics.
"Unless we put patients in the hyperbaric chamber, which increase the blood supply to those areas, the antibiotics don't get there," Dernbach said. "So that allows the antibiotics to get to the wound and allows white blood cells to get into the wound and heal it."
Another recent invention he used with Ssembatya is a skin care product that uses the amniotic membrane. The tissue is removed, with a mother's permission, during a Caesarean section, and is sterilized and analyzed to make sure it has no bacteria or virus forms in it.
"And then they freeze-dry it and it comes to us in a dry sheet," Dernbach said. "And these skin substitutes are just filled with growth factors, which stimulate the body to bring in healing cells and that accentuates the healing process."
The wound care specialty is only 10 to 12 years old, he said. But it is making all the difference for patients who used to suffer different outcomes.
Previously, patients with diabetic foot ulcers had to undergo amputation because the bone got infected. Now, that outcome is rare.
"For every one we see like Rogers, we probably see 100 diabetic foot ulcers that normally would have lost a limb because of the infection of the bone that was not curable," Dernbach said. "With hyperbaric oxygen and antibiotics and wound care, they are."
He's glad to have helped Ssembatya. "To take a young man like that who wasn't born on a level playing field and get to the level of life that he enjoys is really, really gratifying."
'A family again'
Fettig appreciates all the care and kindness shown to Ssembatya by the hospital and the staff. He remembers the weeks of inpatient care and then the many months of outpatient treatment.
"I think Rogers did better than I did," Fettig said. "He had such a good attitude about getting better. He wanted to go to school so bad, and he was stuck in bed for a lot of that time."
He likes the fact that the two are back to a regular routine.
"I get home from work, we cook dinner together, watch TV and he does his studying," Fettig said. "We're a family again."
During Ssembatya's treatment, he was allowed to go to Senior High, joining classmates he first met when he attended Riverside Middle School during his first stay in Billings. He was awarded an honorary diploma.
Now Ssembatya is attending Lincoln Center to earn his GED. He thinks he might like to go to college to become a counselor. That people connection is important in his life.
"What makes us happy is other human beings," he said. "The pain goes away when you think about happy things they have done for you, how life is, how it has changed."