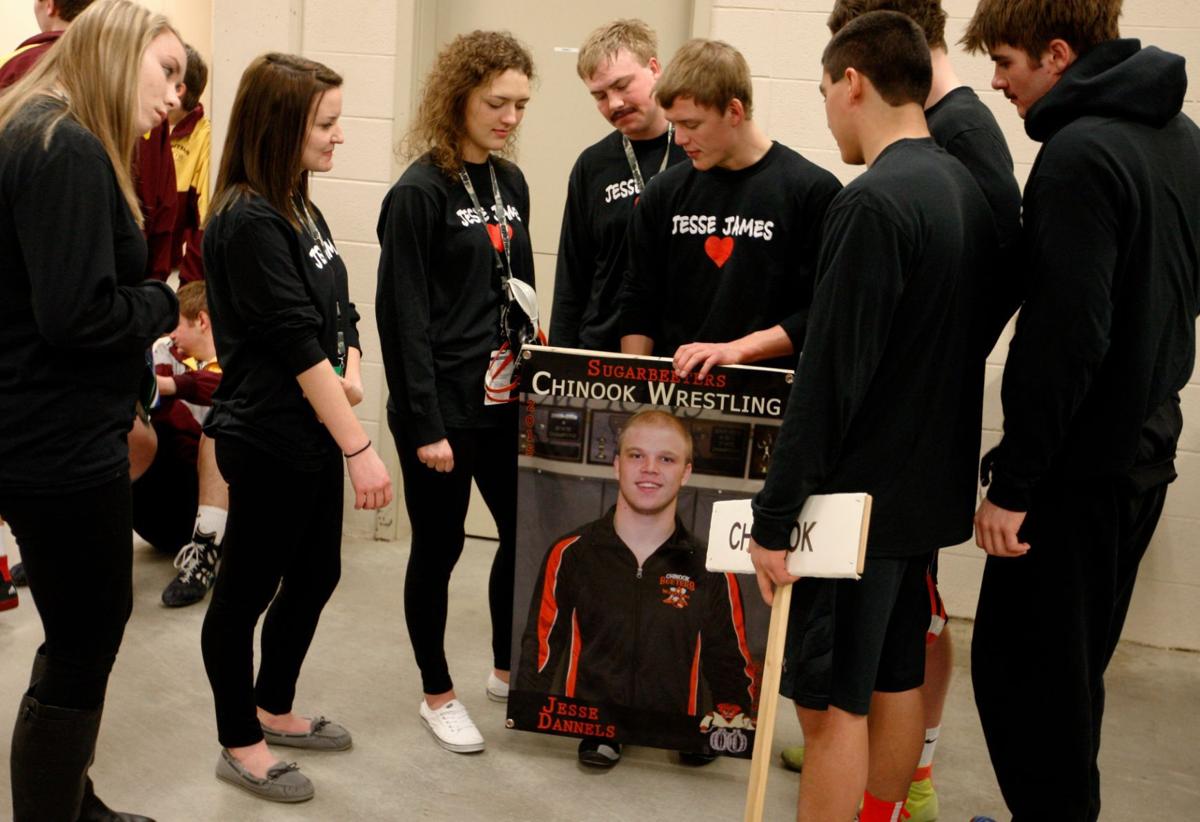 The 2016 State All-Class Wrestling Tournament started off Friday morning as it always does, with the parade of athletes on the floor of the Rimrock Auto Arena at MetraPark.
Beginning with Anaconda, the teams and the schools' cheerleaders walked from one end of the arena to the other, one of the wrestlers holding up the name of the town or school they were from. As the announcer called out each team over the loudspeaker, a pocket of fans cheered and clapped.
Then the team from Chinook walked out, holding an enlarged photo of teammate Jesse Dannels, and applause broke out around the arena. The wrestling community wanted to honor one of their own, an 18-year-old known for his quick smile and his unrelenting kindness, who died in a head-on collision east of Chinook on Sunday afternoon.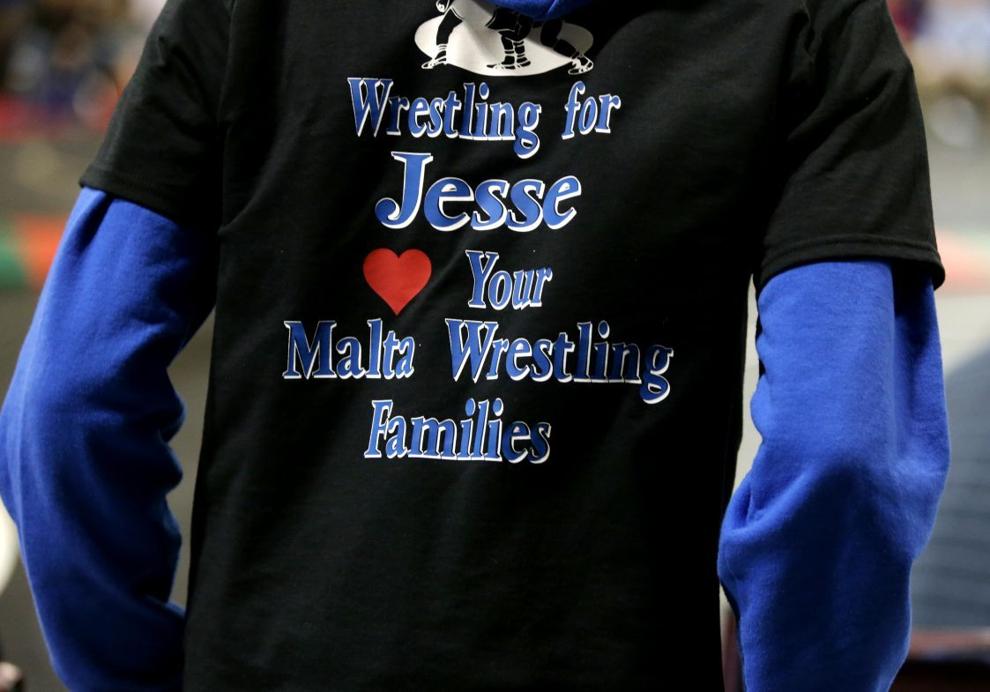 The Chinook team, the Sugarbeeters, wore black shirts to honor their friend, with his first and middle name, "Jesse James," printed on them with a red heart. They weren't alone in remembering Jesse.
Cutbank wrestlers wore orange-and-black shirts that read "Wrestle for Jesse." Harlem grapplers wore orange arm bands with "Jesse" printed in black.
Skyview wrestlers wore ribbons with "182" on them, the weight class Jesse wrestled in. And Malta athletes wore T-shirts that bore his photo on the front, with the writing, "In memory of Jesse 1/29/97-2/7/16" and "Wrestling for Jesse," a heart, and "Your Malta wrestling families" on the back.
Before the colors were presented and "The Star-Spangled Banner" was sung, the announcer asked for a moment of silence to honor the student athlete.
Jesse wasn't there on Friday to wrestle, but he was remembered by the wrestlers, the coaches, the fans and Jesse's family, who came to cheer on the other wrestlers from the close-knit Chinook team.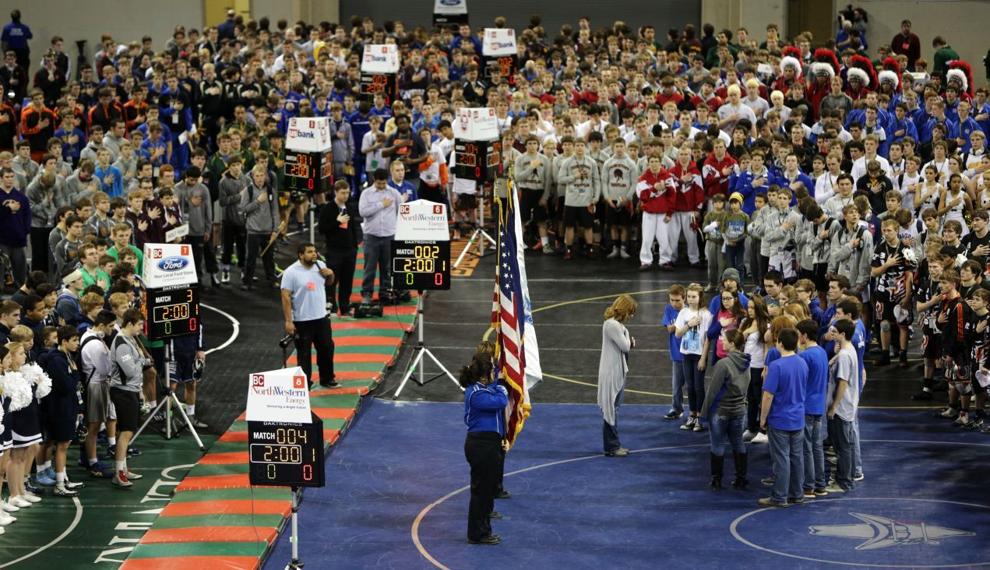 "The wrestling community is a tight, tight community, and we couldn't not be here," said Ruth Dannels, Jesse's mother, as she stood in front of Chinook's cheering section. "We've been looking forward to it all year. It brings us healing, and we hope it brings the boys comfort."
She and her husband, Bob, Jesse's father, and 13 members of their family sat among the Chinook faithful in the second tier of seats reserved by families and friends who had come to urge on their team to a second consecutive Class C wrestling championship.
Wrestling had been part of Jesse's entire life, his mother said. He followed in the footsteps of his three older brothers.
"Jesse was born on Nov. 29, and we had a wrestling meet on the 4th of December," Ruth Dannels said. "He's been in a wrestling room his entire life."
Jesse started wrestling at about age 6 and never stopped, both in formal settings with his teammates and at home with his siblings.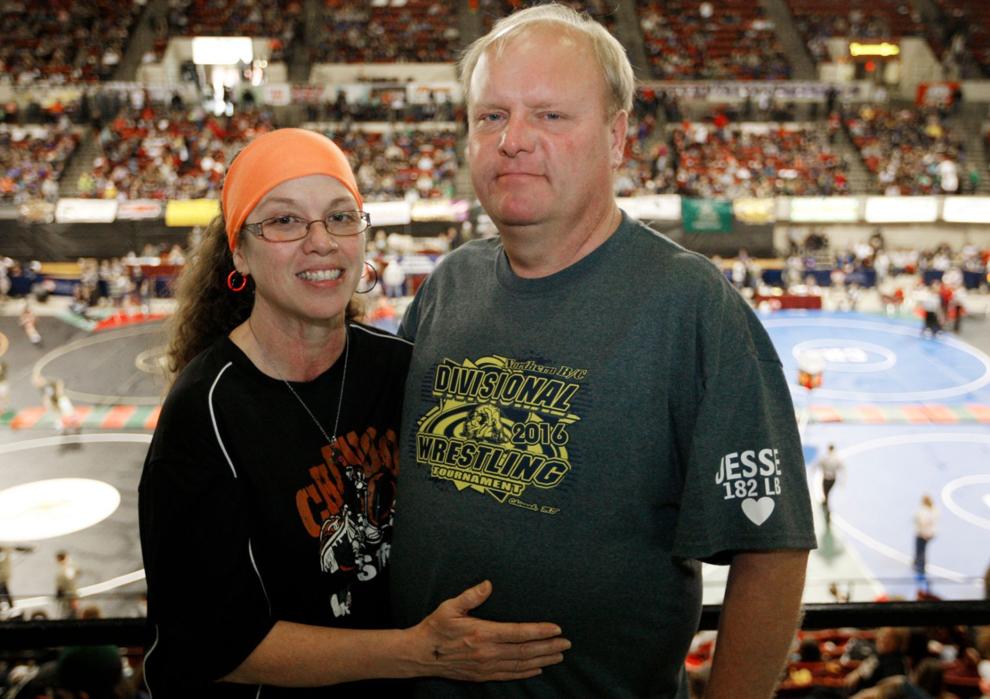 "They involved their little brother all the time, on the mat, on the grass, wherever they can," she said. "Just a few years ago we were in Phoenix for Thanksgiving, and the boys were all wrestling all over the yard."
Last Saturday, the day before the crash, Jesse had come in second in his weight class at the Northern B-C divisional wrestling meet in Chinook, qualifying him for the state tournament. But his athletic prowess wasn't limited to wrestling.
He was an all-state, all-conference football player, a state champion swimmer and a member of the track team. When he lost, he didn't let it get him down, his mother said.
At the divisional tournament, he managed to get one of his longtime competitors on his back for a couple of seconds before he lost the match.
"He lost, but he got up smiling because he knew he wrestled great that day," Ruth Dannels said. 
As much as she enjoyed rooting him on in sports, there was something more important, Ruth Dannels said.
"I think we're most proud of Jesse as a human being," she said. "Jesse never hesitated to be there for his friends, his family. He's kind, compassionate and humble about it."
In the past week, Ruth Dannels learned from other people how Jesse touched their lives. A Chinook grandmother told Ruth Dannels how her son had saved the woman's granddaughter from drowning two summers ago when he worked as a lifeguard.
"I had people tell me this week that last year at the tournament, 'this blond-haired kid from Chinook just sat down and started talking to me, and he kind of made my day,' " Ruth Dannels said. "That's Jesse. He had a quick smile, a beautiful heart, love and compassion."
He had been accepted to the University of Arizona and planned to become a special education teacher. 
"He loved helping kids, and he loved helping those with special needs," she said. "He had a passion for Special Olympics."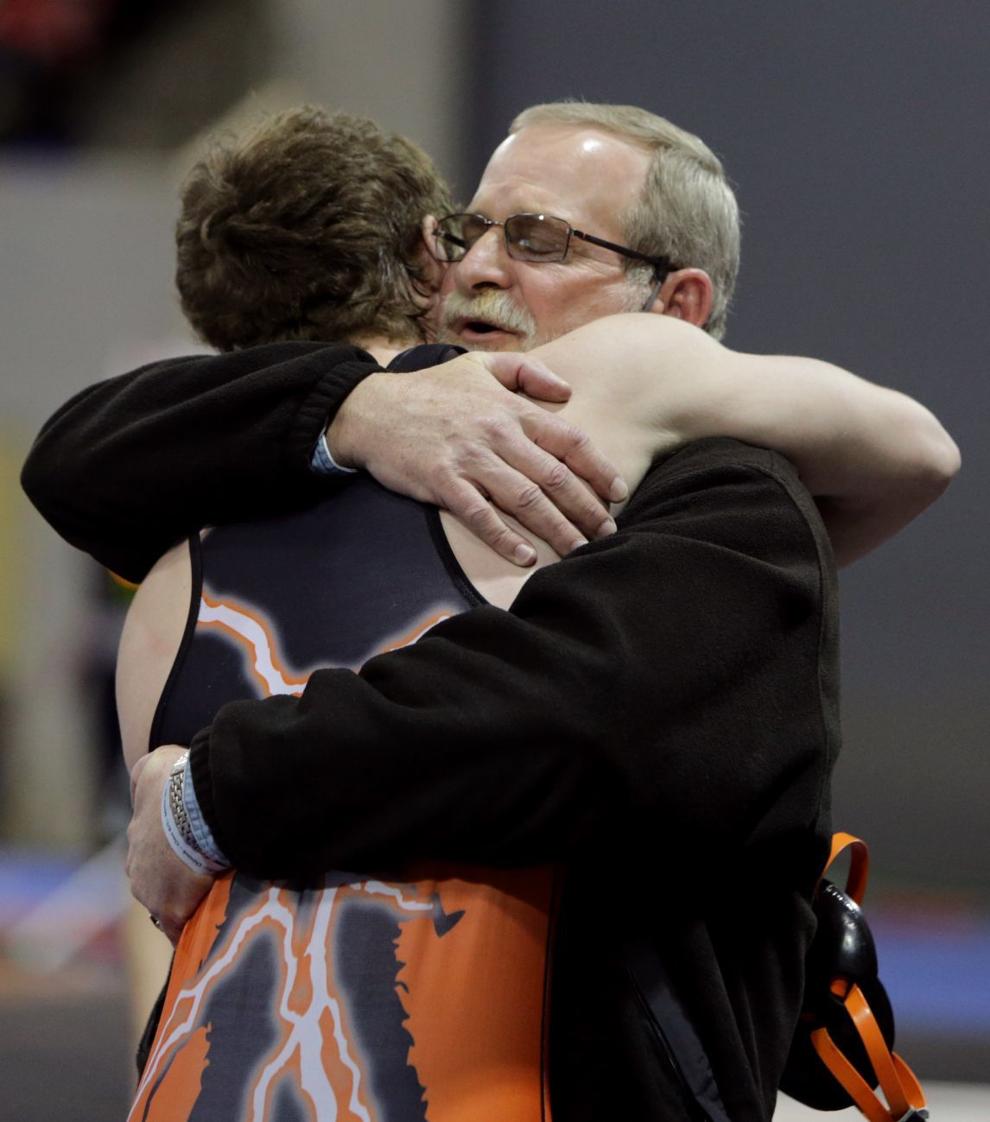 More than 1,000 people came to his memorial service Wednesday at the Chinook High auditorium. Chinook wrestling coach Perry Miller was one of the speakers at that service.
"I did say in my speech that in 35 years of coaching that Jesse was one of the kindest, gentlest, most compassionate human beings that I ever coached, and that's a true story," Miller said. "He was an amazing kid that had such a big heart."
Whenever Miller, who is also justice of the peace in Chinook, got a call to help residents in the small community move furniture or help with a fundraiser, "Jesse was one of those go-to kids."
Miller had coached Jesse from his childhood. One of the things he taught his young wrestlers was to put on a game face before a match, but Jesse never quite got the hang of it.
"Even as an 18-year-old I could tell Jesse to get his game face on, and he'd be serious for about five seconds and that big old smile would just burst out," Miller said.
The Montana all-class wrestling tournament is Friday and Saturday at MetraPark in Billings. …
Jesse's sudden death is a reminder, he said, that life is precious "and we need to enjoy every minute that we have with these kids."
"They work their way into our hearts when they're very little, and they get their little piece of our heart," Miller said. "And we don't know until they're gone how big of a hole that little piece actually leaves, and it's just been hard."
The outpouring of support has helped all those who loved Jesse, Miller said. He talked about meeting an employee at the Kelly Inn who was wearing an orange and black and white ribbon.
"I thanked her, and she said 'I'm a Skyview mom and we bleed blue and white, but this weekend we cheer for the Beeters,' " Miller said, emotion in his voice.
Chinook wrestler Ken Pruttis, who had wrestled with Jesse since second grade, called his teammate "the friend you'd want to have, by far the most inspirational kid I've ever met."
"If we were having a gloomy practice, he'd find a way to brighten it up," Ken, a senior, said. "He motivated us to perform our best."
When Ken was deciding what sports he wanted to participate in at the start of high school, he was leaning toward basketball. But Jesse talked him into wrestling. And now, for the tournament, Ken planned to focus on winning and on Jesse.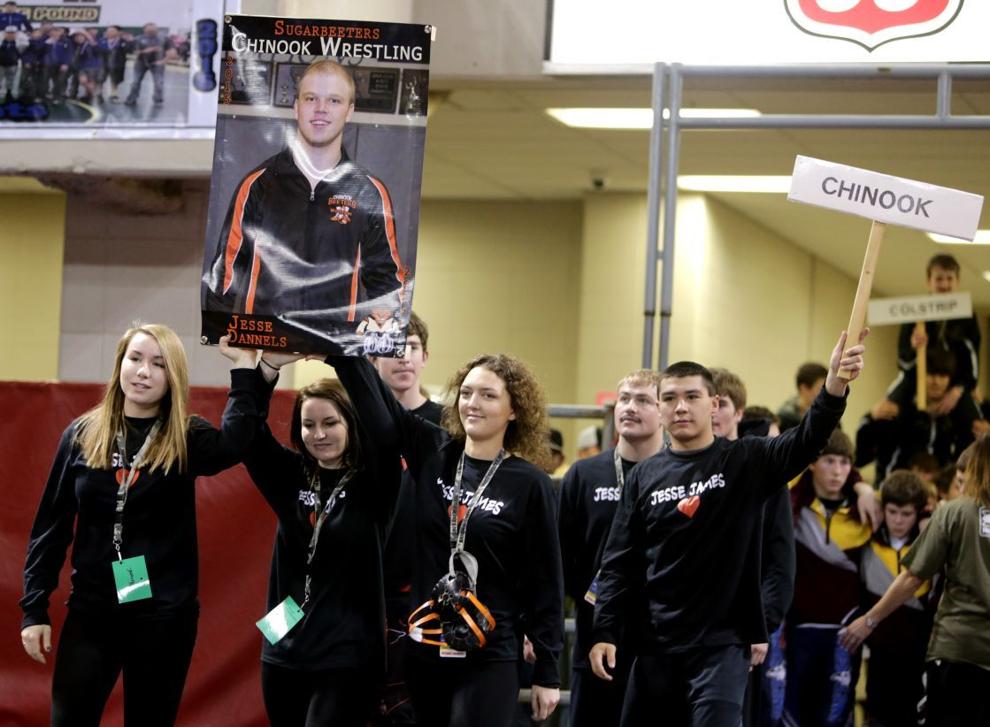 "Everything I do from here on out is for Jesse Dannels," he said.
Teammate Jake Norby, a senior, said Jesse would drop everything in a heartbeat to come help.
"He's just a great athlete, but he's an even greater human being," Jake said.
Senior Kevin Young, also at his last tournament, was a practice buddy with Jesse.
"He brightened up a room whenever you looked at him," Kevin said. "He always put a smile on your face and everyone else's."
Chinook wrestler Derek Bell, also a senior, mirrored his teammate's thoughts.
"Jesse's bright, he's like a star," Derek said. "He lit up a room whenever he showed up and always had a smile on his face. He always had something to say to make you laugh or make you smile."
Tammy Niederegger, whose son Tate, also a wrestler, was Jesse's close friend, is also the co-adviser for the Business Professionals of America chapter at Chinook High. Jesse, a member, showed up on the bus for a recent BPA trip wearing his grandfather's old basketball shorts.
Photos: Friday at the Montana wrestling tournament
Photos from the first day of the Montana state wrestling tournament.