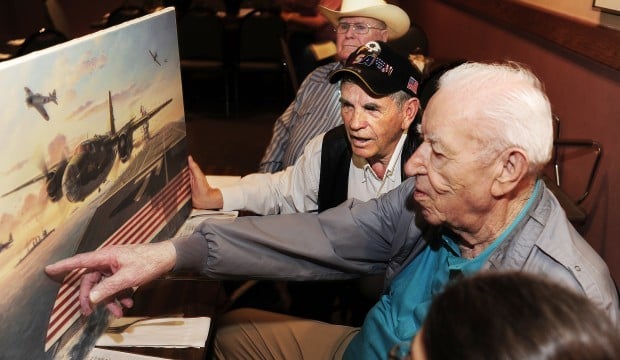 Jim Muri thought he was getting together with his buddies for lunch Friday at Gusick's — something the friends hadn't done for a while.
At 92, Muri, a decorated World War II combat pilot, had been ill but was feeling better and missed his pals.
Walking slowly with a cane and with a friend, Yellowstone County Commissioner John Ostlund, at his side, Muri entered the Billings restaurant where friends and fellow pilots had gathered to surprise and honor the decorated veteran.
Friday marked the 68th anniversary of Muri's death-defying flight over a Japanese aircraft carrier on June 4, 1942, during the Battle of Midway.
Ostlund said it was a coincidence that the date he'd picked for the luncheon turned out to be the anniversary of the famous flight. The timing called for making the lunch a bigger to-do.
About a dozen people, including Yellowstone County Commissioner Bill Kennedy, Sheriff Jay Bell and Undersheriff Seth Weston, joined in surprising Muri.
Muri, who grew up near Miles City, may have been surprised at the gathering, but he was well aware of what day it was.
"Oh, yes," Muri said when asked if he had remembered the date's significance.
Close friend and retired airline pilot Roger Nelson and Muri recounted the events that day as they examined a painting depicting the flight. The painting was created for the cover of Aviation History magazine.
"Absolutely fabulous," Muri said as he gazed at the painting and the B-26 bomber No. 1391, named the Suzie Q, he piloted.
Muri flew one of four twin-engine bombers that took off from Midway Island on June 4, 1942, to attack a powerful Japanese fleet that was preparing to invade the U.S. military outpost about 1,100 miles west of Hawaii.
Muri's plane was riddled by anti-aircraft fire and bullets from attacking Japanese fighters. After unsuccessfully launching a torpedo at the Japanese carrier Akagi, Muri probably saved his crew with an improvised maneuver. He banked hard and flew right down the length of the Akagi's deck, correctly guessing that Japanese antiaircraft gunners couldn't swing their guns fast enough to shoot him down.
Muri outran the Japanese fighters and crash landed on Midway. There were more than 500 bullet holes in his bomber, Muri said.  He was only 24 years old at the time.
Muri and his crewmen, three of whom were wounded, were later awarded the Distinguished Service Cross. In 2003, Muri received the Jimmy Doolittle Award for outstanding service to the U.S. Army Air Corps in a ceremony in Washington, D.C.
The anniversary luncheon featured a summary of the Battle of Midway by Lonnie Bell, a longtime Billings broadcaster and World War II Navy veteran who was stationed in Hawaii while the battle was fought.
Bell also strapped on his guitar and sang "Midway," a patriotic ballad he wrote more than 30 years ago. The song memorializes the flight of 1391, pays tribute to Midway's veterans and salutes the sacrifices made by Vietnam vets.
In another happy coincidence, Bell wrote the song long before he ever met Muri. It wasn't until about nine years ago that Bell learned that Muri lived in Billings. Don Cooper, a mutual friend of Muri and Bell, helped make the connection.
Cooper met Muri at a Thanksgiving dinner at the home of his daughter, Kristie Ostlund, who is John Ostlund's wife and used to clean Muri's house. Cooper and Bell went over to Muri's house a few days later and the three became fast friends.
Bell called the connection "absolutely insane."
Muri and other first-wave attackers inflicted little damage on the Japanese fleet, but they set the stage for a decisive U.S. victory. Over the course of the three-day battle, Japan lost four aircraft carriers and hundreds of its most experienced pilots. The United States lost the carrier Yorktown, but kept possession of Midway Island and checked Japanese expansion in the Pacific.
Nelson, who accompanied Muri to Washington when he received the Doolittle award, told Muri his flight was historic.
"Yes, it was," Muri agreed. "It sure was."