On Tuesday afternoon, Meg Muth sat cradling her three newborn daughters in the neonatal intensive care unit at St. Vincent Healthcare.
Anne, June and Maybelle, born prematurely on Sept. 21, slept peacefully in their mother's arms, with no idea of the drama that surrounded their gestation and birth.
Muth called June, the tiniest of the triplets born weighing just 2 pounds, 2 ounces, "our little warrior."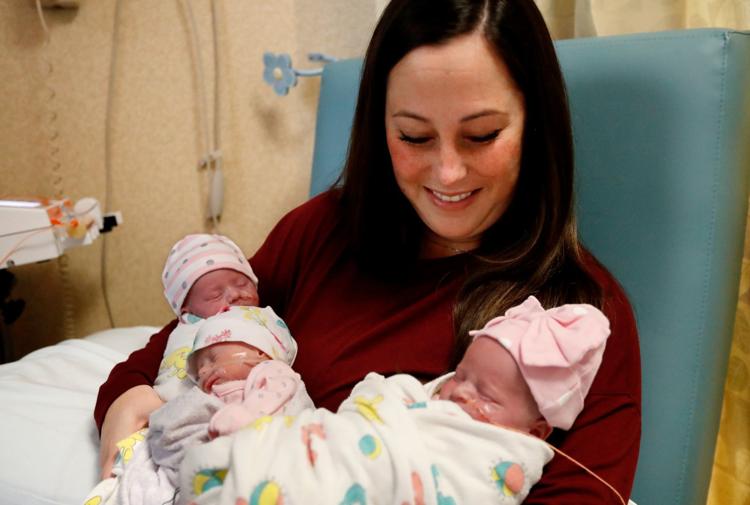 "Because of her fight and because of the grace of God, she gave herself and her sisters six more weeks (in the womb)," Muth said. "This journey could have been a lot more difficult."
Muth and her husband, Jacob, both 32, of Sheridan, Wyoming, had no idea when Meg became pregnant last winter that she'd be carrying more than one baby. There have been multiple births on Jacob's side of the family, but none on Meg's.
Around March 10, at the Women's Clinic at Sheridan Memorial Hospital, the couple discovered there was more than one fetus. A sonogram revealed three amniotic sacs, but only two heartbeats.
"Then I was really sick, so they did another sonogram in the hospital," Muth said. "There were three heartbeats, and obviously we were very surprised. My husband handled it really well. I was really emotional."
Meg is a first-grade teacher at Sagebrush Elementary and high school golf coach, and Jacob is a fifth-grade teacher at Woodland Park Elementary.
The couple already has a daughter, Emma, who is 2 ½. Going from one child to four meant some lifestyle changes for the couple.
"We were figuring out how to manage with twins," Muth said. "And then the triplets came along. We'll have to get a new car and a different home."
As infertility treatments have become more common, multiple births aren't as rare as they once were. But spontaneously conceived triplets — babies conceived naturally — more often consist of a set of identical twins in one sac and a third fetus in a separate sac.
That wasn't the case for the Muths, said Dr. Roger Wallace, a maternal-fetal medicine physician with St. Vincent who helped oversee Meg's pregnancy. The Muth triplets were fraternal, each had her own sac.
"Spontaneously conceived in three separate sacs is the rarest," Wallace said, during an interview in the NICU.
Wallace, who visits the Sheridan Women's Clinic once a month, saw Muth there during her early months. But he noticed something troubling.
"June was always the smallest one, about one week behind the other two," he said. "Her growth slowed down as the pregnancy went further along."
It became apparent that June was what's called growth-restricted. Her placenta was smaller and had a smaller implantation site on the uterus, which meant she was getting less nutrients and oxygen from the placenta than the other two.
"We were following her to see how long the placenta would support her as she got bigger," Wallace said. "We were trying to monitor how well her heart would function at that level."
The quandary, he said, was if the placental connection failed before June was full-term, she would have to be delivered early.
"If June wouldn't survive inside and needed to come out early, that committed the other two to the same fate," Wallace said. "If we kept her inside, she could die in the uterus."
Muth remembers at about 25 weeks, when she and her husband anguished over the decision they might have to make.
You have free articles remaining.
"It was awful," she said. "But we reached out to our family and prayed for a miracle. And we got one."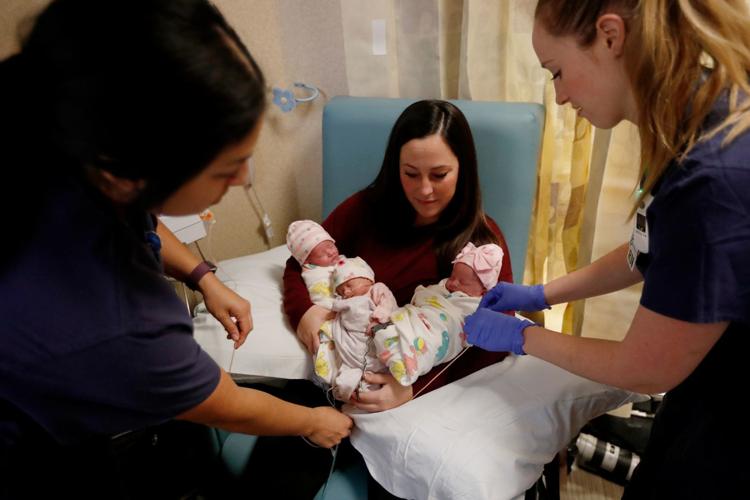 From that time on, Muth began traveling to Billings to see Wallace every two or three days, accompanied by her husband or by her mom, Marisa Root.
The pregnancy hit 29 weeks and the couple celebrated. They cheered when the triplets made it to week 30.
"June was still compromised, but it didn't get any worse, and we were able to carry on," Muth said.
Every day a fetus remains in the uterus equals three days in the NICU. Premature birth can be linked to complications affecting motor and learning skills, breathing and sight.
Finally, at 31 weeks 5 days, the decision was made to deliver the babies. June could no longer remain in the uterus.
At that point, all three infants would not only survive, but thrive, Wallace predicted.
"We have an excellent outcome in our NICU with very tiny babies," he said. "At 32 weeks, our babies have no more complications than if they were born at term."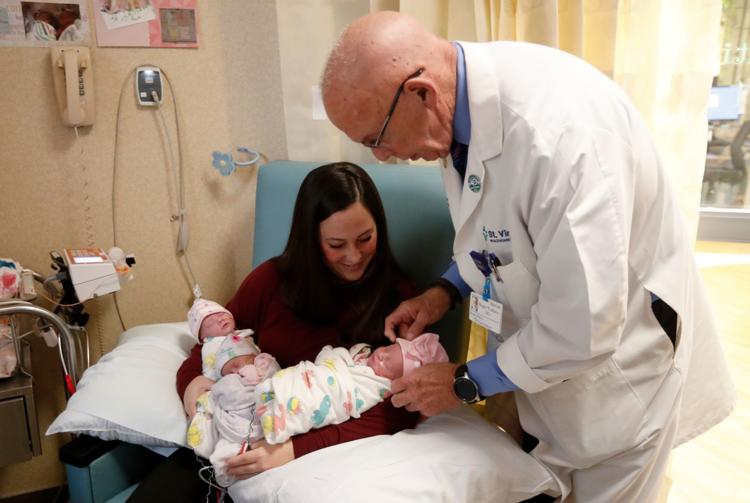 The triplets were delivered by caesarian section. The hope had been for a vaginal birth, Wallace said, but because Anne was breach and never turned, that was ruled out.
Anne, or "baby A," was born first, 3 pounds, 2 ounces, at 8:25 a.m., Muth said, then June at 8:27 and Maybelle, 3 pounds 3 ounces, at 8:29.
"It was very emotional," she said. "I suppose there for a while, we didn't know if we'd get to see June in that state."
The babies are growing and doing well, Muth said. The focus is now on getting them to take a bottle, rather than relying on tube feeding.
Premature babies often go home around the time of their original due date. For the triplets, that's Nov. 18.
Muth is grateful to Wallace and his staff for their help and support. At one point in the pregnancy, Meg and Jacob and their families began wearing purple as a way to support the babies.
Root had quilted blankets for the triplets, and June's was mostly purple. It's also Muth's favorite color. When they visited Wallace's office, the staff wore purple, as well.
"Every time we wore purple, we had a good appointment," Muth said. "It was like we were rooting June on."
---
PHOTOS: Fraternal triplets born at St. Vincent Healthcare