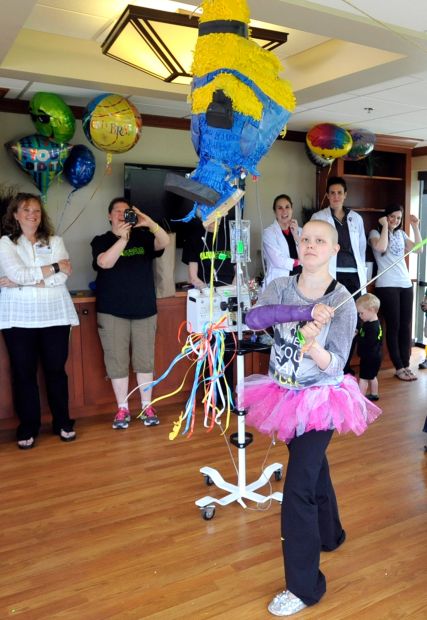 Fourteen-year-old Olivia Clyde celebrated the end of eight months of chemotherapy with a party Thursday morning.
In a family lounge at Billings Clinic, Olivia held a golf club in her left hand. She was dressed in a bright-pink tutu over black pants, silver slippers and a T-shirt that asked, "Why walk when you can run?"
Surrounded by three dozen family members, friends and clinic employees, Olivia swung two-fisted at a candy-stuffed pinata hanging from the ceiling, a determined look on her face. Once, twice, three times she smacked the pinata modeled after a minion character from the movie "Despicable Me," and pieces of candy flew out.
"Go Olivia!" one supporter called out, amid the loud cheers. Tired from the effort, the Gillette, Wyo., girl sat down and let the other children who came for the party take their turns.
The pinata had a double significance: The word "cancer" was scrawled on the outside. Since Olivia was diagnosed with osteosarcoma, or bone cancer, on Sept. 19, she has been whacking away at the disease.
Her medical problems go back much further, Kristine Clyde, Olivia's mother, said before the party.
"We noticed a bump on her arm four years ago, on June 17," Clyde said. "She fell off a chair and had to have 17 stitches."
To get to the bottom of her problem, Olivia was taken to Denver for medical tests, which were inconclusive, Clyde said. Olivia was treated for an inflammation of the bone and underwent X-rays every six months in Gillette.
Last August, the bump doubled in size. She she went back to Denver and was then referred to the Mayo Clinic in Rochester, Minn., where she was diagnosed with cancer.
On Sept. 25, Olivia underwent about 10 hours of surgery in which the cancerous bone was removed and replaced with bone from her lower leg. At first, the family was told Olivia had low-grade osteosarcoma and probably wouldn't require chemotherapy.
"On Oct. 3, we were on our way home and we got a call saying it was high grade, and she needed chemo," Clyde said.
So Olivia returned to Mayo, where she had her first chemotherapy treatment on Oct. 21. Then, starting Nov. 21, she was able to undergo the treatments at Billings Clinic.
For the next four months, that meant enduring three weeks of inpatient treatment and then going home for two weeks, Clyde said. Starting in April, Olivia only got one week off between her three-week treatments.
She also underwent a procedure in January, when physicians removed several lesions from her lungs. They were found to be non-cancerous, Clyde said.
"That was a victory everybody celebrated, too," she said.
Dr. Courtney Lyle, one of Olivia's physicians at Billings Clinic, said that some types of cancer allow outpatient treatment, but not all of them — including osteosarcoma.
"It requires medications that are given over a longer period of time or require longer monitoring, so we can only do that in the inpatient center," said Lyle, a pediatric hematologist oncologist.
In general, Lyle said, pediatric cancers are quite rare, but said that in adolescents diagnosed with cancer, osteosarcoma is one of the more common types. She called seeing Olivia finish her chemo treatment "really exciting."
"This is why we do what we do, and this makes all the difficult days tolerable, that we get to celebrate such big moments," she said. "That she's going to move on from here and get back into the swing of things and get back to school this fall and just move on with her life."
The young teen, who has a light dusting of brown hair and a purple cast on her right arm, isn't yet done with her medical treatment. Clyde said her daughter has to return to Mayo at the end of June for bone surgery.
Because the bone isn't growing, doctors will inject bone marrow, Clyde said. She will also go through other tests.
"We'll meet with all our teams of doctors on July first and hopefully get the news that all the scans were good," Clyde said.
Olivia said she is looking forward to hanging out with her friends back in Gillette again. She likes to swim and run cross country, and hopes to get back to both of those activities, as well.
She was glad for everyone who showed up for the party on Thursday.
"It's really nice to know that they support me," she said, getting ready to lie down and rest.
Clyde said the family, which also includes her husband, Mike, and three sons ages 10, 4 and 2, has one other celebration planned. When they get back to Gillette from the Mayo Clinic, they intend to release one yellow balloon for every day since the diagnosis: 285 balloons all together.
"We're excited," Clyde said. "It was Olivia's idea. She wanted the yellow balloons."