Yee Sam Lee and Billings' Chinatown
A hundred years ago, Yee Sam Lee was likely celebrating, along with other members of a small but influential group of immigrants in Billings.
Feb. 14 was the first day of the Chinese New Year in 1915, when as many as 100 Chinese lived and worked in a small community on Billings' South Side.
Newspaper clips from the turn of the century into the 1910s describe Chinese New Year's celebrations in Billings that sometimes lasted a week or more. According to those reports, the festivities included communal meals, homes and shops decorated with flowers, fireworks, carousing and spiritual ceremonies.
"Strings of firecrackers were suspended from telephone and electric light poles and as fast as one was exhausted another took its place until it seemed as though the supply was inexhaustible," a 1902 Gazette report stated.
Yee, a prominent businessman and pillar in the early Chinese community in Billings, counted fireworks sales among his many business operations, according to one advertisement. 
He owned multiple properties on or near Minnesota Avenue in Billings' Chinatown, which at one time stretched across several blocks and featured dozens of businesses and residences, "Chinese gardens" and a temple.
An incomplete portrait
Despite Yee's prominence, records of his life — like records of Billings' early Chinese community as a whole — are scarce. But by stitching together information from news clips, a few business notices, maps, advertisements and gravestones, an image of Yee and the Chinese community around him emerges.
But it's an incomplete portrait, and many myths and stereotypes persist — tall tales of crime fueled by Chinese secret societies called tongs and basement opium dens connected by tunnels.
"I still get that question once a month," Kevin Kooistra, Community Historian at the Western Heritage Center, said of the supposed tunnels.
They almost certainly didn't exist, he said. 
There are defunct steam tunnels underneath downtown, but "I don't think they went south of the tracks, though," Kooistra said.
As for Chinese crime in early Billings, it did exist, and there were known opium dens, as indicated by early newspaper reports.
A series of police raids in 1924 netted what today would be close to $100,000 worth of opium and other drugs, some of it hidden in secret basement compartments. Five Chinese men, likely Yee's neighbors, were arrested.
But early Chinese criminal activity was "overblown," according to Dr. Tim Lehman, a history professor at Rocky Mountain College, who has written about and researched the early Chinese in Billings.
News coverage of early Chinese in Billings, some of which had racist overtones, makes up much of what is known of their history. 
Other immigrant groups to the area left artifacts, letters and journals, Lehman said. "None of that exists for the Chinese. Whatever they were writing, no one here was keeping."
Both Lehman and Kooistra said they're not aware of any Chinese documents or artifacts that have been saved from Billings' Chinatown.
A 1912 map shows a "Chinese gardens" that took up a substantial part of the block between South 24th and 25th streets and First and Second avenues south. But a map from about a decade later shows that the garden was replaced with construction. Kooistra said there are no other known records of the garden.
And historic photos of anything on the South Side are scarce. Kooistra estimates that 95 percent of the Western Heritage Center's collection of Billings photos were shot north of the railroad tracks.
Geographically, the Chinese community was in an area with a bad reputation — a region known as the "restricted district," which was centered just south of the railroad tracks along Minnesota Avenue. Through much of the 20th Century, particularly early on, this was a place known for prostitution and lawlessness.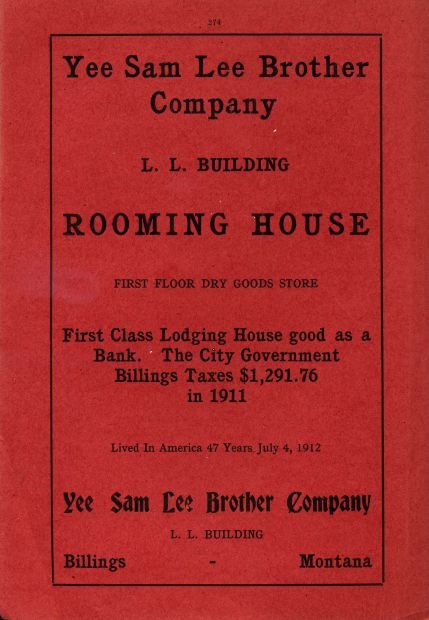 China Alley in particular was maligned as a place for drug activity and gambling. The alley, which was really in a T-shape, cut east to west through the block between South 26th and 27th streets and Minnesota Avenue and First Avenue South, with a section branching south from its middle to First Avenue South.
Today, most of the block is occupied by a parking lot and the Billings Skate Park. On the east side of the block stands a lone building, its windows boarded and exterior walls tagged with graffiti. At the northwest corner of the block stands the L & L Building, once owned by Yee.
The L & L Building
The L & L Building, 2624 Minnesota Ave., is one of the few physical reminders that a Chinatown in Billings ever existed.
Yee built or bought the building sometime in the 1890s, and owned others near it. 
He immigrated to the U.S. in 1865, or in 1877, depending on which record you trust, one being a news obituary written after his death and the other being a full page ad he took out stating that as of July 4, 1912, he had "Lived in America 47 Years."
Yee likely did come to the U.S. in the 1860s or 1870s, which is when Chinese immigrants started moving to Montana.
"This initial flood of migrants included a small number of Chinese miners and entrepreneurs, which grew quickly to 10 percent of the state's total population by 1870," Dr. Christopher Merritt, who teaches at University of Montana, wrote in a research paper. 
Many of the Chinese immigrants worked on Montana's railroad system until its completion and then, like Yee, settled into jobs working or owning restaurants, laundries, saloons, boarding houses and other businesses, including at least one Chinese medical practice.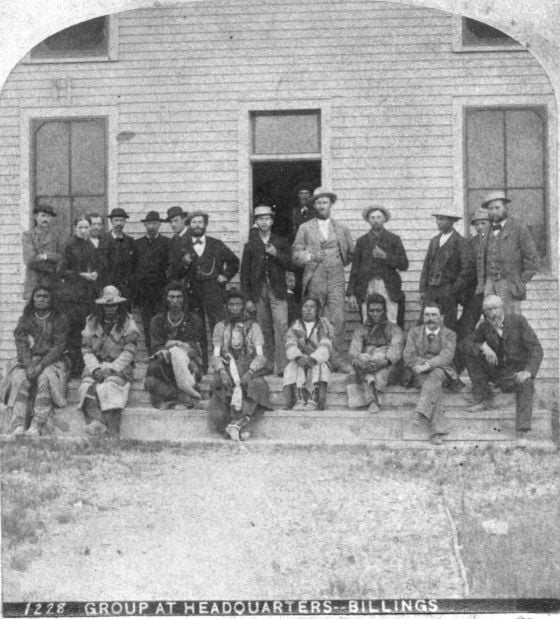 At one time or another, he owned or operated at least one laundry, restaurant, saloon, mercantile, fireworks shop and boarding house, records and advertisements show.
He moved to the Billings area "shortly after his brother had been killed at Fort Custer" by an ax-wielding murderer, who was never convicted, in the late 1880s, according to a Gazette story written after his death.
An alternate narrative, put forth in an application to register the L & L Building as a national historic place, claims that Yee and a brother identified as Yee Quong Lee, came to Billings together, built the structure in the mid-1890s and branded it with their names.
While that's possible, census records are unclear as to whether the two were brothers, according to Kate Hampton, community preservation coordinator with the Montana Historical Society.
The L & L "is Chinatown. This is it," said Randy Hafer, of High Plains Architects, which restored the building. "That fact alone made it significant historically as long as the building was able to be restored in a manner that was consistent with its original appearance, and we managed to do that."
Today, the L & L is on the National Register of Historic Places. Unfortunately, there are no known historic photos of Yee, or the building he lived and worked in. It now houses offices on the second floor, a Subway restaurant on the ground floor and an art gallery in the basement.
Even if the Yees weren't brothers, they had something else in common. They and Hee Kee & Co. offered a $300 reward — more than $7,500 today — for "the apprehension and conviction" of the murderer of a Chinese woman named Dong Quay.
In 1904, she was found bloodied and strangled in a shack she shared with her husband, Leung Quay, on the South Side.
Days after her death, Yee likely would have been at her funeral. A news clip in the Gazette said that Dong's funeral at the Chinese temple was attended by virtually all Chinese in Billings.
Little is known of the temple, but it was built in 1898 for $600, according a single line in another Gazette article.
The temple — usually referred to as a "joss house" — was broken into and vandalized on a Sunday in July 1909 by two men "seized with a religious zeal and the true missionary spirit," according to news story at the time. The two were fined $15 each.
That incident is a small example of the challenges faced by Chinese in Billings and across the West. Many Chinese immigrants were marginalized, and in some instances attacked and killed by whites. 
"The Chinese population declined steadily throughout the first decades of the 1900s," Merritt wrote. "This population collapse resulted directly from anti-Chinese agitation, legislation and economic boycotts. Reaching nearly 3,000 in 1890, the Chinese population dropped to below 500 by 1940."
Yee's legacy
Yee died on Dec. 20, 1925. He was found in his room at the L & L Building.
"Among other things in his quarters was a trunk filled with old locks and keys from various buildings which he had owned," a Gazette news story on his death said.
Yee's death came after a long illness. "He was a sufferer of rheumatism for many years and had long been a familiar figure on Billings' streets hobbling along with a diamond willow cane," the report said.
Yee's final resting place is unclear. A few Chinese, at least, are buried in Mountview Cemetery on Central Avenue, as indicated by a handful of marked graves.
One early news clip indicates that the body of a Chinese immigrant who died in Billings was shipped back to China for burial by his son, who then relocated to a larger Chinese community on the West Coast.
The Associated Press described Yee as a "pioneer Chinese merchant" and "one of the wealthiest of his race in Montana."
But when he died, his estate was apparently deeply in debt. The inheritance went to his nephew and adopted son, Yee Gar Young, who apparently sold the L & L. Over the following decades, the building changed hands several times and slipped into disrepair.
In the meantime, Yee's legacy, like Billings' Chinatown, faded away.