It's the town that wasn't, or maybe almost was, Billings.
The once-thriving community of Coulson, a rough-and-tumble little frontier town on the north bank of the Yellowstone River with dreams of becoming the next big American West city, was Billings' precursor in its brief existence in the late 1800s and eventually supplied the new town with many of its first inhabitants, businesses and supplies.
Today there's nothing left of the town, no slanting and ramshackle remnants, no foundations or old signposts. In its place sits Coulson Park, a 13-acre park about a mile south and east of downtown Billings that features a mix of grasses, stands of trees and trails winding along a bend in the Yellowstone River.
Marking the site where the long-gone town once hoped to thrive with the construction of the railroad but instead withered because of it, a plaque set in the park in 1982 by the Yellowstone Historical Society succinctly memorializes its five-year heyday, from 1877 to 1882.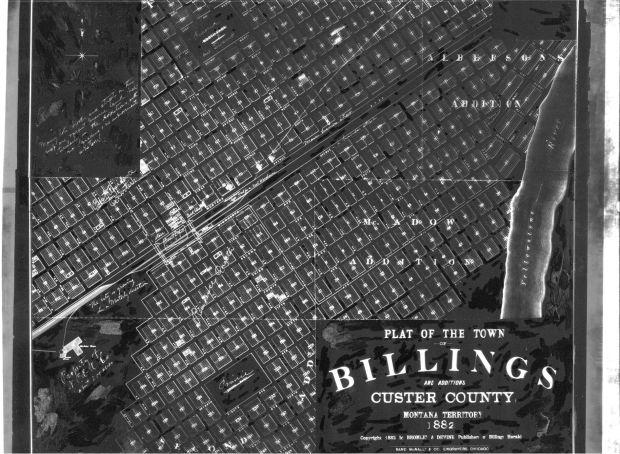 "Born by the River and killed by the Railroad, giving to Billings her best residents, to Boothill her residue, and to the Yellowstone her memories," the plaque reads.
Beginnings
Landowner John Alderson and a pioneer merchant and farmer named P.W. McAdow settled into the area along the river in 1876 or 1877, giving the area its first residents and the men who built the town's early foundation.
While Alderson owned much of the land in what would become Coulson, McAdow soon raised a sawmill and then a trading post near where the Interstate 90 bridge crosses the river into Lockwood today. Alderson built a hotel and the little town appeared to be on the verge of a boom.
Coulson likely earned its name from the Coulson Packet Company, which operated riverboat lines between St. Louis and Montana.
With a general store opened by 1879 and a hotel, post office, saloon, ferry crossing the river and other amenities quickly popping up, Coulson became a popular stop for frontiersmen passing through and a hub of regional activity.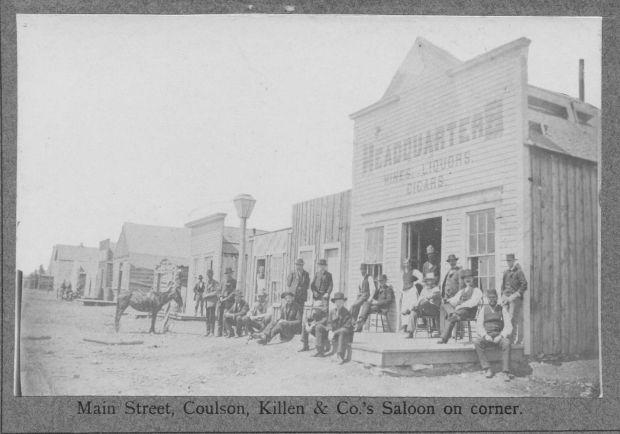 In their history of the Billings area, a book called "Billings: The City and and the People," Roger Clawson and Katherine A. Shandera wrote that Coulson's central placement between Minneapolis and Seattle and along the trail from Fort Custer to cattle country in the north brought in a wide, and sometimes wild, range of characters.
"Coulson's muddy streets thronged with cattle buyers, saddle tramps, prospectors lured by rumors of gold on the Upper Yellowstone, bison hunters, railroad surveyors, soldiers and the army of civilians (farmers, freighters, guides, scouts and others) serving the military in this area at the close of the Indian Wars," they wrote. "Coulson's bustle drew preachers, gamblers, prostitutes and Midwestern business people ready to invest their life savings."
'Knocks their heads together'
At its largest by 1882, the town had several saloons and general stores, a bakery, a drug store, a school and several dozen other buildings, while many of its residents lived in quickly-built shacks or tents lining the roadway.
With the quick growth and a frontier atmosphere, it didn't take long for Coulson to gain a reputation as a wild place.
"In its saloons and sod-roofed gambling houses they drank, gambled, caroused and fought," wrote Kathryn Wright in her 1953 book "Billings, The Magic City and How It Grew." "It was a quiet night, indeed, when there was no one to bury in the nearby Boothill Cemetery."
A Dec. 17, 1905, article in the Anaconda Standard said that at least seven or eight murders happened within the town's boundaries but there were very few, if any, arrests or convictions, partly because there was no jail.
When then-Custer County Sheriff Tom Irvine asked John "Liver Eatin'" Johnson — the famous mountain man who served as a sheriff's deputy in the Coulson area — about how he dealt with gunfights and bloodshed with no lockup, the response was a bit unexpected.
"Liver Eatin', who was a giant in stature and strength, replied: 'Well, Tom, when the boys git into any such foolishness I just takes them and knocks their heads together,'" the Anaconda Standard reported. "And he had been known to stop many fights in just that manner."
Johnson's predecessor as Coulson's deputy — H.M. "Muggins" Taylor, the scout famous for carrying the news of General George A. Custer's defeat to Fort Ellis near Bozeman — fell victim to town's unpredictable and sometimes violent happenings.
In late 1882, a drunken man named Henry Lumph shot at the feet of a bartender who tossed him from a saloon for unruly behavior. Taylor chased and caught up to Lumph and, as the two men wrestled for Lumph's rifle, was shot in the side and died about a week later. Lumph was later arrested in nearby Billings and convicted of murder there.
Coulson's first recorded murder, in 1880, involved one of its founders, John Alderson, and spurred the creation of the Boothill Cemetery at the nearby Rimrocks.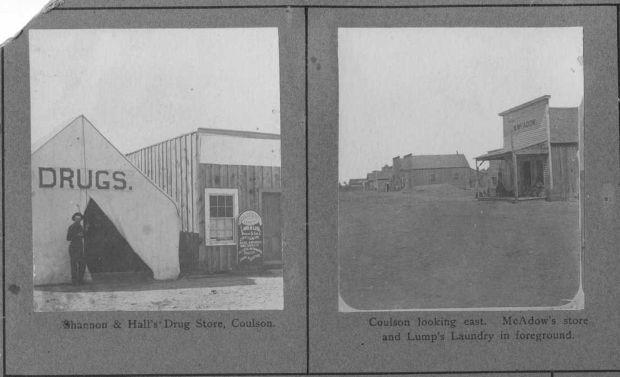 A number of accounts say the murder boiled down to a dispute between Alderson and a man named Dave Currier, owner of the town's first saloon, about the land in and around Coulson.
Many in Coulson believed it would become "Denver of the Prairies," and thought land would become increasingly valuable.
Alderson learned Currier planned to apply for a title on the Coulson townsite and promptly rode overnight to Bozeman to plat out the site himself, ahead of his competitor, Clawson and Shandera wrote.
The move enraged Currier and, while accounts differ about what happened next — either Alderson found Currier building a shack on a corner of the 160 acres for which he'd just filed, or Currier found Alderson working in his ice shack — the two men soon confronted each other.
During the confrontation, in which the 1933 Gazette article said Currier brandished a pistol, Alderson's wife handed him a rifle and he shot and killed Currier on the spot. A jury in the nearby town of Junction ruled the killing justified.
The burial of Currier also spurred the creation of the Boothill Cemetery.
A town's demise
Currier's death in some ways foreshadowed the death of Coulson itself, as both came down to maneuvering over land with a stronger, better-prepared opponent.
In 1881, word began to spread that the Northern Pacific Railway was coming Coulson's way on its westward push. The town was booming and Alderson's plat laid out three main streets and four others, organizing the town.
"According to one observer, 'the leading citizens, voicing the sentiments of the principal land owners, McAdow and Alderson, were unalterably of the opinion that no power on earth could cheat Coulson of its ultimate greatness. It was the only place on the bottom where a city could be built,'" wrote Carroll Van West in "Images of Billings: A Photographic History."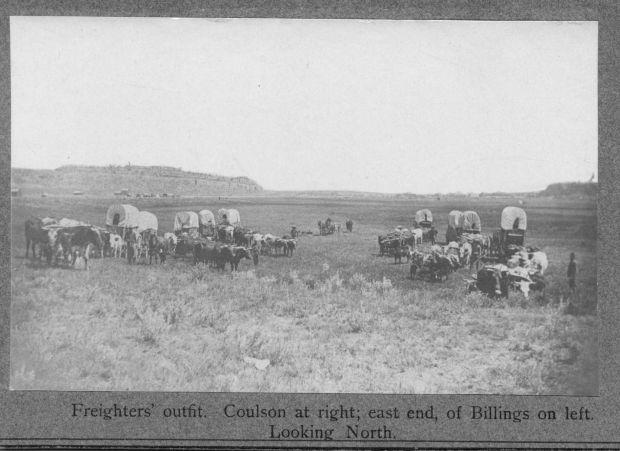 But in the spring of 1882, the devastating news came down that the railroad would not pass through Coulson.
Depending on the source, the railroad decided against Coulson for several reasons, but it most likely came down to the fact that current and former railroad officials realized they could make a fortune by starting their own town, on land they owned.
One account, printed in 1905 in the Anaconda Standard, said that the railroad offered to buy Alderson's 160 acres but decided to look elsewhere when he asked for $30,000 for the land, a price which several other accounts back up.
"Land prices skyrocketed as a result (of the railroad nearing), and the railroad chose to bypass the town," according to "Billings A to Z," by Karen D. Stevens and Dee Ann Redman.
Regardless, the Minnesota and Montana Land and Improvement Company, which was owned by Northern Pacific officials that included Northern Pacific's president, Frederick Billings, and Thomas Oakes and Herman Clark, created a new town less than two miles away, naming it Billings, on land purchased from the railway and through which the railroad would pass.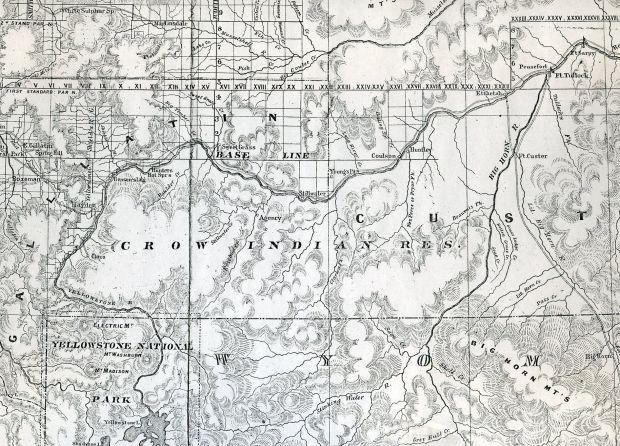 As railroads built into the remote Western U.S. territories, the federal government granted Northern Pacific land in a checkerboard pattern along its expansion route, meaning its own sites alternated with federal property, according to a 1998 Yellowstone Historic Preservation Board article by Chere Jiusto.
But a coincidence in surveying put two sections of the railroad land next to each other, right where the city of Billings now sits.
"Shrewd Northern Pacific officials were able to double normal profits by siting a town across a plot of ground twice as large as what the railroad could normally own," Jiusto wrote.
At the same time, around April 1882, and with hopes that the railroad would pass through town dashed, Coulson businesses and residents began to flock to Billings.
"Two weeks later, whatever hope Coulson had for a future literally vanished when a strong wind blew into town, destroying at least two-thirds of Coulson and scattering remnants across the prairie," Wright wrote.
Even so, McAdow and Alderson continued to promote Coulson and worked to get people to, at the very least, visit from Billings.
A horse-drawn route, called the Billings Street Railway, between the two towns was created in May 1882 and became Montana's first public transportation system.
By that fall it was completed, and on the Coulson end, riders could present their 25-cent round-trip ticket stubs for two free glasses of beer at the recently-opened Ash and Boots Brewery, also called the Coulson Brewery.
"It was a very rare thing that travelers to Coulson stopped on the two glasses that went with the ticket," the Anaconda Standard wrote. "As a consequence, both the brewery and the street car did a fine business for about nine months."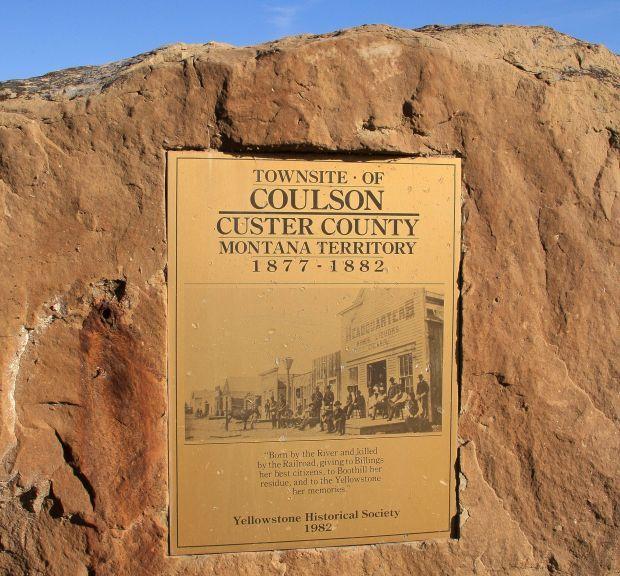 Alas, not even the lure of free drink was enough to pull Coulson from its decline.
Business and new residents continued their exodus to Billings, leaving Coulson to dwindle. By 1883, the few remaining businesses there listed their addresses as East Billings, but most of the town shut down.
By 1885, the streetcar had shut down and a year later, McAdow sold off his land and moved west to the Crazy Mountains.
"Coulson gradually fell into decay and became a ghost town," wrote Myrtle E. Cooper in "From Tent Town to City: A Chronological History of Billings, Montana, 1882-1935."
The site saw other uses during the years — as a dump in the 1930s and the city landfill until the late 1950s, and as a site for Depression-era shacks in the 1930s, which "Billings A to Z" says saw needy families of the time tear down the remaining Coulson buildings for firewood — before it was established as Coulson Park.