Montana residents are eager to get a COVID-19 vaccine, and Gov. Greg Gianforte's changes to the state's vaccine rollout plan have caused some confusion in Yellowstone County.
Last week, Gianforte changed the next phase of the vaccine rollout, 1B, to focus on people ages 70 and older, as well as those ages 16-69 who have specific underlying health conditions, and American Indians and other people of color who may be at elevated risk.
The amended plan places into phase 1C those residing in congregate care and correctional facilities and essential workers who do not have any health conditions qualifying them for earlier vaccination.
Although the changes to the eligibility criteria were immediate, some Yellowstone County residents have misunderstood it to mean vaccines were immediately available to this group.
Yellowstone County hospitals and RiverStone Health, the county's health agency, have received "numerous" calls from those eligible in 1B about when they could get vaccinations, said spokesperson for RiverStone Health Barbara Schneeman.
Right now, the county is still in phase 1A, which aims to vaccinate frontline health care workers, residents and staff of long-term care facilities and other health care workers with direct patient contact or virus exposure.
The Montana Department of Public Health and Human Services has already told local jurisdictions to launch phase 1B beginning Jan. 18, according to DPHHS spokesman Jon Ebelt in an email.
The number of vaccinations administered is dependent on the number of doses provided by DPHHS. There just aren't enough doses right now to vaccinate everyone who wants it, Schneeman said.
"The vaccine supply for Montana does not meet the demand and right now we don't have any certainty on how many vaccines we'll receive on a week-to-week basis," Schneeman said.
On Tuesday, the Trump administration announced the government will release required second doses of the Pfizer-BioNTech and Moderna vaccines that it was holding onto to ensure sufficient supply, according to AP News. Both the Pfizer and Moderna COVID-19 vaccines require two doses, with a 21-day interval between doses for the Pfizer vaccine and a 28-day interval for the Moderna vaccine. Releasing the second doses practically doubles the supply, according to AP News.
The administration also recommends that states start vaccinating people aged 65 and older and younger people with underlying health problems.
It's too early to know how the release of additional second doses could impact the state, Ebelt said.
In Gianforte's vaccination plan, about 300,000 people in the state are expected to get vaccinated in phase 1B, compared to former Democratic Gov. Steve Bullock's plan to vaccinate 90,000 people in phase 1B, Schneeman said.
The Unified Health Command, made up of Billings Clinic, St. Vincent Healthcare, RiverStone Health and Yellowstone County Disaster and Emergency Services, expanded vaccination opportunities in December to all employees working in health care settings through the county as part of Phase 1A.
The RiverStone Health Clinic started vaccinating its frontline health care workers in December, but is not administering vaccines to other workers in the public that fall into phase 1A.
In the last month, Billings Clinic has had to hire six employees to staff a call center as more questions on vaccines arise and health care workers schedule times to receive their vaccine at the hospital. Residents are excited that they can get vaccinated sooner than expected, although it all depends on vaccine availability and when the hospital can move into the next phase, said Billings Clinic's Chief Medical Officer Dr. Toni Green-Cheatwood.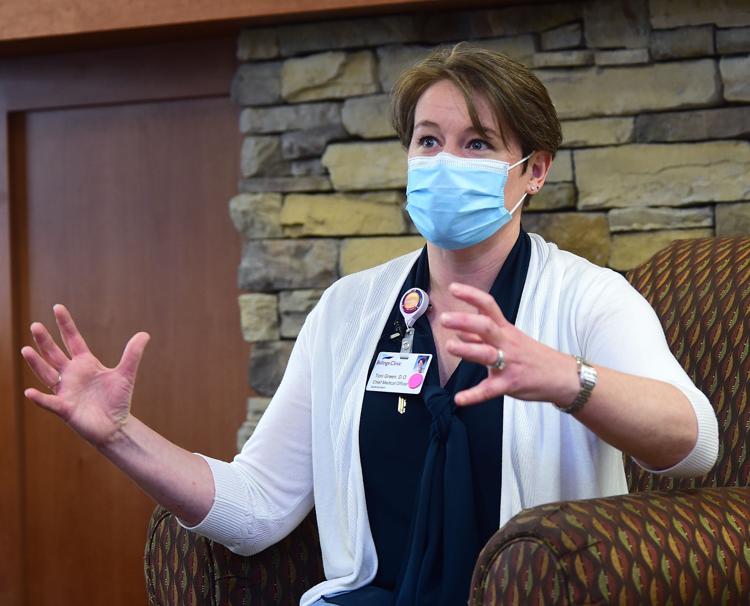 The hospital receives information every Saturday from DPHHS on what the next week's shipment could look like. Since December, the hospital has received vaccine shipments every week, which can range from 400 doses to 1,000. Billings Clinic has vaccinated 4,500 people so far. About 1,000 of those have been second doses. 
The governor's changes don't affect vaccine clinic planning, she said. The infrastructure to carry out phase 1B is ready, but moving forward relies on vaccine availability.
"We're ready to go, we just need the vaccine to do it," Green-Cheatwood said.
St. Vincent Healthcare is also offering vaccine clinics to those in the first phase, and those who received their first dose in mid-December are now receiving their second dose, said St. Vincent Healthcare Chief Medical Officer Dr. Michael Bush in an email.
Bush said that "vaccine distribution is a rapidly evolving process" and that the hospital is doing its best to "respond to the needs of our community, while remaining in alignment with state guidelines."
But St. Vincent is ready to offer vaccine clinics during phase 1B and is anticipating the next phase will begin later this month, Bush said.
"We are developing plans to open up vaccination to Phase 1B as soon as possible," Bush said in an email. "One thing to keep in mind is that the number of people who can get vaccinated in Phase 1B will be heavily dependent on the amount of vaccine available. Which means, not everyone who is eligible will be vaccinated on day 1 of Phase 1B."
St. Vincent has also been receiving questions in regard to the COVID-19 vaccination distribution plan, said St. Vincent Healthcare spokesperson Angela Douglas in an email.
No additional workers have been hired to field calls at the hospital, Bush said.
The hospital also recently addressed an incident first reported by KTVQ where a number of local teachers were vaccinated at St. Vincent on Thursday. Frontline essential workers are not scheduled to be vaccinated until phase 1C.
An invitation from St. Vincent sent to local health care organizations and first responders in phase 1A to schedule their COVID-19 vaccine appointment with the hospital was "forwarded to several recipients and was being circulated to local educators," Bush said.
St. Vincent did vaccinate a "limited number" of local teachers during its Thursday vaccine clinic. The hospital chose not to cancel any appointments that were scheduled within one day of when hospital staff learned of the letter being shared with those outside of phase 1A.
St. Vincent didn't want to waste any slots or vaccine during its Thursday clinic, but any appointments that were made by those outside of phase 1A after Thursday were canceled, according to Douglas in an email. Those slots were then given to individuals who fall into phase 1A.
"We have successfully addressed the situation and our focus is now on preparing for a broader distribution for those eligible under 1B," Bush said.
As time goes on, health officials are asking the public to stay patient.
Green-Cheatwood used the analogy of boarding a plane. Everyone will be able to board the plane and get to their desired destination but must wait their turn.
"We're at the mercy of the allocation process and we will take care of everyone who wants it as soon as we possibly can," she said.