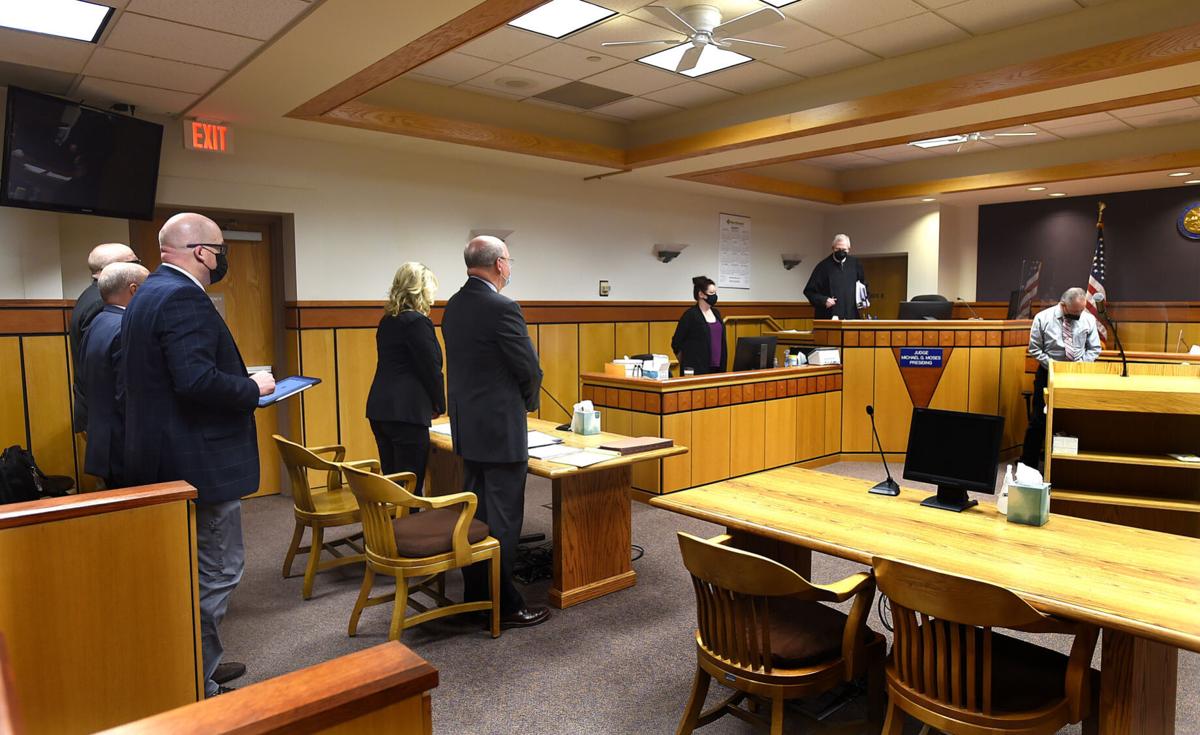 Yellowstone County District Judge Donald Harris held the director of the Office of the State Public Defender in contempt Monday morning following a hearing on why a number of cases in the judge's court had not been immediately assigned to public defenders.
Harris fined OPD a total of $500 per case in his department—a total fine he estimated was between $5,000 to $10,000—to be paid to Yellowstone County. He also ordered that any case coming into his courtroom must have a lawyer assigned within a two-to-three-day standard set by OPD's policies. He also clarified that the decision only applies to orders he signed in his department, but cautioned OPD that the sentiment among judges in the courthouse was not in their favor.
"This problem in this particular district, has persisted for months," Harris told the courtroom Monday, "and it appears to the court that the problem is only getting worse."
On Aug. 17 Harris ordered OPD's director Rhonda Lindquist to appear before him Monday after he learned that some 663 cases in the Yellowstone County District Court had gone unassigned as of July 31. Some of those cases had been unassigned for weeks. Harris called on the director of OPD to answer whether the cases had been assigned immediately or in a timely manner per statute and whether a failure to do so warranted a contempt charge or not.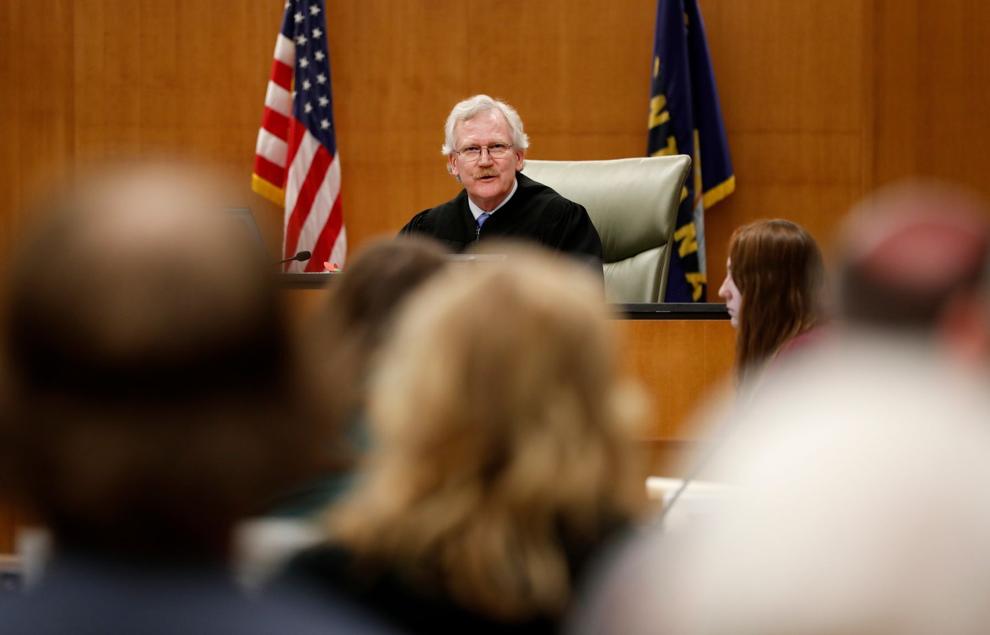 It was apparent, Harris said, that the public defender's office had failed to immediately assign cases to lawyers and that the problem was impeding the flow of justice. As a result, the county jail was overcrowded, justice was moving slower than usual and OPD's clients were being harmed by loss of time and resources, he said.
"And some are innocent," Harris said, referring to potential inmates in the jail who may be wrongfully accused, "I don't want to overlook that."
The matters of the constitutional right to a speedy trial and adequate defense appeared to be key for Judge Harris at Monday's hearing.
Not assigning counsel quickly was harming defendants inside the justice system in a number of ways, he pointed out. A lack of bond reduction arguments leading some to languish in jail who could be out in the community; a lack of judge substitution arguments, which must occur within ten days of a judge being assigned to a case; and a lack of meaningful time spent with attorneys before omnibus hearings were all cited by Harris as shortfalls when lawyers are not assigned in a timely manner.
Of most concern to the judge was the idea that violent offenders may go free without trial due to delays. At least one case has been delayed multiple times over the last few months, Harris said, after the public defender withdrew and no new counsel has been assigned. A motion filed to dismiss at the time of the lawyer's withdrawal due to a lack of speedy trial has forced Harris to consider the matter closely, he said.
"What I'm here to tell you is that the Office of the State Public Defender's failure to properly assign counsel is creating situations where it may be required constitutionally for a judge's judicial district to release violent offenders into this community without trial," Harris said emphatically to the courtroom.
In defense of the office, Brian Smith, OPD's public defender administrator, tried to highlight the challenges facing the department. He pointed to chronic understaffing, lack of pay, high turnover, and lack of alternative options as reasons why the backlog is so severe.
The Billings office, which covers Yellowstone and surrounding counties with a total of 16 courtrooms, is allotted 31.5 full-time lawyers and currently has eight full-time vacancies. The office has an active caseload of 8,020 cases as of Aug. 20, 2021. To do their job adequately they would need 43 full-time lawyers according to OPD's lawyer Peter Habein with Crowley Fleck Law Firm in Billings.
Also of note was the fact that a lawyer working for OPD receives $13,000 a year less than any other state Department of Administration lawyer. As a result of low pay and excessive caseloads the agency has struggled to recruit and retain lawyers. Likewise their turnover rate is almost 24%, according to Habein, he compared that number to a statewide average of just 16% across other agencies.
Typically, unassigned cases would be outsourced to contract attorneys. But OPD pays an hourly rate of just $56 to contract attorneys. The federal contract rate is nearly three times that number at $150 per hour for public defense. A private attorney's firm could make more than $200 an hour to defend a criminal case for a client of means.
"To call it a perfect storm, might be an understatement," said Habein, trying to convince the judge that the issue is beyond their control.
OPD has taken steps to find solutions, Smith told the judge. The agency has assigned one lawyer to take each unassigned case on a judge's docket, but as both Harris and Habien pointed out, that solution has its own ethical and professional conundrum by overburdening lawyers and making it difficult to provide an adequate defense.
"Left with numerous bad choices to pick from," explained Smith. "What we picked was to have one person assigned to each judge."
Harris pushed back. "Hold on a moment," he said, interrupting Smith, "I just heard Mr. Habein say that it was unethical to assign an attorney too many cases."
"Right," replied Smith, and after a brief exchange Smith told the judge that he agreed that over-assigning all the unassigned cases to one lawyer was a violation of the professional rules of conduct.
In addition to those unassigned after arraignment, Harris pointed to multiple cases in which public defenders have withdrawn as counsel only to have no new attorney assigned for weeks afterwards.
The judge was sympathetic to the dilemmas faced by OPD, but pushed back on the idea that constitutional rights were optional if the solutions were too difficult for the agency to do them. He said a jailer faced with budget shortages was still obligated to feed inmates, and he asserted that OPD was obligated to appoint a public defender in a timely manner per statute no matter what.
To determine the definition of immediate or timely, Harris pointed to OPD's own policy stating they strive to appoint a lawyer within two to three days. Smith pointed to a number of reasons why that number is not always feasible, but Harris narrowed the scope of his decision to that number nonetheless.
"I want to make it clear that in this county this is not an option," Harris told the courtroom. "There simply has to be a solution to this, it's a money solution and I know the money is there."
When asked to comment to The Gazette following the hearing, Lindquist declined, but said OPD had a meeting with the state's budget office for Monday afternoon. The outcome of that meeting was unknown at press time.