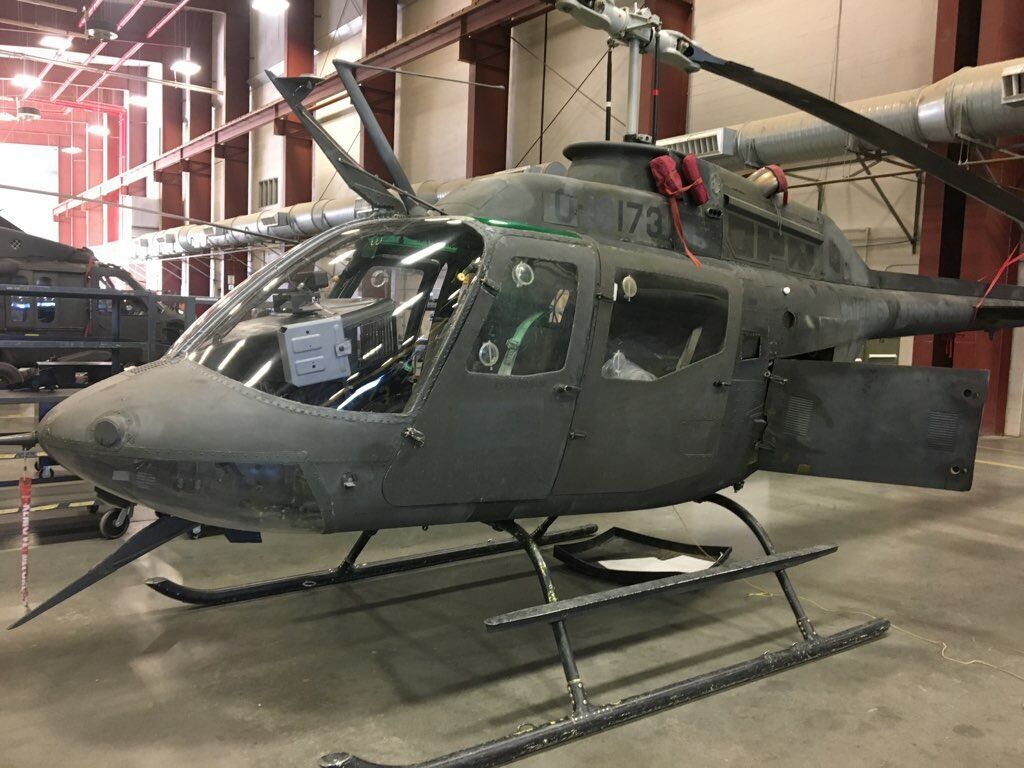 A federal program has outfitted the Yellowstone County Sheriff's Office with three retired military helicopters.
The three OH-58C Kiowas came courtesy of the Law Enforcement Support Office program. One will be used to support the sheriff's office in law enforcement and search and rescue, while the remaining two will be dismantled for parts. The acquisition distinguishes the county sheriff's office among others in the state in having its own helicopter.
"It is a unique opportunity, because while there are helicopters available to many law enforcement agencies through local pilot services, most cannot justify or afford to run their own aviation program," said Sheriff Mike Linder, whose office obtained the three helicopters in October.
The LESO, better known as the "1033" program, began in the 1990s. The program has supplied local law enforcement with items ranging from aircraft, trucks and rifles to office furniture that's exceeded its use with the Department of Defense. With all of those supplies coming at no cost, the program is in place as a way to stretch the billions of dollars invested annually into DoD equipment.
The Defense Logistics Agency Disposition Services manages the LESO, with regional offices throughout the country in contact with federal, state and local law enforcement working to supply those agencies with surplus gear. The DLA prioritizes the military first in reusing equipment before sending it out as surplus.
"We haven't used it a lot lately simply because there wasn't anything that we've been looking for," Linder said.
That was until September, when the DLA state coordinator in Helena contacted Linder to let him know that eight OH-58C Kiowas had been pulled from military service at Fort Irwin in Southern California. Used as training aircraft since 2017, the U.S. Army retired the last of the OH-58Cs in July of this year.
Linder said the idea for the sheriff's office to have its own helicopter goes back several years, and stems from the office's relationship with the Billings Flying Service. For more than 25 years, the company has volunteered its pilots and aircraft for Yellowstone County agencies. The company's owner, Gary Blain, has flown in several operations, including a rescue in July of a boater stranded on an island along the Yellowstone River. In January of 2019, the Blains used a helicopter to help the sheriff's office rescue two boys trapped on an island in the river. 
"I've literally seen two or three calls in a day, and then I've seen no calls for months on end," said Blain, 57. "I would say that 75% percent of the time when the sheriff's office does call, it's somebody who's missing."
Linder said it was when he requested help for a search from the Billings Flying Service, and was told that he would have to wait a day, that he asked Blain what type of helicopter would best suit the sheriff's office. After getting approved for the OH-58Cs, Blain and two other pilots from Billings Flying Service flew them in from Barstow, California.
"They were fresh out of military service, and still have the military paint job. We had to use white duct tape to make the tail numbers," Linder said.
Although the helicopters alone came at no cost, Linder said Yellowstone County commissioners have set aside $70,000 that will go toward a new paint job identifying it with the sheriff's office, rewiring the helicopter, outfitting it with radio equipment, fuel and paying for rental space. Once it goes into service for the sheriff's office, which Linder expects to be in March, pilots for the helicopter will still come through Billings Flying Service.
"Most of what's budgeted is going to be one-time expenses. The rest of it will be maintenance and fuel," Linder said.
Blain said much of the rewiring and equipment installation will come free of charge through the labor and extra parts at Billings Flying Service. The biggest expense for the helicopter will be the paint job, which he estimates to cost about $20,000.
"In the helicopter world, these [OH-58Cs] are pretty respected, because they require very little maintenance and they're incredibly reliable…But I will be surprised if the sheriff's office flies this helicopter for more than 75 hours a year," Blain said.
The two extra helicopters supplying parts, and the limited flight time, will give the OH-58C a lifetime of several decades, he said.
"I heard somebody say that this was a Cadillac expense. It's not a Cadillac expense. It's a Willy's Jeep expense for when you need to go up a dirt trail," Blain said.