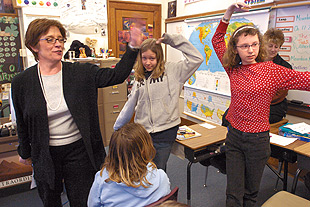 McKinley Elementary sixth-grader Trevor Barnes took one look at a ballet pointe shoe last week, wrinkled his nose and said to his friends, "That's nasty."
Yet, minutes later he joined his friends in a ballet pose while Alberta Bair Theater education director Bess Fredlund discussed an upcoming performance of "The Snow Queen." Fredlund visited all but two Billings elementary schools to prepare sixth-graders for the show.
For many Billings sixth-graders it was their first exposure to ballet, a taste of what they'll see Tuesday during a special school matinee performance of "The Snow Queen" at the ABT. The matinee is one of 15 school events the theater will present during the 2004-05 season, an increase over previous years.
The ABT is among numerous Billings arts organizations looking for ways to involve young people in the arts. Raising a new generation of arts patrons has become increasingly important in recent years, especially for cash-strapped organizations that have watched one arts tax initiative after another fail at the polls.
A look at the graying audiences now attending events such as ABT fund-raisers, the Billings Symphony, and plays at Billings Studio Theatre reveals much about the state of the arts in Billings.
Shari Nault, director of Billings Cultural Partners, said the onus is on those who are middle-aged or younger to keep the city's cultural entities alive. The Cultural Partners is a group of 20 local nonprofit cultural groups.
"Our grandfathers are the ones that built these institutions, and we are the stewards that must keep them going," Nault said. "It's not so much about the arts; it's about the community."
Eric Hendricks, director of Billings Studio Theatre, said the theater draws an older audience because they have more time and disposable income, but shows like the theater's current production of "Holes" help attract younger patrons.
"Our attendance is increasing," Hendricks said. "For a while, there was a slight decline in season subscribers, but we've added three shows a year and we're working hard to put on plays that people like."
Rina Reynolds, executive director of the Billings Symphony Orchestra, said the average age of a BSO patron is 52, two years younger than the national average age of 54 for symphonic music. She said the BSO audience has been a 50-plus crowd for a long time.
"Thirty years ago, we were looking at our audiences and worrying about attracting younger people and we're still worrying about that today," Reynolds said. "I believe we attract people when it is the right time in their lives to appreciate symphonic music."
She pointed out, though, that it has become a tradition for high school promgoers to take in a symphony concert before the dance.
"That's so cool," Reynolds said. "It's the top of the entertainment chain when the symphony is the place to be seen on prom night."
To bring in larger audiences, the BSO has opened its Saturday morning dress rehearsals to the public on a pay-what-you-can basis. A member of the ABT's board felt so strongly about the open rehearsals that he made an anonymous donation of $800 to pay for the theater's necessary insurance costs to allow the shows.
The symphony also offers low-cost, "rush-seating" tickets a half hour before each concert and a student can see the orchestra perform for about the price of a movie ticket.
"Sometimes we've sold 100 tickets in 10 minutes; it's really exciting to see," Reynolds said. "Our goal is to have 1,000 paid attendees at each of our concerts and we hit that in November at 'The Nutcracker' and we came close in January."
ABT Director Bill Fisher said the theater suffered during the 2003-04 season with low ticket sales, but this season it has turned a corner.
Booking a lesser-known act like ABBA Mania for the annual gala last month helped generate $50,000, about $5,000 more than was raised during the 2004 Gala with the Pointer Sisters. Fisher said, however, that he heard some grumbling from some patrons about the quality of the ABBA tribute and plans are under way to get a bigger name act here in 2006 to help mark the 20th anniversary of the historic theater's renovation.
"This is a community that has shown it wants live theater, live music and dance," Fisher said. "People who have lived here their whole life don't realize what a tremendous asset the Alberta Bair Theater is. Billings is a very unique community, one of the largest cities without any local tax money that is spent on the arts."
Two recent attempts to pass a mill levy to fund local arts failed. In 2002, Billings voters narrowly defeated (by 800 votes) an attempt to raise about $670,000 a year to aid museums and arts and cultural institutions. The measure would have cost about $7 a year for a resident owning a home valued at $100,000.
Last fall, a second attempt to raise about $600,000 a year for cultural organizations failed by a much larger margin, with 62 percent of the voters rejecting the measure. A Yellowstone County museum levy is still in place providing $322,717 for four county museums, including the Yellowstone Art Museum in Fiscal Year 2004-05.
The ABT would have received $100,000 a year from the second cultural mill levy, making it the largest recipient. Nineteen other cultural organizations, including the Yellowstone Art Museum and the Billings Symphony Orchestra, would have received smaller annual amounts. But after losing twice, the groups that make up the Billings Cultural Partners are broadening their search to find other funding to keep them going. In the meantime, venues like the Alberta Bair and the Metra have added fees to tickets to help fund capital improvements on their facilities.
Nault said that although the Cultural Partners isn't clear about where it's heading financially, members will continue to push for additional revenue.
"We need to be more creative than property tax," Nault said. "Most cities in the West have a local option sales tax, if you look at cities like Boise or Denver, they have funding in place for arts and cultural groups. Most of these groups tend to give away their product; they are not called non-profits for nothing."
Cultural entities rely on private sponsorships as well as fund-raising events, like the Yellowstone Art Museum's annual art auction, which was held last night. YAM Director Robert Knight said funding for some education programs comes from the proceeds from the art auction and party and he hoped to raise close to the $178,000 that the museum raised last year.
A portion of the money funds outreach programs that provide art to students who don't have regular art classes. Outreach coordinator Carol Welch teaches weekly art classes in Crow Agency and at St. Francis Intermediate in Billings. The museum also offers Saturday art classes, a summer camp for young artists, and sponsors a teen group Young Ambassadors.
"People tend to think that everything we do is for people who have money," education curator Linda Ewert said. "Talk to a kid, they know what we do. We're teaching art history and art appreciation to Billings fourth through sixth graders who wouldn't otherwise get that kind of art in school."
In 2004, record numbers of visitors took in the Andy Warhol exhibit at the YAM, which helped attract new members, bringing its membership up to 1,700, Knight said. Still, it's a tough go. Knight said admissions is a very small part of the YAM's $1.4 million annual budget, 80 percent of which is raised each year through the county museum levy, private and corporate sponsorships and grants.
"It's tough, but on the other hand this is such a giving community," Knight said. "There are 20 cultural organizations in town. When you look at the ratio to our population, there are so many organizations that need support."