The Montana Department of Transportation is taking public comment on a pair of projects that will shore up parts of Zimmerman Trail and install a roundabout at its intersection with Montana Highway 3.
An underpass for trail users is included as part of the construction plan.
One part of the project will widen Zimmerman Trail to include shoulders and 12-foot lanes on some parts. Crews will install a new guardrail and barrier rail, retaining wall and signage. 
The project also includes slope stabilization and improved drainage, according to MDT. A right-hand turn lane for drivers turning off of Rimrock Road and onto Zimmerman Trail will also be installed.
Wade Salyards, an MDT project design engineer, said this is part of an estimated $7 million project that uses federal funds and a 13-percent match by the city of Billings.
That match came out to $967,000, according to city engineer Debi Meling.
"We had some major rocks fall off the Rims in the Zimmerman Trail area," Salyards said. "So the department, along with the city, did some emergency repairs. And that came out of the same earmark funds as this project."
The pedestrian underpass under Zimmerman Trail is the result of an agreement between Billings, Yellowstone County and the state transportation department. It will connect the county park property on the Zimmerman Park side to the city property on the east side of the road.
Billings TrailNet has been anticipating the underpass for a couple years, working with engineers and project managers for input.
TrailNet Executive Director Kristi Drake said that navigating traffic while crossing Zimmerman Trail atop the Rims led to some dangerous situations for hikers and bikers. She applauded the inclusion of pedestrian infrastructure in the road project.
"We're part of the road system too," she said. "So having that being part and parcel of that project is huge. And I do think it's a step forward, because a lot of times a road project has been 'cars first and then we'll see what we can do later.'"
The underpass will be funded as part of the roundabout project, which is estimated to cost just under $3 million in MDT highway safety funds and federal national highway funds, Salyards said.
The state says a roundabout will improve safety at the intersection with Highway 3.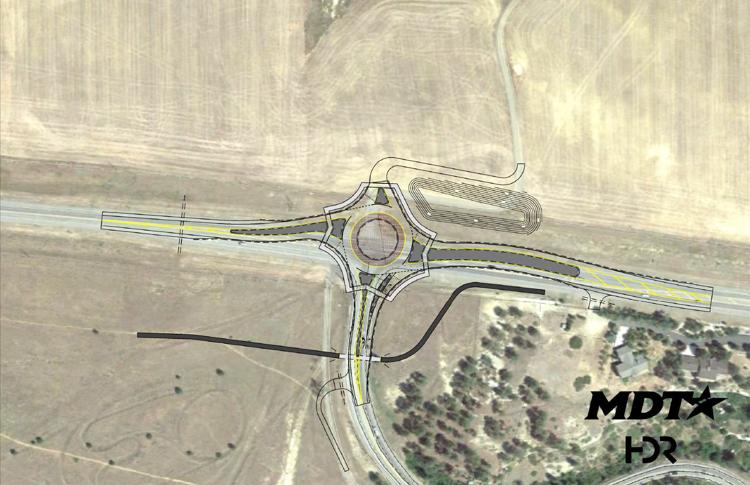 The Zimmerman Trail and Highway 3 projects are distinct, but they're being presented together to avoid two separate construction blockages. It's scheduled for 2018 and is estimated to last about three months.
A detour for incoming traffic on Highway 3 will be required during roundabout construction, according to a release from the state. Zimmerman Trail will be blocked during work on that road.