Zimmerman Trail is on track for a slightly delayed reopening sometime Thanksgiving week — if the weather cooperates.
The heavily trafficked connector between Highway 3 on the Rims and the Billings West End was originally set to open Nov. 15. It has been closed since July as construction crews widen the winding road and install a roundabout at its intersection with the highway.
The $7.2 million construction project included laying down new material on the road bed, installing a retaining wall and placing a pedestrian underpass just south of the new roundabout. That's all been finished, and the last stretches of new asphalt and concrete, new lighting fixtures and paint stripes on the resurfaced road are all that's left, project spokeswoman Becky Bey, with KLJ Engineering, said Thursday.
"Ideally, they would have finished the asphalt late last week and early this week," Bey said, but added that "the asphalt is really weather-dependent."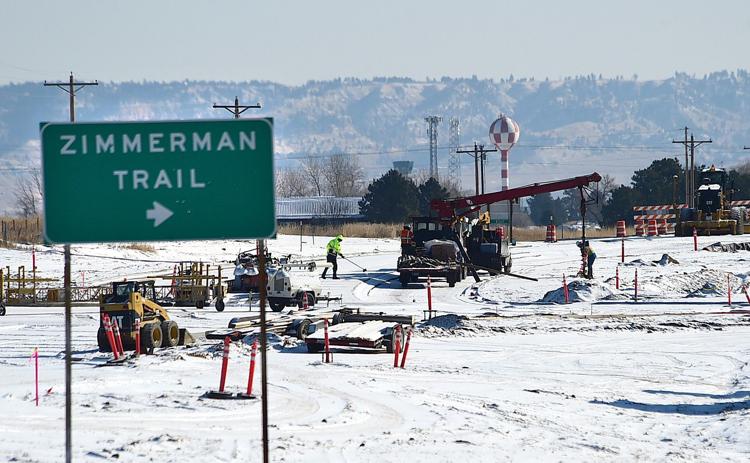 Early snowstorms in the past two weeks have pushed the completion date back slightly, but Bey doesn't anticipate any cost overruns associated with the late reopening.
The project is a joint venture between Montana Department of Transportation and the city of Billings. The state is focused on the highway roundabout and the city has primacy over the Zimmerman portion. One engineer was brought on for the entire project.
The road closed about two weeks earlier than planned, on July 3, after a large crack appeared along the outside of the road's northbound lane. Billings Public Works Director Dave Mumford said at that time that the crack indicated the road bed beneath the surface may have been compromised, and the early closure was a safety precaution.
With remaining construction days dwindling in Billings as the temperatures fall, Bey said the July start date was the earliest that state funding requirements would allow. Because the transportation department budget is on a July-through-June fiscal year cycle, the funds were not available to start earlier in the season.
For a single-year construction project like Zimmerman Trail, she said the state is locked into that more restrictive timeline, and can't borrow against the upcoming fiscal year to get started early.