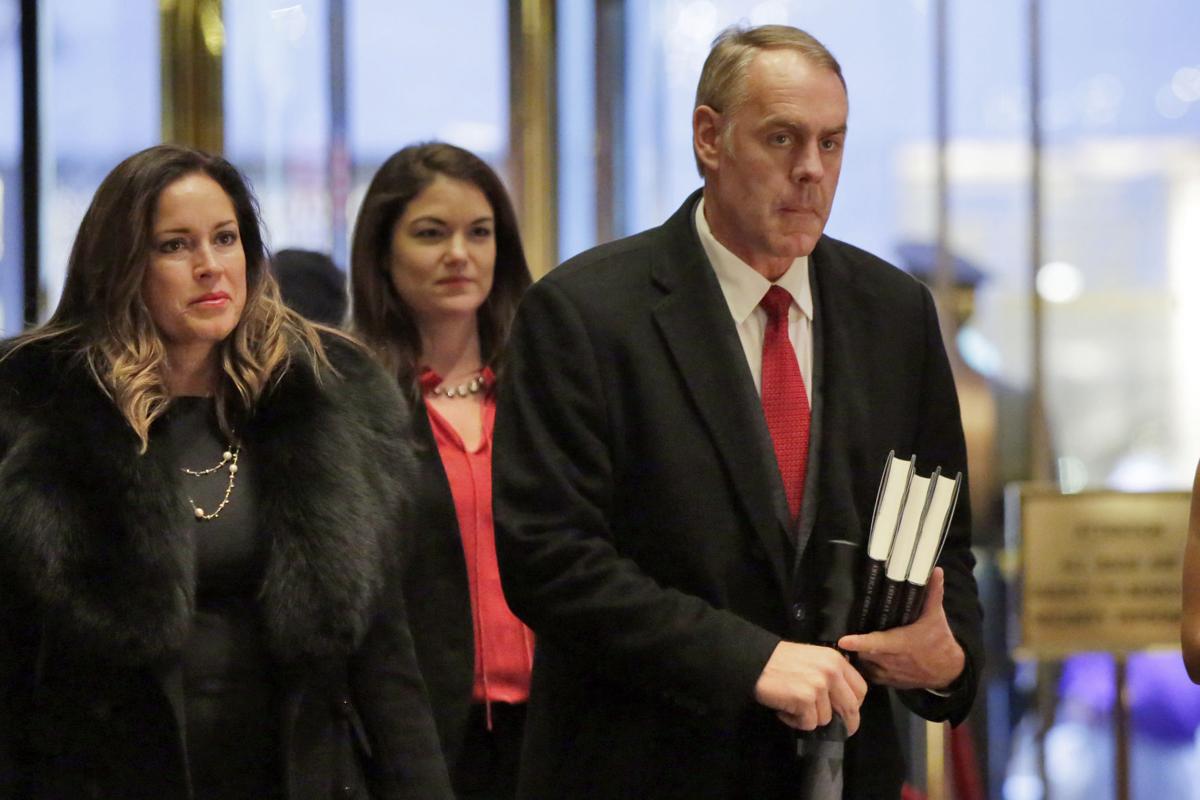 Montana's lone congressman, Ryan Zinke, met with President-elect Donald Trump today in New York City.
Zinke is in the mix for one of a handful of Cabinet positions that include the departments of the Interior and Veterans Affairs, Fox News has reported.
"President-elect Donald Trump and I had a very positive meeting where we discussed a wide range of Montana priorities," Zinke said afterward in message to The Gazette. "We are both very hopeful for the future." 
Zinke and Trump discussed sportsmen's rights, land use and ownership, Native American affairs, national security and veterans affairs. 
In the Trump transition team's morning call with reporters, Jason Miller, communications director, described Zinke as an early Trump supporter and mentioned the congressman's 22 years as a Navy SEAL and Zinke's experience as a former state legislator.
"Congressman Zinke is a strong advocate for American energy independence. And he supports an all-encompassing energy policy that includes renewable, fossil fuels and alternative energy," Miller said. "Additionally, Congressman Zinke believes we need to find a way to cut through bureaucracy to ensure our nation's parks, forests, and other public areas are properly maintained and used effectively."
Zinke is a member of the House Natural Resources and Armed Services committees.
Montana Republican Chairman Jeff Essmann received the news with enthusiasm.
"This country is lucky to have people like Ryan Zinke, who have always answered the call of duty, in his case in the military," Essmann said. "I'm sure he'd do a great job in whatever position the Trump administration feels they would need him."
Rep. Cathy McMorris Rogers, R-Wash., was also on Trump's schedule for another interview Monday. She is believed to be the leading candidate for the Interior position. Rep. Raul Labrador, R-Idaho, was also set to interview today.
The last U.S. Representative from Montana to leave office for a presidential appointment was Rep. James Battin, a Republican from Billings, appointed to the U.S. District Court in Montana by President Richard M. Nixon in 1969. 
Democratic Sen. Max Baucus left his Senate seat to become President Barack Obama's ambassador to China. 
Zinke, a Republican, won a second term in the U.S. House of Representatives, defeating outgoing Montana Superintendent of Public Instruction Denise Juneau. 
If Zinke is selected for a job in the administration, Democratic Gov. Steve Bullock would appoint a replacement congressman from a list of three nominees selected by the Republican Party. A special election would then be scheduled in 85 to 100 days of Zinke's departure.
Essmann said it wouldn't be a good idea for the Montana GOP to select a replacement nominee interested in being a candidate for the special election. The short campaign before a special election might make it difficult for an interim representative to compete.
In 2014 when Gov. Steve Bullock appointed then Lt. Gov. John Walsh to replace U.S. Sen. Max Baucus, Republicans blasted the governor for seating a replacement who was also a candidate in the upcoming Senate election. 
Zinke and his wife, Lola, were early Trump supporters. Zinke endorsed Trump in May and was among a dozen Montana delegates the Trump campaign endorsed for the Republican National Convention. 
Zinke introduced Trump at a May campaign rally in Billings, but it was Lola Zinke who was identified by Trump as an early supporter.
"Where the hell is he? My man!" Trump shouted from the stage while scanning the back of Rimrock Auto Arena for Montana's lone congressman. "He's supported me from the very beginning, but it's more his wife, right?"
Lola Zinke, campaigned for Trump as part of the "Women for Trump" speaking tour. She manages and owns a second-generation family property business in California.
In November, Lola Zinke was appointed to Trump's Veterans Affairs landing team. The team will look for ways to overhaul the VA during the first 100 days of the Trump presidency.