A $2.5 billion transmission line bridging the eastern and western power grids of the United States has been proposed for the plains of Montana and North Dakota.
The North Plains Connector would allow power to flow across three time zones from the Midwest to Seattle, a move that should make the wholesale energy markets more affordable and energy more reliable.
Minnesota-based Allete and Grid United of Texas announced their memorandum of understanding this week to build the 385-mile high-voltage direct-current transmission line. Grid United officials say they have been meeting with landowners about a proposed path, as well as regulators, for a year.
The expectation is to start construction in three to four years, an ambitious pace for transmission projects, which can take a decade or more. The line could accommodate 3 gigawatts of power.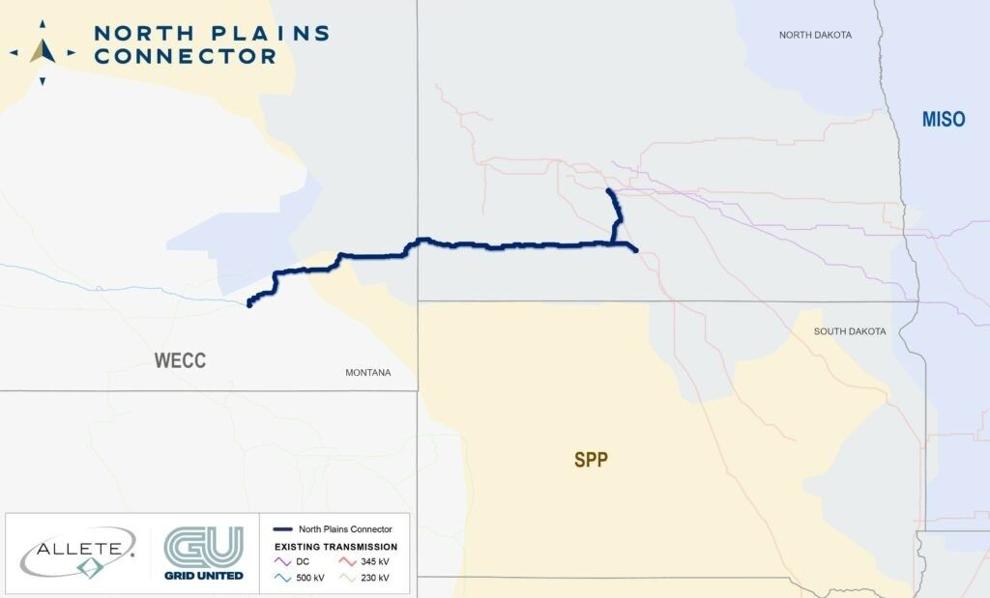 "There's a lot of value to connecting across this interconnection seam, where you really don't have much transfer right now," said Will Harrop, Grid United's manager of grid analytics. "What you're able to do is smooth out these extreme events. A great example would be December of 2022, we had this big winter storm just before Christmas. You can see that roll across the Pacific Northwest to the Midwest, even through the East Coast. You get very disparate impacts, in different regions at different times.
"It's really about being able to mitigate that volatility and provide the least-cost power to consumers where it's needed, irrespective of what specific geography that power is coming from."
The NP Connector follows construction of NextEra's 150,000-acre Clearwarter Wind Project, valued at $1 billion, north of Miles City, as well as PacifiCorp's $400 million, 250 MW Pryor Mountain Wind Project near Bridger. Both projects were constructed since 2020.
For generators, North Plains more than doubles the potential market for Montana energy.
"On all counts, it's good for the state of Montana," said Mark Klein, developer of the state's largest solar array, MTSun, owned by Greenbacker and located north of Billings. "It brings investment, jobs. It's good for Montana because it will provide additional revenue sources related to the construction and operation of new generation facilities, frankly whether they're renewable or conventional."
Colstrip substation
The Montana end of NP Connector is the Colstrip substation. There, resources from the Midwest to the Pacific Northwest would be connected for the first time, with the Colstrip Transmission Line extending the circuit to Seattle and Portland. To the east, the line would deliver power to two North Dakota substations, one to be built in Solen and the other in Center where Allete already has HVDC transmission. The technology allows electricity to be transmitted over longer distances with less power lost.
North Plains Connector is the first of five planned Grid United transmission projects to connect the western and eastern grids, as well as the nation's third power grid section, which is specific to Texas. ERCOT bears the name of its operator, the Electric Reliability Council of Texas.
It's Allete's experience with HVDC that makes it a good partner for North Plains Connector, according to Grid United. High-voltage, dedicated current transmission is unusual, but more efficient for moving large amounts of energy. Alternating current is the norm.
"We need to advance real action to ensure that we can navigate the changing grid and the need to optimize energy across our nation," said Julie Pierce, Allete vice president of strategy and planning. "We feel this connection, that has been talked about previously and really called out in many studies like NREL. . .. can bring a tremendous number of broad benefits to the upper tier of the nation. We feel it's a good opportunity to put our boots on the ground and be part of something that is really going to make a true difference in the upper tier."
Grid study
The NREL study Pierce references is a 2021 report by the National Renewable Energy Laboratory known as the "Interconnections Seam Study," which looked at a half dozen points along the western and eastern grids where low-capacity substations laced the two grids together, but lacked the size to accommodate useful loads.
One of the substations in the study, was a 200-megawatt capacity station near Miles City. Installed in the mid-1980s, right about the time that Units 3 and 4 of Colstrip Power Plant were coming online, the substation was never big enough to accommodate significant loads of power. The NREL study proposed replacing the aging seam substations with HVDC infrastructure to move large loads of power, though balancing the East and West power resources was first floated in 1923 by a Chicago utility that wanted to balance the nation's hydropower and coal power resources.
NREL concluded that increased intercontinental transmission meant that less power would be needed keep the electric supply in balance with the nation's energy demands. For every dollar spent on transmitting power between the grids through HVDC technology, $2.50 was saved on energy. Renewable energy sources became more useful as, for example, wind turbines spinning in parts of the country were able to fill in for renewables in other areas that were down. Fossil fuel powered plants operated less. Energy from wind and solar across the system increased from 30% to 40% of capacity.
"The farther you get away from resources, they're not necessarily complimentary, but the less correlated they are. If the wind is blowing or the sun is shining in one region, maybe it's not in another," Harrop said. "There's high load in one region and there's excess energy available in another…. You do see these resources have different profiles and the need for them, and for thermal generation changes."
Power from multiple sources
Allete (pronounced elite) Allete is a multifaceted energy company, with two regulated utilities, a clean energy development company, a lignite coal and power company, and a solar development company. Minnesota Power is the larger of the Allete's regulated utilities, with about 145,000 metered customers, according to corporate filings, and serves Duluth, Minnesota.
Similar to Washington and Oregon, Minnesota has legislated that its utilities phase out coal power. Last November, regulators approved Minnesota Power's plans to close its coal-fired power plants no later than 2035. The utility's goal is to exit fossil fuels by 2050.
The energy economies of Montana and Minnesota are connected. As Montana Lee Newspapers reported in 2021, the Clay Boswell Energy Center, a large power plant operated by Minnesota Power has burned Montana coal from the Spring Creek mine and now-defunct Decker mine. The Sherburne County Generating Station, an Xcel Energy coal plant in Becker, Minnesota, is the primary customer of Absaloka Mine. SHERCO, as the plant is known, will retire 1362 MW of coal power capacity by 2026. Xcel is building a solar project on the site.
The North Plains Connector will transmit power from multiple sources. In a press release, the line's collaborators specifically mention electricity from gas-fired power and renewables, but the approach is all of the above.
Grid United's first year of outreach included meeting with landowners along possible transmission routes, presentations to communities, introductions to environmental regulators in Montana and North Dakota. It expects to begin applying for permits in late spring of this year.
"We focused on stakeholders first and really got out and talked to the governor's offices in both states and talked to the regulatory agencies, spent a lot of time with Montana DEQ," said Brant Johnson, United Grid vice president in charge of the North Plains Connector. "We really are prioritizing building good stakeholder relationships, good landowner relationships, and trying to minimize the sorts of things that really engender project opposition."
Johnson said Grid United ended 2022 making lease offers to landowners.
Long road to completion
Transmission projects from start to finish can take 10 years. The last time a major transmission project was proposed was the Mountain States Intertie, or MSTI, a NorthWestern Energy project challenged by county governments who sued over being excluded from planning. In the Legislature, farmers lined up in opposition to granting eminent domain for transmission projects. The 430-mile line was proposed as a way to deliver renewables into Idaho and eventually California, but ultimately failed.
However, the backstory of Grid United CEO Michael Skelly suggests the company knows how to accomplish the heavy lift of securing right of way for a transmission project. Fred Heutte works on transmission for Seattle-based Northwest Energy Coalition. He said Skelly's work on transmission lines designed to move Oklahoma renewable energy east is well known.
Skelly's previous company Clean Line Energy did the early development of The Grain Belt Express, a transmission project spanning Kansas, Missouri and Indiana, and also the Plains & Eastern transmission line between Oklahoma and Tennessee. Those projects were eventually sold. Montana wind farm owner NextEra acquired some of the Plains and Eastern project. Pattern Development, creator of Stillwater Wind Facility near Reed Point Montana, purchased Clean Line's Western Spirit Transmission Line and Mesa Canyons Wind Farm in New Mexico.
NWEC takes a tread lightly approach to transmission, with a preference for using existing infrastructure that aligns with available resources.
"We would like not to build any new transmission, that's the ideal approach. But, the reality is, we're probably not going to get away with, not probably, we will need to build some more transmission. And the way to make sure we get it right is first to make sure we do everything we can do to use the existing grid better. There are lots and lots of pieces to that. And second, to really identify where the highest value combination of new renewables and new transmission is going to be," Huette said.
The North Plains Connector cuts across the No. 2 and No. 3 states for wind power potential in North Dakota and Montana.