SANTA FE, N.M. (AP) — A bronze chest filled with gold, jewels, and other valuables worth more than $1 million and hidden a decade ago somewhere in the Rocky Mountain wilderness has been found, according to a famed art and antiquities collector who created the treasure hunt.
Forrest Fenn, 89, told the Santa Fe New Mexican on Sunday that a man who did not want his name released — but was from "back East" — located the chest a few days ago and the discovery was confirmed by a photograph the man sent him.
"It was under a canopy of stars in the lush, forested vegetation of the Rocky Mountains and had not moved from the spot where I hid it more than 10 years ago," Fenn said in a statement on his website Sunday that still did not reveal the exact location. "I do not know the person who found it, but the poem in my book led him to the precise spot."
Fenn posted clues to the treasure's whereabouts online and in a 24-line poem that was published in his 2010 autobiography "The Thrill of the Chase."
Hundreds of thousands have hunted in vain across remote corners of the U.S. West for the bronze chest believed to be filled with gold coins, jewelry and other valuable items. Many quit their jobs to dedicate themselves to the search and others depleted their life savings. At least four people died searching for it.
Fenn, who lives in Santa Fe, said he packed and repacked his treasure chest for more than a decade, sprinkling in gold dust and adding hundreds of rare gold coins and gold nuggets. Pre-Columbian animal figures went in, along with prehistoric "mirrors" of hammered gold, ancient Chinese faces carved from jade and antique jewelry with rubies and emeralds.
He said he hid the treasure as a way to tempt people to get into the wilderness and give them a chance to launch an old-fashioned adventure and expedition for riches.
Fenn told The New Mexican in 2017 that the chest weighs 20 pounds (9 kilograms) and its contents weigh another 22 pounds (10 kilograms). He said he delivered the chest to its hiding place by himself over two separate trips.
Asked how he felt now that the treasure has been found, Fenn said: "I don't know, I feel halfway kind of glad, halfway kind of sad because the chase is over."
"I congratulate the thousands of people who participated in the search and hope they will continue to be drawn by the promise of other discoveries," he said on his website.
Florida woman finds alligators fighting by her home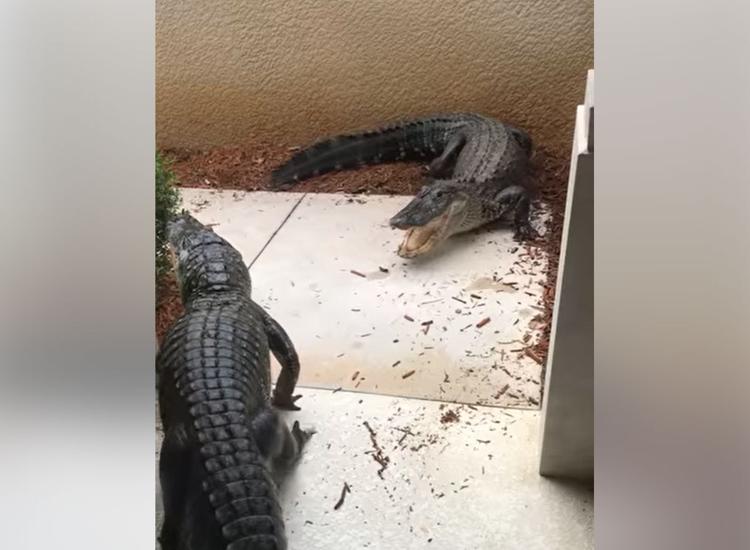 FORT MYERS, Fla. — A woman in route to get her morning coffee was jolted awake with pounding on her front door she later discovered to be two alligators fighting in front of her home in Florida.
The video of the surprising encounter in Fort Myers was posted on Facebook last week by Susan Geshel.
When she first saw the reptiles before 7 a.m., Geshel told The Fort Myers News-Press that one of the alligators had his snout pinned on her door while the other was stationed at a distance with its snout wide open.
The video then shows Geshel calling her husband in surprise as one of the alligators clamped its jaws on the other's body and pushed it to the wall as it moved away from the house.
"They made a mess on the front door," said Geshel, who has never seen alligators on her property in Fort Myers. After about 20 minutes by her house, one of the alligators walked across the street to a neighbor's home while the other disappeared from the area and could have gone to a nearby pond, she added.
Florida Fish and Wildlife Conservation Commission Spokeswoman Melody Kilborn said the fighting alligators were reacting to being in a confined space.
The reptiles, who Kilborn said are most visible when the weather is warm, also tend to mate during May and June, according to the wildlife agency.
Boy writes letter to rattlesnake at Michigan zoo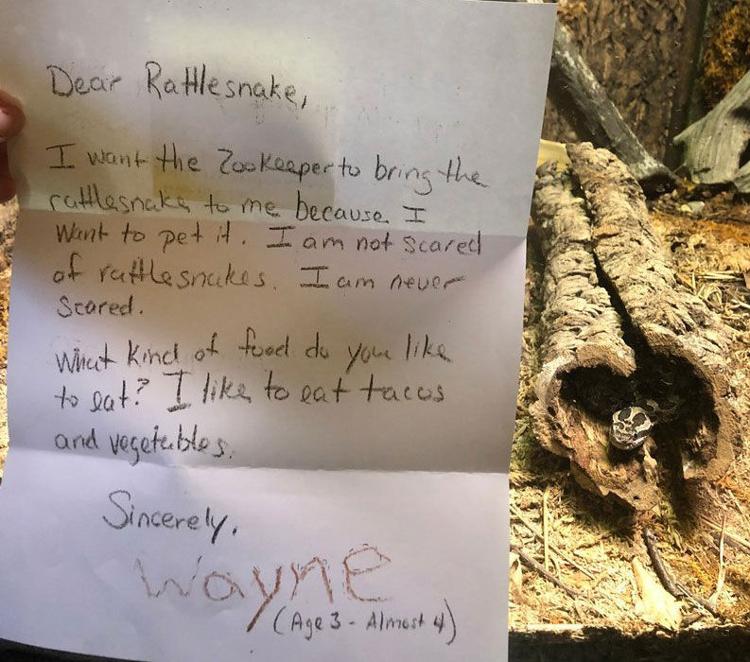 LANSING, Mich. — It may not be the cuddliest animal at the zoo, but that doesn't stop a Michigan boy from wanting to pet a rattlesnake.
The Potter Park Zoo in Lansing posted a letter written to the zoo's rattlesnake by 3-year-old Wayne (who is almost 4). In the letter he says he wants the zookeepers to bring the rattlesnake to him because he wants to pet it. He goes on to say he isn't scared of the animal. In fact, he's never scared. He also had questions for the "rattler," including what it likes to eat — because he likes to eat tacos and vegetables.
The zoo responded back on social media, thanking Wayne for the letter to its female massasauga rattlesnake. Zoo staff said that she enjoys eating small rodents and that since she is a venomous snake, she can't visit Wayne.
The post ended with "But we love that you have an appreciation for these incredible creatures!"
Scientists learn how tiny critters make ocean 'snot palaces'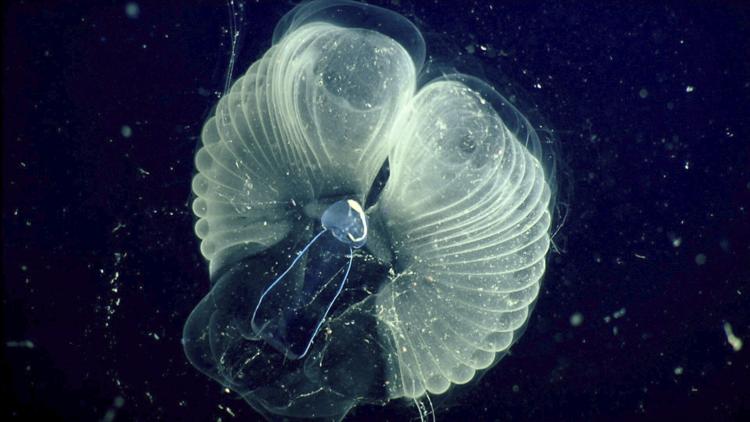 KENSINGTON, Maryland — Master builders of the sea construct the equivalent of a complex five-story house that protects them from predators and funnels and filters food for them — all from snot coming out of their heads.
And when these delicate mucus homes get clogged, the tadpole-looking critters — called giant larvaceans — build a new one. Usually every day or so.
These so-called "snot palaces" could possibly help human construction if scientists manage to crack the mucus architectural code, said Kakani Katija, a bioengineer at Monterey Bay Aquarium Research Institute.
Her team took a step toward solving the mystery of the snot houses and maybe someday even replicating them, according to a study in Wednesday's journal Nature.
The creatures inside these houses may be small — the biggest are around 4 inches — but they are smart and crucial to Earth's environment. Found globally, they are the closest relatives to humans without a backbone, Katija and other scientists said.
Together with their houses "they are like an alien life form, made almost entirely out of water, yet crafted with complexity and purpose," said Dalhousie University marine biologist Boris Worm, who wasn't part of the study. "They remind me of a cross between a living veil and a high tech filter pump."
Mountain lion found taking cat nap under SUV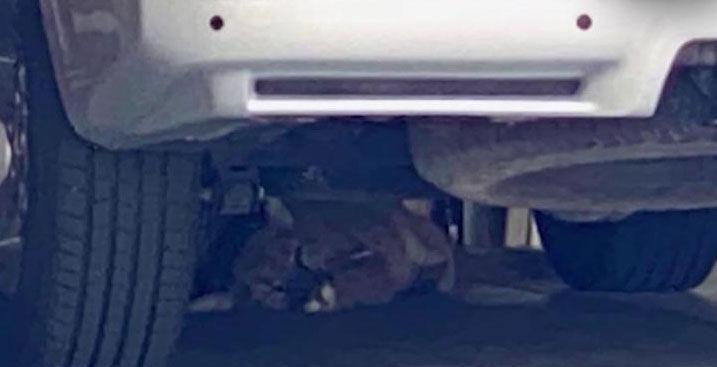 A mountain lion was found taking a cat nap under an SUV in Colorado. The big cat was captured and safely relocated to a remote area.
Watch CNN's video of the incident here.
Porn star arrested after man dies during toad venom ritual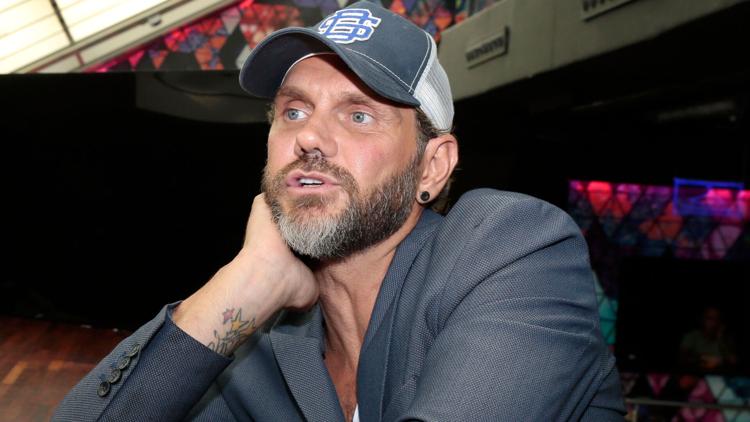 Spanish porn star Nacho Vidal is under investigation for manslaughter after a man died during a ceremony involving toad venom.
Vidal and two other individuals were arrested on May 29, according to his lawyer, David Salvador. They were arrested on suspicion of manslaughter and following an 11-month investigation, according to a statement from Spain's law enforcement agency, the Guardia Civil.
They appeared before a judge on the same day, a spokesman for the supreme court of Valencia told CNN.
All three were released provisionally and investigations continue, according to the spokesman.
Police have not named the man who died. The names of the two other people — a man and a woman — who were arrested along with Vidal have not been made public.
Salvador told CNN the death was a "tragic accident" and that his client was not responsible.
He said the person who died had used the toad venom before and had wanted to experience it again.
Police said the incident took place in July 2019 in the town of Enguera, near Valencia, in eastern Spain.
The person died during what the Guardia Civil called a "mystical ritual involving the inhalation of venomous vapors from the Bufo alvarius toad."
Vidal, 46, has appeared in at least 10,000 scenes in a porn career spanning 26 years, according to his website.
Be the first to know
Get local news delivered to your inbox!