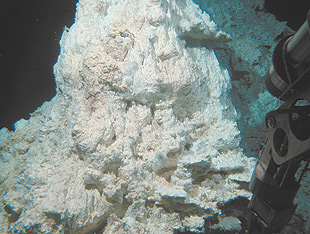 SEATTLE - When scientists on a research cruise in the Atlantic Ocean first stumbled across an underwater landscape of giant white towers and feathery spires, they only had time for a quick look around.
"We got just the teeniest glimpse," said University of Washington oceanographer Deborah Kelley, who led that voyage in 2000. Excited by the discovery of what looked like a new type of hydrothermal vent field, she organized a monthlong return trip three years later to the "Lost City," named for the mythical world of Atlantis.
In last week's issue of the journal Science, Kelley and her colleagues report the results from that expedition, including the surprising find that the geysers are populated by more than 65 types of tiny creatures, including transparent worms, water fleas and mats of bacteria that waft in the currents like kelp. The animals and microbes thrive in scalding hot fluids nearly as caustic as Drano. Many seem to subsist on a "diet" of natural gas and hydrogen.
"It really changes our ideas about where life can live on this planet," Kelley said. "And it really drives home that there's still a huge amount yet to be discovered in the oceans."
The scientists believe the undersea vents could mimic conditions on the primordial earth when life first formed, and may provide some of the best insights into that process.
The hope is to find living fossils that "tell us something about what the earliest organisms were like," said UW microbiologist John Baross, who is trying to grow some of the microbes collected on the voyage in his Seattle laboratory.
Though no one has ever seen anything like the Lost City before, there are almost certainly many sites like it, Kelley said.
"There are probably much larger areas of the sea floor that host hydrothermal vent systems and all of these new types of organisms - and to date we know almost nothing about them," she said.
The Lost City is perched on a plateau on the Atlantis massif - an underwater mountain located in the mid-Atlantic miles from the nearest volcanic rift.
The heat that drives the system comes from a chemical reaction between sea water and ancient oceanic bedrock. Temperatures are 100 to 200 degrees. When the hot water bubbles up and hits the icy sea, dissolved carbonate minerals precipitate out, forming white and gray towers that rise like giant limestone stalagmites.
The chemistry at Lost City is dominated by methane, or natural gas, and hydrogen. The dominant type of microorganisms belong to a group called Archaea, bacterialike bugs, some of which are known to metabolize methane, Baross said.
Another researcher whimsically described the site as "a conglomeration of colossal beehives from outer space." Director James Cameron was so taken with the eerie scene he featured it in his IMAX film, "Aliens of the Deep."
"If it was on land, it would probably be a national park," said David Butterfield, a geochemist from the University of Washington who participated in the 2003 voyage along with researchers from Woods Hole Oceanographic Institute, the Massachusetts Institute of Technology and several other universities.