SAN DIEGO — Every afternoon during a Zoom call with co-workers, Taylor Daneen Kahle would share three things she was grateful and thankful for. The exercise started in February, an effort by the group of event planners to get out of "the COVID funk" after nearly a year of shutdowns caused by the global pandemic.
In those sessions, Kahle highlighted things she valued in her life — her two dogs, her health, her close relationship with her father, her job, her friends — recalled her boss, Laurel McFarlane. Kahle was thankful to be "looking at the bright side of life" and thankful for becoming wiser as she got older.
On Sunday night, Kahle was on a date, walking near San Diego's Petco Park after dinner, when a man plunged from the ninth-floor balcony of a parking structure and landed on her. Her injuries were fatal.
The man was taken to a hospital, where he died. The office ruled his death a suicide.
Kahle died a week before her 30th birthday. She'd had big plans — close friends were flying in, everyone was staying at a rented house, and her father was going to drive the group to a vineyard for wine tasting. He'd even gotten a chauffeur's cap for the occasion.
Those who knew Kahle called her death a senseless tragedy.
"How is that possible that someone falls out of the sky and kills you? It just doesn't make sense," said Michael Trimble, executive director of the Gaslamp Quarter Association, who knew Kahle for years as she worked on Gaslamp-related events.
Kahle began working at McFarlane Promotions in 2012 as an intern. She was shy and nervous, often afraid to speak out, and would write notes to her boss instead of talking with her.
"I saw something special in her," said McFarlane, who became a mentor and encouraged Kahle to push herself beyond her comfort zone. "I just watched her blossom into an amazing, strong woman."
On Facebook, McFarlane wrote that Kahle "lived life with zest."
Kahle went from an intern to an assistant to an event manager. She not only took care of her work, but cared for those around her — doing things like tidying up McFarlane's messy desk.
"She was everyone's person. If Taylor was your person, she was fierce for you," McFarlane said.
Trimble recalled Kahle as a detail-oriented, positive individual who was great at organizing galas, holiday parties and golf tournaments that promoted Gaslamp-area businesses.
"Whether it was a project or an initiative or a marketing campaign, she just did things with a smile and really made you feel so comfortable and so confident that whatever needed to get done would get done," Trimble said. "I always knew if Taylor was assigned to that project, the project would be successful."
Kahle often brought her Chihuahua, Stella, to the office. She'd had the dog since high school. She recently adopted a second dog, Roo, from Tijuana.
She attended a charter school, where she was a cheerleader, before going on to attend San Diego State University to study communications, hospitality and tourism management, according to McFarlane. Kahle had moved to Chicago for a year and telecommuted for her event-planning job but moved back to San Diego to live with her father as the pandemic began. Her mother died several years ago.
Kahle and her father were close, and her father often attended her work events "to cheer her on," McFarlane said, adding: "It was an incredible relationship."
Even in death, Kahle was helping others. She was an organ donor and was "helping many in the end like she always did in her life," McFarlane wrote on Facebook.
This week in weird news: Capitol rioter arrested after being turned in by Bumble match, flying turtle hits car passenger
Florida zoo welcomes 27.5 ounce baby klipspringer antelope
MELBOURNE, Fla. (AP) — A baby klipspringer antelope is bonding with its mother before making a public debut at a Florida zoo.
The calf was born April 15 to mother Deborah and father Ajabu at the Brevard Zoo in Melbourne. The calf weighed 27.5 ounces (.78 kilograms) at birth, zoo officials said in a news release Friday.
Zoo officials have not yet named the calf. It is nursing and appears to be in good health, the release said. The male calf was the ninth klipspringer born at the zoo.
The species of antelope typically gives birth to one calf, which will grow to between 18 and 40 pounds (8 to 18 kilograms). They are native to rocky areas of the sub-Saharan Africa, and are known for their surefootedness.
Passenger survives being hit in the head by flying turtle
DAYTONA BEACH, Fla. (AP) — It's not unusual for rocks and other debris to crash through a windshield and injure a driver or passenger — but a turtle?
A 71-year-old woman riding with her daughter on Florida's Interstate 95 suffered a gashed forehead Wednesday when a turtle smashed through the windshield of their car, striking her, the Daytona Beach News-Journal reports.
The daughter pulled over and got help from another motorist. According to a 911 recording, both were surprised by what they found.
"There is a turtle in there," the man can be overheard saying.
"A turtle!" the daughter exclaimed. "An actual turtle?"
The gash drew a lot of blood, but the woman was not seriously hurt. The turtle was likely crossing the interstate and got knocked into the air by another vehicle.
"I swear to God this lady has the worst luck of anything," the daughter told the 911 operator as she tended to her injured mother.
The turtle, on the other hand, had the best luck of anything — it just had a few scratches on its shell and was released back into the nearby woods, Port Orange police officer Andre Fleming said.
Prototype of first US dollar coins going up for auction
A piece of copper that was struck by the U.S. Mint in Philadelphia in 1794 and was a prototype for the fledgling nation's money will go up for auction Friday.
Businessman and Texas Rangers co-chairman Bob Simpson owns the item, which is known as the "No Stars Flowing Hair Dollar."
While it closely resembles silver dollars that were later minted in Philadelphia, it gets its name because it is missing stars.
"While subsequent dollar coins struck featuring stars were added to the front of the coin, starless coins are considered by collectors and institutions as one-of-a-kind prototypes for the silver examples that would follow," said Jacop Lipson of Heritage Auctions.
Heritage Auctions estimates the prototype will sell for between $350,000 and $500,000 when it goes on the block online in Dallas on Friday.
Known as a pattern, the front features the flowing hair portrait of Liberty and the date 1794, while the reverse side shows a small eagle on a rock within a wreath. Similar starless examples are part of the Smithsonian Institution's National Numismatic Collection.
"It's incredibly exciting," said California-based numismatist David McCarthy. "It gives us a view into what was going on inside the Mint in 1794 when it was gearing up to make the first dollars ever struck."
The pattern was forgotten as the Mint continued the process of creating the nation's first silver dollars.
"Coin collecting lore states the unique rarity was excavated from the site of the first Philadelphia Mint before 1876," Lipson said. That was how the coin's first owner described its history at its first auction appearance in 1890.
The pattern is corroded and not in perfect condition, Lipson said, likely because it was buried at the site of the original Mint. There are some scratches and other marks on its brown surfaces.
It has traded hands eight times, according to the auction house.
Simpson, 73, purchased it along with other patterns in 2008 to add to his large collection. He views himself as a steward and thinks it is time for someone else to enjoy it.
"I think coins should be appreciated almost as artwork," he said. "I have gotten more than enough joy from them."
Simpson said he wasn't wealthy when he started collecting. As a boy, he said he would go to a bank, get a roll of coins and examine them. It was part of the fun he said he has had in this country.
"America is the only place I think where you can travel from near poverty to wealth based on education," he said.
Officers charged with issuing dozens of bogus citations
HIALEAH, Fla. (AP) — Two Florida police motorcycle officers are facing charges that they issued dozens of bogus tickets to drivers they never pulled over.
Hialeah officers Ernesto Arias Martinez, 23, and Armando Perez, 40, are facing multiple counts of official misconduct after their arrests Wednesday, the Miami Herald reports. Perez has been with the city police department for five years, Arias Martinez for four.
An internal affairs investigation found the two had issued dozens of bogus tickets to at least nine drivers in early 2020, court records show.
The Herald reports the scheme fell apart when lawyers who specialize in defending drivers who get tickets started soliciting business from people who had no idea what they were talking about.
One law office asked Reicel Sosa Polo if wanted help with the 10 tickets he had received. Sosa had never been pulled over, but remembered driving past two Hialeah motorcycle officers recently. He filed a complaint with Hialeah police.
Another driver filed a complaint after she received a letter from the state saying her license was about to be suspended because she had not paid six tickets. All were issued on the same day in January 2020 and she said she had never been pulled over, records show.
That led to the internal affairs investigation and the pair's arrest.
"When police officers create false traffic tickets, as we are alleging happened here, they damage the reputation of their own department and the reputations of every police officer working to serve our Miami-Dade community," Miami-Dade County State Attorney Katherine Fernandez Rundle said in a statement.
Perez's attorney, Michael Greico, said he wants to see what evidence prosecutors have. Arias Martinez's lawyers had no comment.
The officers' union distanced itself from the pair.
"As law enforcement officers, we are entrusted in protecting and serving our residents, and these alleged actions have violated the trust of the people and rightfully so," said Marlon Espinoza, president of the Hialeah Fraternal Order of Police in a statement. "We ask that our community not judge all our dedicated officers by the alleged actions of two."
Capitol rioter arrested after being turned in by match on online dating app Bumble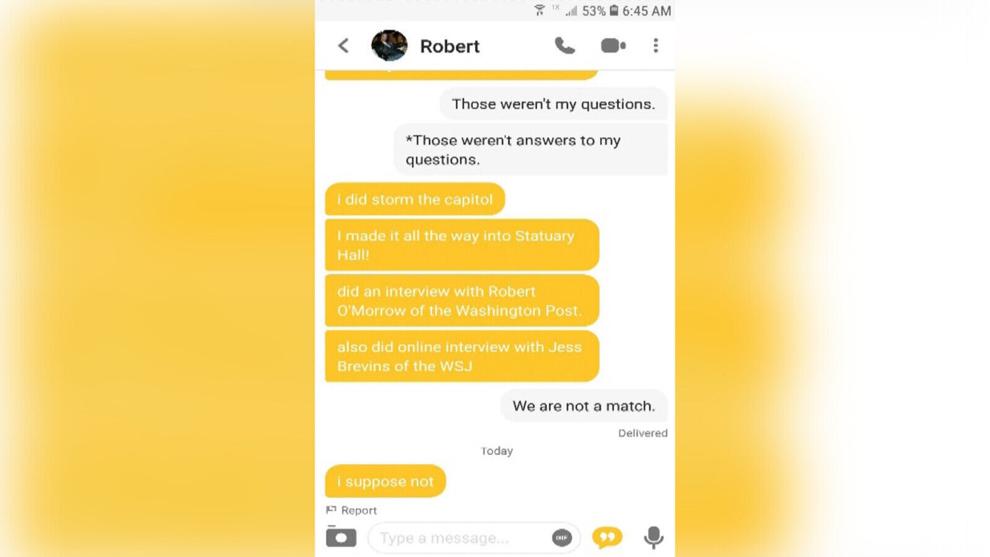 The Justice Department has charged a Capitol rioter who was turned in by someone he matched with on the dating app Bumble, after he bragged about his exploits on January 6.
According to court documents, one week after the attack, Robert Chapman of New York told one of his Bumble matches that "I did storm the Capitol" and said that he "made it all the way into Statuary Hall." He also claimed that he was interviewed by members of the media.
The other Bumble user replied, "we are not a match."
Prosecutors said the user then quickly reached out to the FBI and provided screenshots of the conversation.
Investigators said in court filings that they corroborated Chapman's claims by comparing his Bumble profile picture to body camera footage from police officers who were inside the Capitol.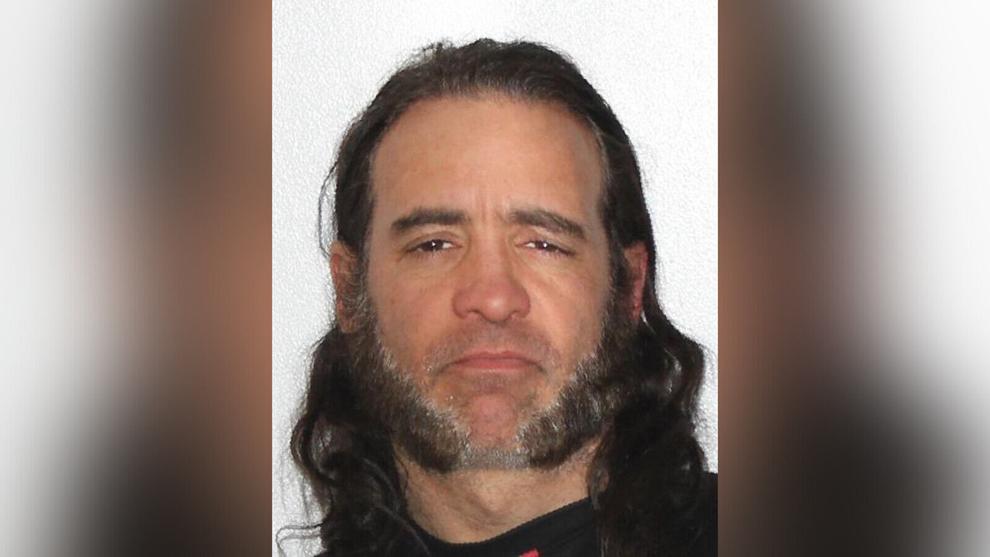 Chapman was charged with four misdemeanors, including disorderly conduct on Capitol grounds. He hasn't entered a plea and his lawyer didn't respond to a request for comment on the charges.
According to screenshots in court filings, Chapman also posted to Facebook before the January 6 insurrection that he was traveling to the "District of Criminality," referring to Washington, DC. And on the day of the attack, he allegedly posted, "I'M F---IN INSIDE THE CRAPITOL."
Incriminating social media posts like these have become a hallmark of the Capitol riot investigation. In dozens of cases, prosecutors quoted rioters' posts from Facebook, Twitter, TikTok, Parler, Snapchat, and other sites where they bragged about their alleged crimes.
More than 390 people have been charged with federal crimes in connection with the attack.
According to court records, Chapman was arrested on Thursday and released by a federal magistrate judge in the Southern District of New York. Most Capitol riot defendants who aren't charged with violent crimes -- including Chapman -- have been released from jail before trial.
CORRECTION: An earlier version of this story misstated what Chapman posted on his Facebook page.