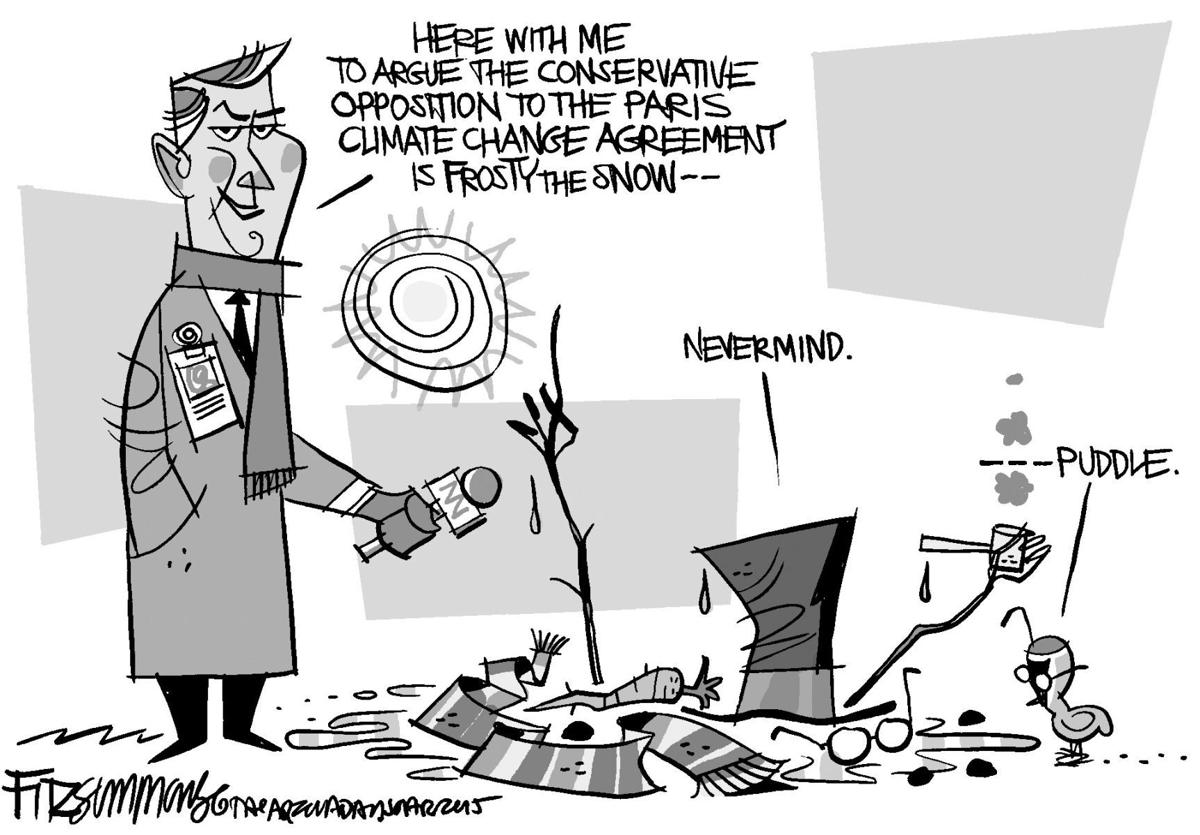 WASHINGTON — On climate change, curb your enthusiasm. It's not that the recent international conference in Paris didn't take significant steps to check global warming. It did. Nearly 200 countries committed to reduce their greenhouse gas emissions. The goal of limiting warming to 2 degrees Celsius (3.6 degrees Fahrenheit) from preindustrial times was reaffirmed. The trouble is that what's being attempted is so fundamentally difficult that even these measures may be wildly unequal to the task.
What's being attempted, of course, is the wholesale replacement of the world economy's reliance on fossil fuels (coal, oil, natural gas) for four-fifths of its energy. To be sure, the shift is envisioned to take decades, four or five at a minimum. Still, the vast undertaking may exceed human capability.
Hence, a conundrum. Without energy, the world economy shuts down, threatening economic and social chaos. But the consequences of climate change, assuming the scientific consensus is accurate, are also grim — from rising sea levels (threatening coastal cities) to harsher droughts (reducing food supplies).
It's useful to split the discussion into two parts. On the existence of human-driven warming, I accept the dominant scientific view, mainly because I'm not technically qualified to dispute it. But I have doubted that, without major breakthroughs in energy technology, we can do much about warming. The addiction to fossil fuels will triumph.
Paris confirms that view. Rather than show how much progress we've made, it demonstrates how little maneuvering room we have. Consider some estimates from IHS, a consulting company. In 2012, it reports, the world generated 45 gigatons of greenhouse gases, up 50 percent since 1990. Without new policies, that total would rise to 60 gigatons by 2030, IHS projects. But the national pledges made in Paris would hold the 2030 total to 50 gigatons. That's good news, right? Well, not exactly.
Tiny wind power base
You have free articles remaining.
Limiting global warming to 2 degrees Celsius would require that emissions in 2030 drop to 35 gigatons, reckons IHS. So even with the Paris pledges, we're about 40 percent above the goal. Moreover, IHS thinks that some pledged cuts won't materialize. They are political gestures or depend on unproven technologies. There are no enforcement mechanisms.
Renewable energy (mainly wind and solar power) is supposed to rescue us. Quite likely, it won't.
True, renewable energy is expanding rapidly in the United States. In the next two years, the solar industry expects to double its installed American capacity. In 2014, wind generation was up 51 percent from 2011, according to government figures. Moreover, costs are said to have fallen sharply. The wind industry puts its decline at 60 percent over the past four years; the solar industry reports a 70 percent drop since 2009.
But these achievements need to be qualified. For starters, renewables' rapid growth comes off a tiny base. As a result, wind supplied only 4.4 percent of U.S. electricity in 2014. Solar's contribution was smaller, about 1 percent; for 2020, the industry's target is 3.5 percent. Global figures are lower.
Tech advances needed
Despite Paris, we haven't acknowledged the difficulties of grappling with climate change, whose extent and timing are uncertain. We invent soothing fantasies to simplify matters. The notion that the world can wean itself from fossil fuels by substituting renewables is one of these. The potential isn't large enough.
Actual choices are harder. For example, Bryce argues that only an expansion of nuclear power could replace significant volumes of fossil fuels. But greater reliance on nuclear poses its own dangers, including: the disposal of atomic waste, operational accidents and the vulnerability to terrorism.
It's true that technological breakthroughs could change this. We know what's needed: cheaper and safer nuclear power; better batteries and energy storage, boosting wind and solar by making more of their power useable; cost-effective carbon capture and storage — making coal more acceptable by burying its carbon dioxide in the ground.
Catch the latest in Opinion
Get opinion pieces, letters and editorials sent directly to your inbox weekly!