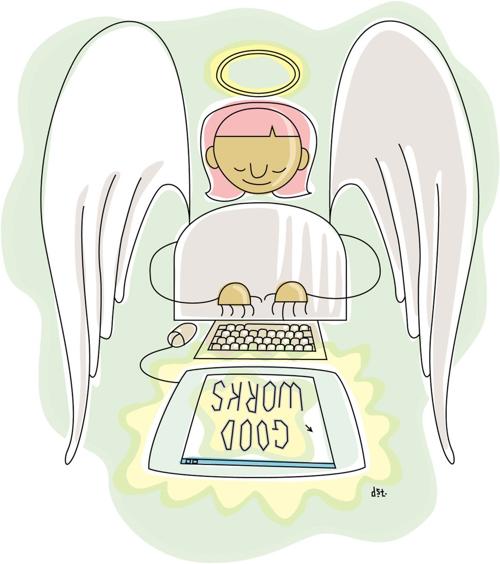 The thank-you notes are sincere and humbling:
Eight middle school students got new shoes so they could participate in sports.
A girl who didn't have clothes that fit got appropriate school clothing.
One boy who had been arriving at school without a jacket received a winter coat, hat and gloves.
A girl got help with the outfit she needed to start Montana Youth Challenge with the National Guard.
The fee was paid for a girl to start GED testing.
For the past 18 years, angels have watched over some of the neediest students in Billings middle and high schools.
There have been and still are many needy teens in our schools. More than a third of the student body qualifies for free or reduced-price school meals because of low family income. Last year, the district identified 629 homeless students in K-12.
In just one year, the Angel Fund paid for 15 GED tests at the Adult Education Center, $3,500 in lab and class fees at Senior High, gave $3,500 to high school food pantries and donated bus passes for 190 middle and high school students who were homeless.
The Angel Fund was created by volunteers and is funded entirely with private donations. With dedicated volunteer fundraisers and the generosity of Billings-area service clubs and individual donors, the Angel Fund has recently covered about $40,000 annually in expenses to help needy students stay in school. The budget is set by the school principals who make specific requests for student aid.
Although the money has been raised from private sources, until this year, all Angel Fund donations were deposited with the school district. At the end of 2014, the fund stood at $847,000.
Longtime Angel Fund volunteers plan to retire from their unpaid fundraising job. They hope an endowment will allow the Angel Fund to keep helping Billings students for the long term. The Angel Fund endowment has been established with the Foundation for Billings Public Schools and now has about $35,000 in contributions.
Angel Fund coordinator Chris Dorr had requested that a portion of the original fund be transferred to the endowment, too. But such a transfer would be illegal under Montana law, according to the advice from the school district's attorney, external auditor and chief financial officer. State law doesn't allow schools to transfer money to private entities.
Laws can be changed, and the Angel Fund transfer request merits a closer review. Billings lawmakers should take a look at this unusual situation.
A permanent endowment is important to provide ongoing support for charitable work. The problem is that this fund was established in the school district, and the money is now "public," even though it came from private donors and is used only for aid to needy students.
This fund transfer request made the Angel Fund front-page news recently. The much bigger story is the help the Angel Fund has provided for an entire generation of Billings students.
At the current rate of spending, and with the district-managed fund earning even a modest return, the original Angel Fund should benefit students for another generation. Those generous donors who see the obvious value in a permanent endowment can keep the good work going by contributing to the new Angel Fund managed by the nonprofit Education Foundation.
There is no dark side to the Angel Fund story — only dedicated volunteers, a generous community, compassionate school administrators and thousands of kids who were helped quietly and quickly.