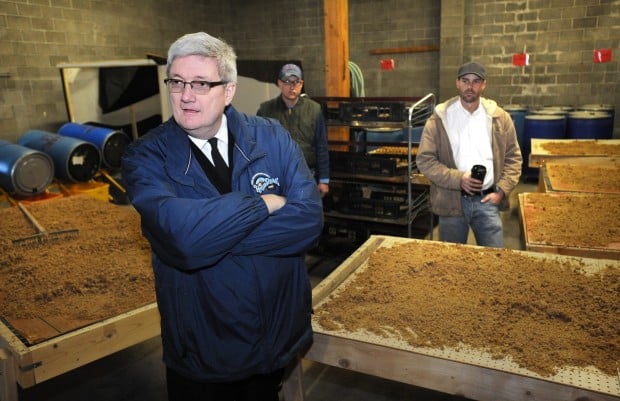 Seeds of prevention are being sown in an old warehouse behind the Salvation Army Thrift Store in downtown Billings.
For the past several months, a crew of four formerly homeless men have been starting a compost production facility. They live in nearby sober housing run by Rimrock Foundation. Compost is just the beginning of the plans for this partnership of Rimrock and the Salvation Army.
The vision that starts with compost (vegetable material only) includes creating permanent jobs, growing vegetables, feeding the community, recycling glass, teaching needy children art, music and agriculture, and helping them save for college. These projects will involve other community organizations, said Maj. Kevin Jackson, Billings Salvation Army leader.
Jackson said the Salvation Army is working on a holistic approach to ending homelessness.
"We are deeply committed to making it work," he said.
The Rimrock-Salvation Army partnership got started as a project of the Mayor's Committee on Homelessness with a federal grant written by Brenda Beckett of the city's Community Development office. The grant paid to repair the nearby house where up to six men can live while staying in recovery and earning a living at the new compost business or in the vegetable growing or other projects planned. This "social enterprise" model generates value for the workers and their community and allows people to lift themselves out of homelessness and dependence on charity.
"Both of us cooperate a lot, there's a lot of cross communication," Mona Sumner, Rimrock chief operating officer, said of the partnership. She has nothing but praise for the four "amazing" men who are the first participants.
Transitional housing for families and veterans are among numerous other projects supported by the Mayor's Committee.
Using a zero-interest loan procured through the city Community Development office, Interfaith Hospitality Network purchased and remodeled residential property that houses four families with children. In this Housing First pilot project, otherwise homeless families get case management while in the transitional apartments, learn to manage their finances and build a good credit record so they can move into permanent homes.
"We've been housing families for two years now," said Adela Awner of IHN, adding that there's never been a lack of homeless families waiting for these apartments.
Volunteers of America built Independence Hall on Lake Elmo Drive with VA and community support as a transitional home for 20 veterans.
"It's been at full capacity since it opened," said Denis Pitman, a member of the Independence Hall Advisory Committee.
Sumner has been a member of the Mayor's Committee on Homelessness since it started and now serves as chairwoman. She has seen progress, but adds: "It's slow. This is a huge problem."
Lack of "affordable housing is only going to worsen in this economy."
Lynda Woods is one of just three city employees in Community Development. Preventing homelessness isn't in their job descriptions, but it's a personal passion.
The city Community Development office has been successful in recruiting AmeriCorps Vista volunteers who have worked on most of the homelessness prevention initiatives. Jill Bunge was one of those Vista volunteers last year. She's staying in Billings to work for the Salvation Army as agriculture coordinator.
Although demand is growing for affordable housing, Billings has increased units over the past two years, Woods said. That includes Whitetail Run, a new Billings Housing Authority development in the Heights.
"We've not lost vouchers or affordable housing," Woods said.
However, there's a wait of 18 months to two years in Billings for Section 8 vouchers that provide subsidies to rent from private landlords.
Estimating from several years of data, Woods said around 2,000 people are homeless in Billings at some time during the year with 600 homeless on any given night. Recently, nearly 300 Billings Public Schools students were identified as homeless.
The 20-member Mayor's Committee on Homelessness came together to write a plan for ending homelessness in Billings within 10 years. The group now is at the end of its first two-year implementation plan and starting to plan for the next two.
One important goal will be increasing knowledge of homelessness causes and issues. With knowledge, all of us can be advocates for prevention.