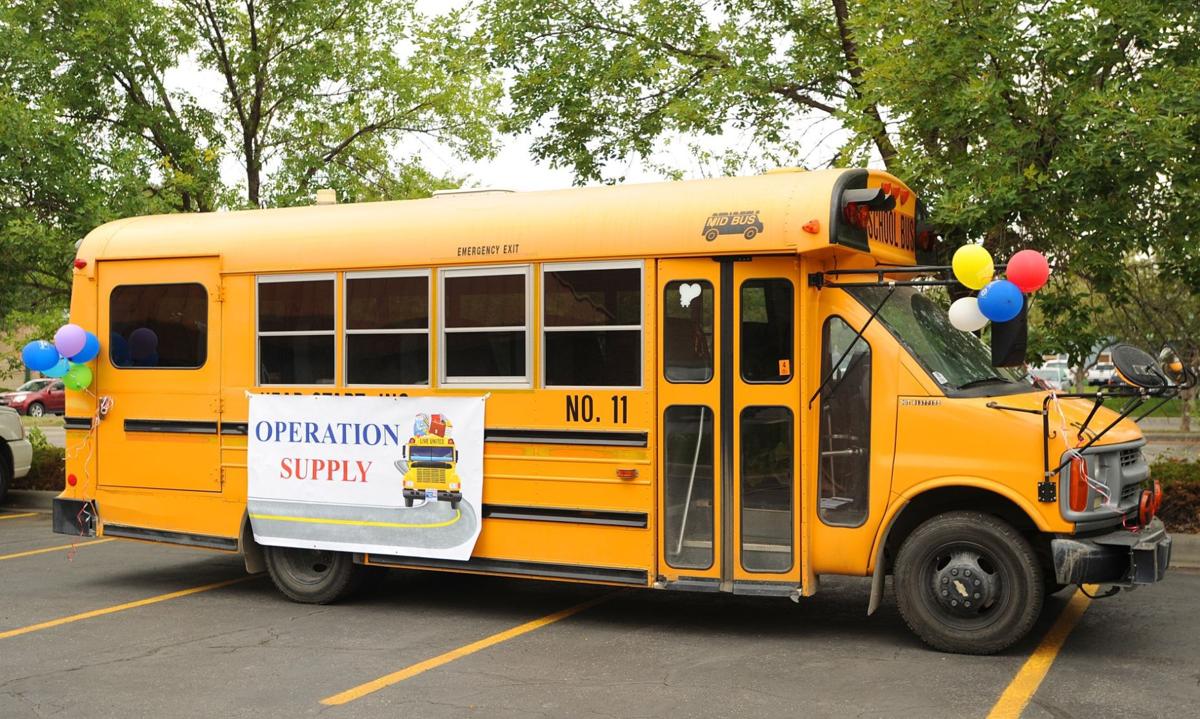 By 5 o'clock tonight, nonprofit organizations across Yellowstone County will be cleaner and freshly painted. Senior citizens' yards and gardens will be tidier. Homeless people will have been served lunch, and school supplies will have been sorted.
Altogether, 22 local agencies are counting on United Way of Yellowstone County volunteers to complete 41 projects in a single day, according to Carol Burton, executive director. More than 700 people have volunteered to help, taking time from their regular jobs at local businesses and government offices.
Since the 9/11 attacks on America, many communities have started doing service projects on or near the anniversary. But for United Way of Yellowstone County, the Day of Caring is a tradition stretching back further — 23 years. In 2001, the Day of Caring went on just two days after 9/11.
"Day of Caring is a call to live united and put our mission into action by improving the community in which we live, particularly in the areas of school readiness, school success and crisis stabilization," Burton said.
Today, for the 18th Day of Caring she has participated in, Burton plans to be at the 4-H Building at MetraPark where United Way is joining forces with the Yellowstone County Emergency Planning Committee and Ready Montana. The plan is for 115 volunteers from 11 companies to participate in a role-playing scenario of disaster aftermath. Fifteen disaster preparedness experts will be on hand to facilitate the exercise.
The purpose, according to Pam Sanderson, United Way volunteer center coordinator, is to educate citizens about how our community will respond to disaster and what challenges vulnerable people will face.
Education is a key component of all the service projects today. Volunteers will learn about the helping organizations and their clients while also working to meet immediate needs.
"It's a challenge to find meaningful projects for so many volunteers," Burton admitted. United Way staff started working with local nonprofit agencies last spring to line up volunteer projects that can be done in an afternoon. As a result, the 2016 Day of Caring has 100 more volunteers that last year's event.
Among the Day of Caring beneficiaries are:
Adult Resource Alliance and Big Sky Senior Services, which have arranged for seniors' yards to be spruced up in Billings and Laurel.
Boys & Girls Club of Yellowstone County, which will get clubhouses cleaned on Orchard Lane and in Lockwood.
Habitat for Humanity will get help on house construction.
The Mental Health Center, whose group home will be painted inside.
St. Vincent de Paul Society, which will have help setting up, cooking and serving barbecue for 100 people.
Family Tree Center, which will get help making decorations for its December Festival of Trees fundraiser.
Montana Rescue Mission, which will have deep cleaning and painting of its men's dorm.
High Sierra Park, which will have rutted land restored and seeded for the new disc golf course.
Other volunteers will serve lunch to the entire Day of Caring group at the Shrine Auditorium.
Day of Caring is the kickoff to United Way's annual fundraising drive. It also highlights the fact that United Way does more than raise money for local charities. It works year-round to educate citizens, to recruit and place volunteers, and offers advice on management, finance and governance to nonprofits that seek such help.
This is what community means: Coming together to make life better for our neighbors. Good work, Day of Caring volunteers. Share your experiences with friends, family and coworkers to keep this spirit of service growing in Yellowstone County.