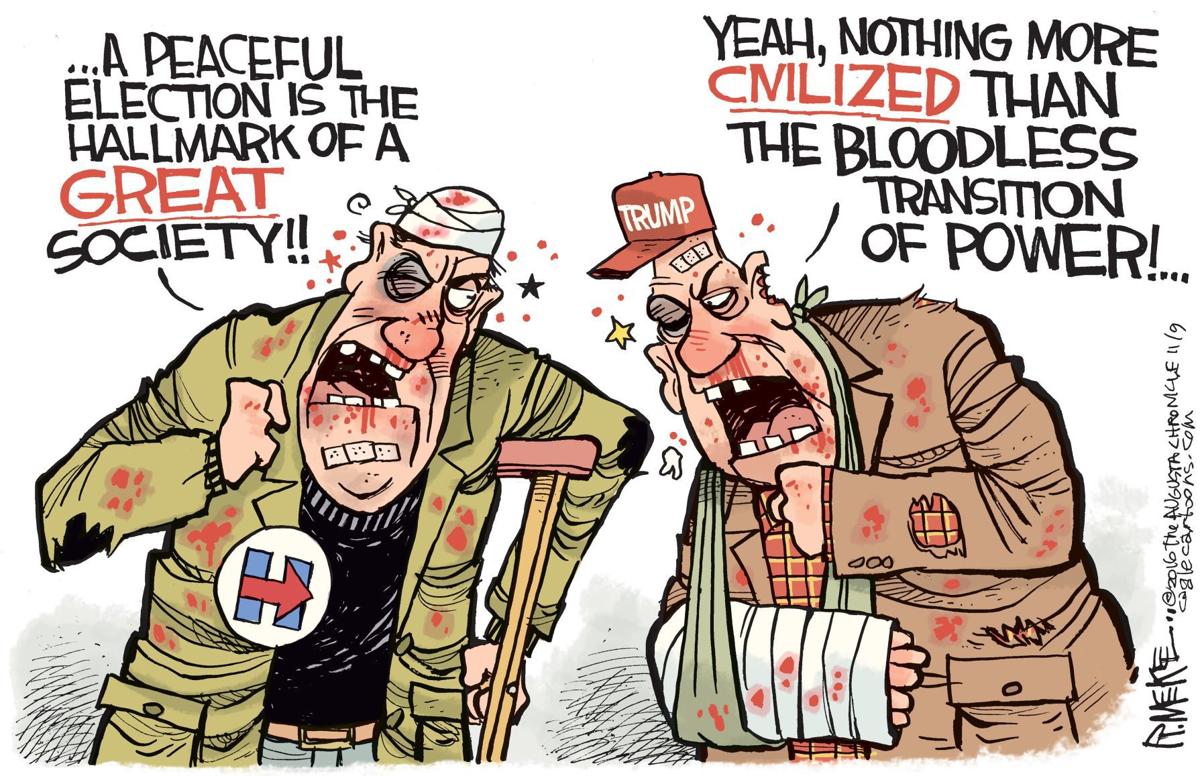 Montana gave Donald Trump its three electoral votes toward his White House win, and favored Republicans in every statewide race, except governor.
Once again, Montanans elected Steve Bullock as governor and a majority of Republicans to the Legislature. Bullock's margin of victory over Republican Greg Gianforte was 12,167 votes, according to unofficial results from the Montana Secretary of State's office Wednesday morning.
Results in other statewide offices weren't so close. Republican Attorney General Tim Fox coasted easily to a second term, defeating Democrat Larry Jent of Bozeman. State Sen. Matt Rosendale, of Glendive, defeated Helena-Anaconda Democrat Jesse Laslovich in the state auditor's race. Corey Stapleton of Billings defeated State Auditor Monica Lindeen for secretary of state. State Sen. Elsie Arntzen, of Billings, won the superintendent of public instruction race over Melissa Romano of Helena.
In Yellowstone County, a Republican stronghold where nearly 68,000 ballots were cast, Gianforte won by less than a percentage point. Zinke, Stapleton, Fox and Rosendale led their Democratic opponents by 10 to 47 percentage points. Without a big lead in Yellowstone County, Gianforte didn't garner enough votes elsewhere to unseat Bullock.
You have free articles remaining.
Tuesday wasn't a winning day for women in Montana's statewide races. Arntzen was the only woman elected, and she defeated another woman. Ryan Zinke won a second term in the U.S. House by a double-digit margin against superintendent of public instruction Denise Juneau.
In the only contested Supreme Court race, District Judge Dirk Sandefur defeated Kristen Juras. Chief Justice Mike McGrath and Justice Jim Shea were retained for another eight-year term.
Montana voters continued splitting power between a Democratic governor and a Republican-majority Legislature. Bullock will have to work closely with Republicans to get any legislation passed — as he did for the past two sessions. Republican lawmakers won't have free rein to pass anything, because Bullock will have veto power that he has previously used to stop numerous bad bills and a few good ones.
Like the U.S. presidential race, Montana campaigns flooded the airwaves, mailboxes and social media with negative ads. Millions poured in from independent spenders, much of it from out-of-state donors attempting to influence our votes. After bruising campaign fights, it's time to focus on the business of government.
We congratulate all of Montana's newly elected and re-elected public servants. Now the hard part begins: preparing to take office, transitioning leadership of state auditor, secretary of state and school superintendent offices, and learning the rules and procedures of the Legislature. That all needs to happen before the new terms start in January.