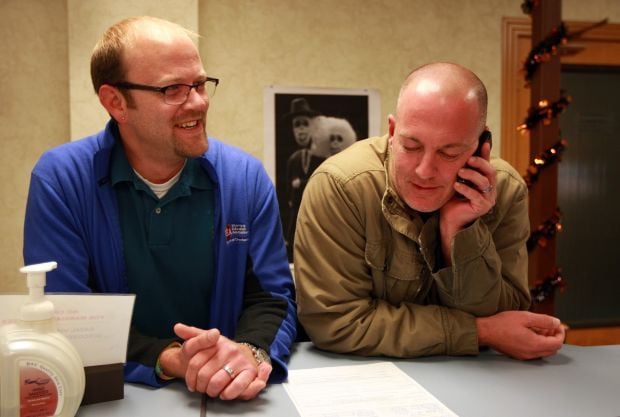 "Marriage is a personal relationship between a man and a woman arising out of a civil contract to which the consent of the parties is essential."
That's how Montana law defines marriage. Idaho law, which uses virtually the same definition, has been found unconstitutional by a U.S. District Court.
Earlier this month, a three-judge panel of the U.S. Ninth Circuit Court of Appeals upheld that Idaho ruling, along with a similar decision in Nevada. The appeals court said the states' restrictions on same-sex marriage are in violation of the Equal Protection Clause of the U.S. Constitution.
A week before the Ninth Circuit decision, the U.S. Supreme Court let stand decisions in other circuits, so marriage between two adults of the same sex became legal in 30 states. As of Tuesday, gay and lesbian couples can legally marry in Wyoming where state Attorney General Peter Michael did not appeal a U.S. District Court decision from last week.
Montana's ban on same-sex marriage cannot stand. As part of the Ninth Circuit, the U.S. District Courts in Montana are bound by the Idaho-Nevada precedent.
In Great Falls, three same-sex couples who are legally married in other states, sued to have their marriages recognized by the state of Montana. Two women sued for the right to marry in Montana after being denied a marriage license in Cascade County.
It's inevitable that this Montana law will be invalidated.
And that is a good thing. By recognizing marriage of gay or lesbian couples, the state of Montana will encourage them to make commitments to stable, responsible lifetime relationships. By legalizing such unions, the state would confer equal rights on same-sex couples, such as joint income tax filing, and making medical decisions as next of kin.
It's important to understand that the same-sex marriage lawsuits are challenging what government can do, not what churches or clergy do. The state cannot discriminate, but religious groups are free to choose who they allow to marry within their faith.
The Ninth Circuit rejected arguments that legalizing same-sex marriages would discourage heterosexuals from marrying. The court noted that in Massachusetts, where same-sex marriage has been legal for 10 years, there has been neither a decrease in marriage rates nor increase in divorce rates.
In a friend of the court brief in the Nevada case, attorneys general in several states, including Montana's Tim Fox, argued that the purpose of state marriage laws is to protect and encourage procreation and raising children in the family.
But this argument that traditional marriage can be preferred by the state to the exclusion of same-sex couples has been rejected by federal courts. The states that ban same-sex couples from marrying allow opposite-sex couples to marry, regardless of whether than are capable of producing babies or planning to have children. On the other hand, many same-sex couples are parents raising children.
Nov. 20 Great Falls hearing
U.S. District Judge Brian Morris has scheduled a hearing for Nov. 20 in Great Falls on a motion for summary judgment that the Montana law violates the Equal Protection Clause and discriminates on the basis of sexual orientation.
Morris will be on solid legal ground in ruling for the same-sex couples. Attorney General Fox, who has defended the Montana law, must recognize that dragging out this case is pointless. He should take a cue from his Wyoming counterpart.
Montana has a long history of rejecting gay and lesbian people. Many young people leave our state for that reason and move elsewhere to find acceptance and fulfilling careers. It's time for Montana to welcome these folks and accept them for who they are.
Let Montanans marry the one they love.