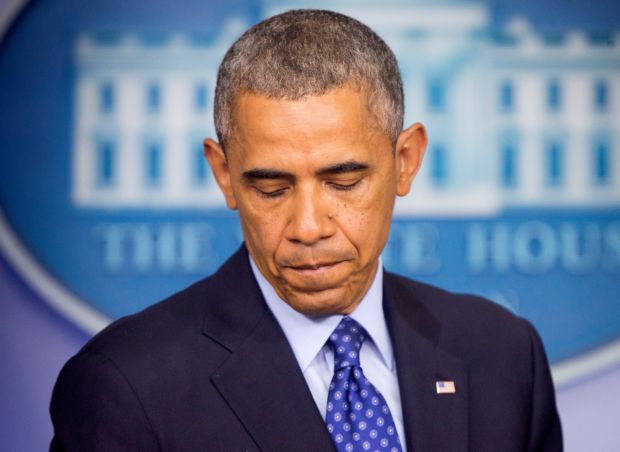 Sometimes, you have to admit you're wrong.
We said that things couldn't get much worse after the sub par presidency of George W. Bush.
But, President Barack Obama's administration has us yearning for the good ol' days when we were at least winning battles in Iraq.
The latest NBC/Wall Street Journal polls show that Americans are giving Obama lower marks than in 2006 when Iraq was going poorly for Bush and a tepid response to Hurricane Katrina sunk Bush's ratings.
It's not that popularity polling should be the final or even best measure of a president. There is that old saw that points out there's a difference between doing what is right and what is popular.
For us, though, it's the number of bungled or blown policies in the Obama administration which lead us to believe Obama has earned every bit of an abysmal approval rating.
Let's recap some of the mistakes:
- Maybe the worst and most widespread invasion of privacy occurred when the Obama administration continued a controversial National Security Agency program of spying on millions of citizens culling their phone records to intercepting online information. The administration has done nearly nothing to safeguard civil liberties or put in safeguards to protect our Constitutionally guaranteed freedoms.
- The Obama administration has continued to ratchet down on emissions from coal-fired power plants while giving consumers little new innovation to replace the power supply. Meanwhile, Obama continues to thwart other energy projects that might be helpful to the economy, like the Keystone XL pipeline. The war on carbon might not be so bad if indeed it was being counterbalanced by true innovation.
- Iraq was an inherited quagmire from the Bush administration. But six years later, Obama has to own the current situation which, as this is being written, looks perilously close to civil war and a complete breakdown of government in Iraq. If that were to happen, the sacrifice of thousands of Americans' lives would be cheapened, if not in vain. His handling the situation seems uncertain and we can't help but wonder if the same type of inaction will lead to a civil war similar to Syria's?
- The Bowe Bergdahl situation is an example of right instinct, completely wrong handling of a prisoner exchange. The Obama administration should be lauded for not wanting to leave any American solider behind. But, surprising Congress, trading possible terrorists and not doing enough to vet the background of Bergdahl had the net effect of looking incompetent. What should have been an easy public relations victory for bringing a lost soldier home turned into a public relations nightmare, and continued to erode public confidence, leading some to wonder if Obama's team can't even get something as important as bringing home a captive soldier correct, what can it be successful at?
- The VA scandal showed that wait times for veterans access to health care was so bad that some veterans actually died before they could get the medical care they were entitled to. While the VA system was not invented by the Obama administration, after six years of management, it's clear that problems were not be corrected quickly enough and that our nation was not living up to the promise it made to take care of soldiers. The most recent debacle led to the sacking of retired Gen. Eric Shinseki, but it was another black eye for the administration which appeared to look incompetent when it comes to taking care of wounded, or in-need veterans.
- Speaking of health care, Obama had also pledged that his administration would embrace new stem cell technology, and part of the hope and change we heard so much about would happen as lives improved through medical innovation. But as his presidency has continued, we see little evidence that Obama is pushing for new cures, science or solutions when it comes to medical problems.
- For years now, reports by watchdog organizations and journalists that have shown despite Obama's promises of being more transparent, his administration has actually cracked down on journalists, spied on citizens and retaliated against those who leak information to the press. In fact, the Obama administration has become so opaque and difficult that it has earned the reputation of being far worse than Nixon, the disgraced president whose terrible clampdown of information led to federal law being changed for more transparency.
- Finally, Obamacare has become synonymous with boondoggle. To be fair, there has not been enough time to judge whether the comprehensive health care reform program works, but one thing is certain: The public presentation and roll-out of the program was so riddled with technical glitches and problems, it greatly undermined the public's confidence in the system.
These are all signs — none of them definitive on their own, necessarily. However, when taken in completely, these demonstrate a disturbing trend of incompetence and failure. It's not just that Americans are in a sour mood about national politics. That's probably part of it. Instead, Obama has become another in a line of presidents long on rhetoric and hopelessly short on action.
Obama's hope and change have left liberals and conservatives alike hoping for real change, not just more lofty rhetoric.
Catch the latest in Opinion
Get opinion pieces, letters and editorials sent directly to your inbox weekly!