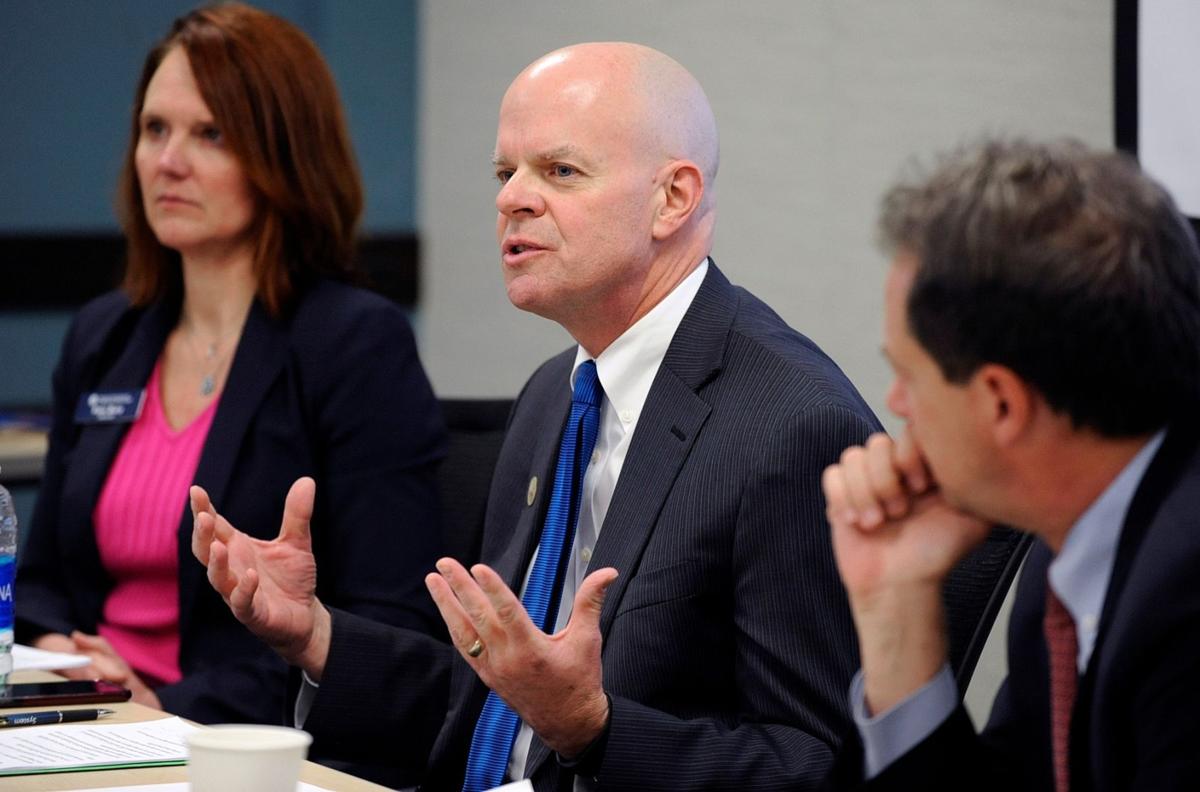 When Gov. Steve Bullock invited two dozen Billings educators and health care leaders to a workforce development discussion Monday, he heard about a crisis in Montana's biggest medical community.
Executives told Bullock that there are 500 current job openings between Billings Clinic, St. Vincent Healthcare, St. John's Lutheran Ministries and RiverStone Health.
"The supply of people is actually shrinking," said John Felton, RiverStone CEO.
Health care already is Montana's biggest employment sector. The Montana Department of Labor and Industry projects that health care will create 1,300 new jobs in Montana every year for the next decade, Commissioner of Labor Pam Bucy said.
Where will those workers come from?
Some will have to be recruited from out of state, but most will need to be home grown.
Billings health care organizations have long supported workforce development and education. St. John's trains more certified nursing assistants than any other organization in Montana. RiverStone is home to the state's oldest and largest medical residency. Billings Clinic has established a residency for internal medicine doctors. St. Vincent trains pharmacy technicians. All of these local, nonprofit health care organizations have students training in their facilities to become nurses, therapists, technicians, doctors, physician assistants and other health care professionals.
But it's a struggle to recruit and retain highly trained professionals. It's hard to recruit entry-level workers for clerical, housekeeping and food services, Billings health care leaders told Bullock.
John Cech, deputy commissioner for two-year higher education, pointed out that the Montana University System increased student completions of health care programs dramatically between 2002 and 2015: Students earning bachelor's degrees in nursing and other health fields grew 48 percent while associate degrees earned rose by 117 percent. Additionally, the number of health care training certificates increased 166 percent during those same years.
The increase in health care grads is no accident. A statewide consortium of 200 employers, 15 nursing programs and the Montana Department of Labor and Industry formed to create better educational pathways for associate-degree RNs. One result is an update of university nursing curricula, so that the time it takes to complete the LPN or associate degree RN programs will be decreased by one semester while upgrading the quality of learning. Cech said the new curricula will be introduced to the classes starting with LPN and associate RN programs this fall semester.
Recently, the Montana Department of Labor and Industry has partnered with health care employers to set up apprenticeship programs for training some aides and techs. The health care worker shortage will require additional solutions.
It's a community problem, not a health care problem. Darren Walker, St. Vincent Healthcare vice president for human resources, hears from job candidates that Billings lacks the infrastructure they expect. They have concerns about their children not being able to attend a school in their neighborhood and they worry about the crime rate in a city that voted against hiring more police officers.
"We're going to have to be a very attractive state and community for people to want to come here," said Melanie Schwarz, who leads the BillingsWorks project of Big Sky Economic Development. The entire nation is facing a health worker shortage.
Now that the crisis is upon us, state and local leaders must work together. This isn't a partisan issue. It's not a Billings issue, or a rural issue.
Education funding must be adequate to accommodate student demand and state needs. These programs must be affordable for average- and low-income Montanans. University units must be able to provide competitive salaries to attract and retain enough well-qualified instructors.
All of us must take a hard look at the place we call home and ask ourselves if it's a place our children and out-of-state professionals will want to live. People come to Montana seeking an active lifestyle, good schools for their kids and opportunities for career advancement.
Montanans must invest in their state and communities now to ensure a healthy future workforce.