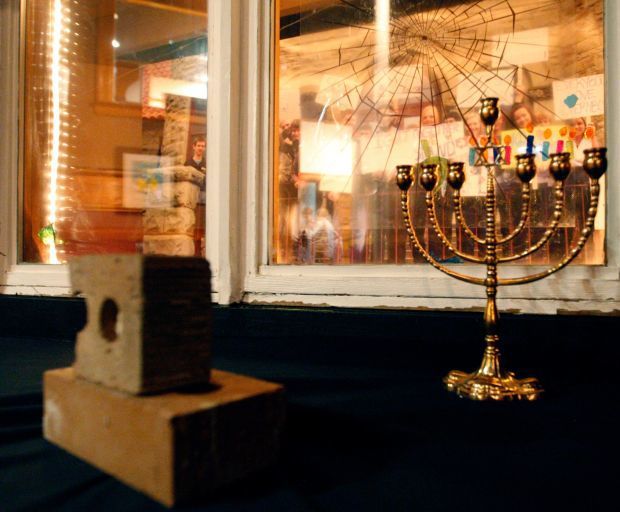 Ugly, hateful things stirred in Billings during 1993.
In January, Ku Klux Klan fliers slurring Jews and gays appeared on windshields.
In March, a gang of youths, including at least one skinhead, beat a 14-year-old minority youth with a baseball bat.
The Community Coalition to Oppose Hate Groups formed to help neighbors stand together against vandalism, threats and discrimination. Sarah Anthony chaired the commission. Chuck Tooley, then a City Council member, Wayne Inman, who was police chief, Margie MacDonald, then executive director of the Montana Association of Churches, Tammie Schnitzer and Dr. Brian Schnitzer were among the leaders of the anti-hate response.
In May, the coalition organized a rally "Stand Together Billings," which drew 450 people to Rocky Mountain College.
During the summer, threats were received by the pastor of Wayman African Methodist Church. A Native America family's house was defaced with spray-painted swastikas, obscenities and the words "Die Indian."
In September, 19 tombstones were overturned at Beth Aaron Cemetery. Several days later, a bomb threat against the synagogue was phoned into a Billings TV station.
Then on Dec. 2, 1993, a piece of cinder block was thrown through the bedroom window of 5-year-old Isaac Schnitzer. His mother had painted the window with colorful Hanukah symbols, including a menorah. The vandalism covered the child's bed with broken glass. Fortunately, Isaac wasn't in his room, but the vandal had no way of knowing that.
The attack galvanized community action. MacDonald suggested that churches ask their members to display menorahs. Gary Svee, then Gazette opinion editor, wrote an editorial encouraging readers to display menorahs. Gazette reporter Donna Healy and desk editor David Crisp each suggested to Wayne Schile, then the Gazette publisher, that the newspaper print a menorah. After the full-page picture of a menorah was printed, thousands of copies appeared in windows all over our city.
Hate mongers struck back, throwing bricks through church windows displaying menorahs. One night as Billings Central Catholic High School's marquee read: "Happy Hanukah to our Jewish Friends," bricks and bullets shattered several school windows.
On the West End, Rick Smith, manager of Universal Athletics, posted another message on the store marquee: "Not in our town. No hate. No violence. Peace on Earth."
That message spread across the city as Billings stood together. The hate mongers faded away.
"Not in our town" traveled throughout the nation as people heard about Billings, the menorahs and the community that said "no" to hate.
This powerful story is bringing community leaders, public safety experts and award-winning filmmakers to Billings this week for a national Not In Our Town conference. What happened in Billings 20 years ago has inspired a Not In Our Town movement that has helped other cities overcome threats from hate and discrimination.
One of the organization's new initiatives will recognize Not In Our Town Gold Star Cities. The gold star would certify cities that take steps to prevent hate, intolerance and bullying and promote diverse participation in civic life.
While our City Council considers a proposed non-discrimination ordinance, let us consider whether Billings today will be a Not in Our Town Gold Star city.
We welcome Not In Our Town conference participants to Billings. We are pleased to share the Billings stories from long ago. We call on Billings citizens to again come together to make our hometown a safe, welcoming city that accepts diversity, but not discrimination.