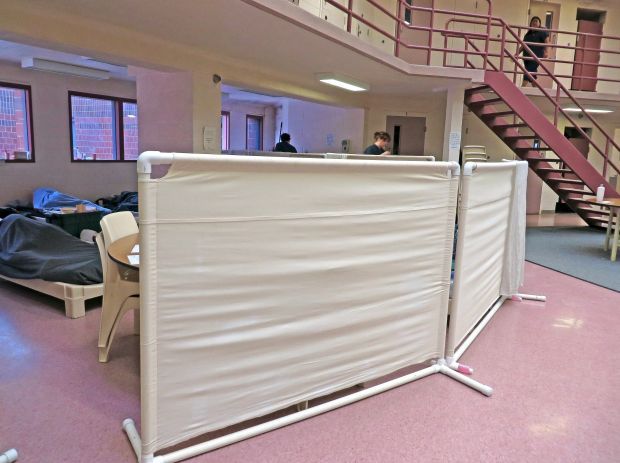 On Monday morning, the Yellowstone County jail held about 490 inmates, according to Sheriff's Capt. Sam Bofto.
The total included 85 women, 21 of whom didn't have a cell. Instead they were in an open space in the dayroom, partially curtained by shoulder-high canvas screens. Most of the other women were housed two per cell in cells built for one person.
Who are these 85 women, crowded together in a space designed for a maximum of 38 inmates? Most are nonviolent offenders who have failed repeatedly to take responsibility when courts previously gave them breaks. Records indicate the majority are involved with substance abuse.
According to public records, most of the women sleeping on day room cots were being held for felony parole violations or for failing to show up in court on multiple misdemeanor offenses. One jumped bail, one was accused of a fourth DUI offense and one was being held on $100,000 bond in connection with six burglary charges. Seven of the women on cots were being held for the Montana Department of Corrections on probation or parole violations.
At least nine of the women in cells were federal prisoners. Few of the 85 women were being held for violent crimes. However, two women were incarcerated on deliberate homicide charges, one other was accused of sexual abuse of children and one was held for felony partner or family member assault.
A week earlier, the jail set a record high with 101 female inmates. On Jan. 18, the Monday holiday for Martin Luther King Jr., the overall jail population hit a new, all-time high of 514 inmates for several hours, Linder said. Last October, the jail topped 500 inmates for the first time.
Remember: The jail was built to hold 286 inmates, it now has about 500. The women's unit was designed for 38; it now holds more than double its capacity.
Options on Feb. 9 agenda
The jail doesn't provide female inmates as much space, privacy and security as it provides males. Overcrowded conditions make work harder for the detention staff. Staff shortages and lots of overtime take additional tolls. Despite offering competitive salaries, the jail sees a lot of turnover.
The crowding problems have worsened since last June when Yellowstone County voters turned down a proposed 6-mill permanent levy that would have helped to fund construction of a $7 million women's unit, perform major maintenance on the 28-year-old jail and hire a few more detention officer.
Recognizing the need for new ideas, Sheriff Mike Linder and County Finance Director Kevan Bryan last week asked county commissioners to build a new $10 million, 148-cell women's unit. Bryan and Linder outlined several options that call for borrowing money and spending county funds, but no options that require asking taxpayers for more money, Bryan said. If the county borrows, it may be able to cover some debt service with revenues from housing state, federal and out-of-county prisoners.
The commissioners directed Bryan to present more detailed plans at the Feb. 9 board meeting.
Like the commissioners, we are interested in hearing more. Neither the commissioners nor other county residents are excited about spending money on the jail, but most recognize that maintaining a safe, secure jail is in the public interest. The jail must be secure for the community and safe for the people who are detained, as well as safe for the detention staff.
Land purchase planned
Meanwhile, the commission decided (with John Ostlund and Jim Reno in favor and Bill Kennedy opposed) to purchase 1.49 acres of land at 3150 King Ave. E across from the jail. The land, which appraised for $265,000, could be used for overflow parking.
There are good arguments both for and against buying that land. As Kennedy pointed out: The county already owns property that it isn't using in the 3300 and 3400 blocks of King Avenue East.
Reno said he supported the land purchase because Linder asked for it. Ostlund called it a good opportunity to help meet future jail needs.
Right now the jail doesn't even have cell space to meet present needs. The roof and other major systems are reaching the end of their useful life after decades of patches. Expanding interior space is at least as important as more parking space.
Catch the latest in Opinion
Get opinion pieces, letters and editorials sent directly to your inbox weekly!