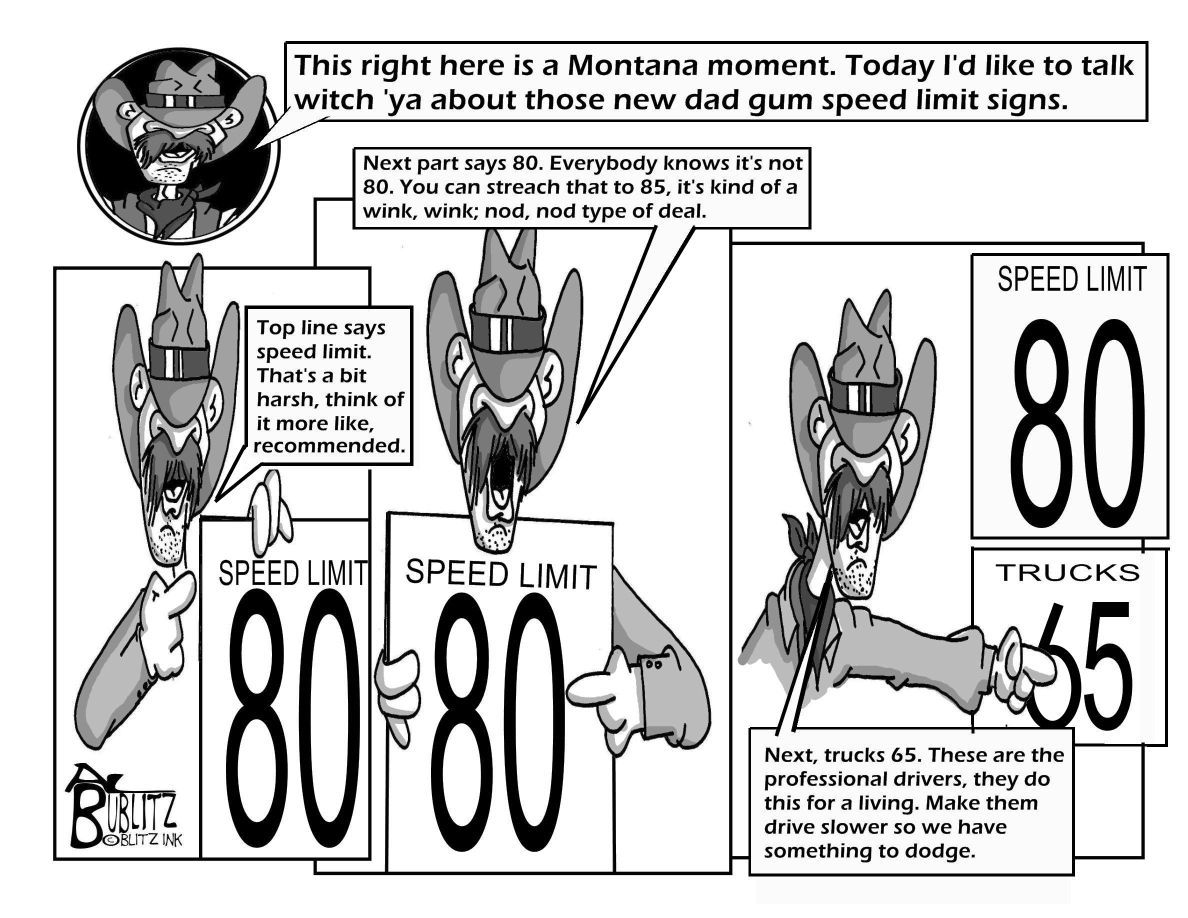 So far this year, 179 people have died in Montana highway crashes — 19 more deaths than recorded at this point last year. Thirty-two of this year's traffic deaths occurred in the Billlings Highway Patrol District, the heaviest toll among the eight districts.
Montana was headed for a worse traffic crash toll in 2015 even before a new state law allowed the speed limit to go to 80 mph on some stretches of interstate highway.
Speed kills
Excessive speed has been involved in a growing number of fatal crashes. Speed was reported to be a factor in 65 traffic deaths this year, an increase of 54 percent over 2014, according to preliminary Montana Highway Patrol data.
Fatal crashes occur on Montana's interstate highways but are more frequent on two-lane roads. This year, all of the increase in traffic deaths happened on those two-lane roads outside of urban areas. The urban deaths total is eight so far, and only one happened in Billings. Last year, the city reported five fatalities. In the Billings district, which includes Yellowstone and surrounding counties, the number of interstate highway deaths actually decreased.
Unfortunately, those decreases were more than offset by increase in deaths on primary, secondary and rural roads.
The 2015 Montana Legislature passed the bill to raise interstate speed limits to 80 mph, directing the Montana Department of Transportation to certify which stretches of interstates could handle the increased speeds. All but 140 of 1,192 miles can. Interstate highways in the Billings area are now all signed for 80 mph, except through the city of Billings, where the limit remains 65 mph.
Even before the change, many Montana motorists drove 80 mph. The conventional wisdom has been that officers usually don't write tickets for violations of less than 10 mph over the limit. So on a 75- mph stretch, drivers would expect to avoid speeding tickets so long as they kept the speedometer under 85.
Don't expect officer discretion will allow 90 mph now.
Asked how troopers will react to drivers going 85 in an 80 mph zone, MHP Chief Tom Butler told The Missoulian: "I'm going to stick to my quote that I've been telling everybody. The sign says 80 mph. You might get to visit with one of our friendly troopers if you go faster than that."
"I can't imagine that any of us focused on safety would not address 90 mph," Capt. Keith Edgell of the Billings MHP District told The Gazette. "The faster you go, the more horrific these crashes go."
"The 10 mph tolerance just got reduced by 5 mph," Edgell said.
Click it or die
Neither speed nor intoxicated drivers factor into as many Montana fatalities as lack of seat belt use. Wearing seat belts properly and on every trip would prevent more injuries and deaths than any other change in Montanans' driving habits.
Eighty percent of the vehicle occupants who died this year weren't wearing seat belts. Among 146 fatally injured motorists, 117 were unbelted at the time of crash. (Those numbers don't include the deaths of 21 motorcyclists, 11 pedestrians and one bicyclist.)
The most common scenario for a fatal crash, according to Edgell, is a single-vehicle rollover with the occupants ejected.
Don't be ejected, buckle up.
Catch the latest in Opinion
Get opinion pieces, letters and editorials sent directly to your inbox weekly!