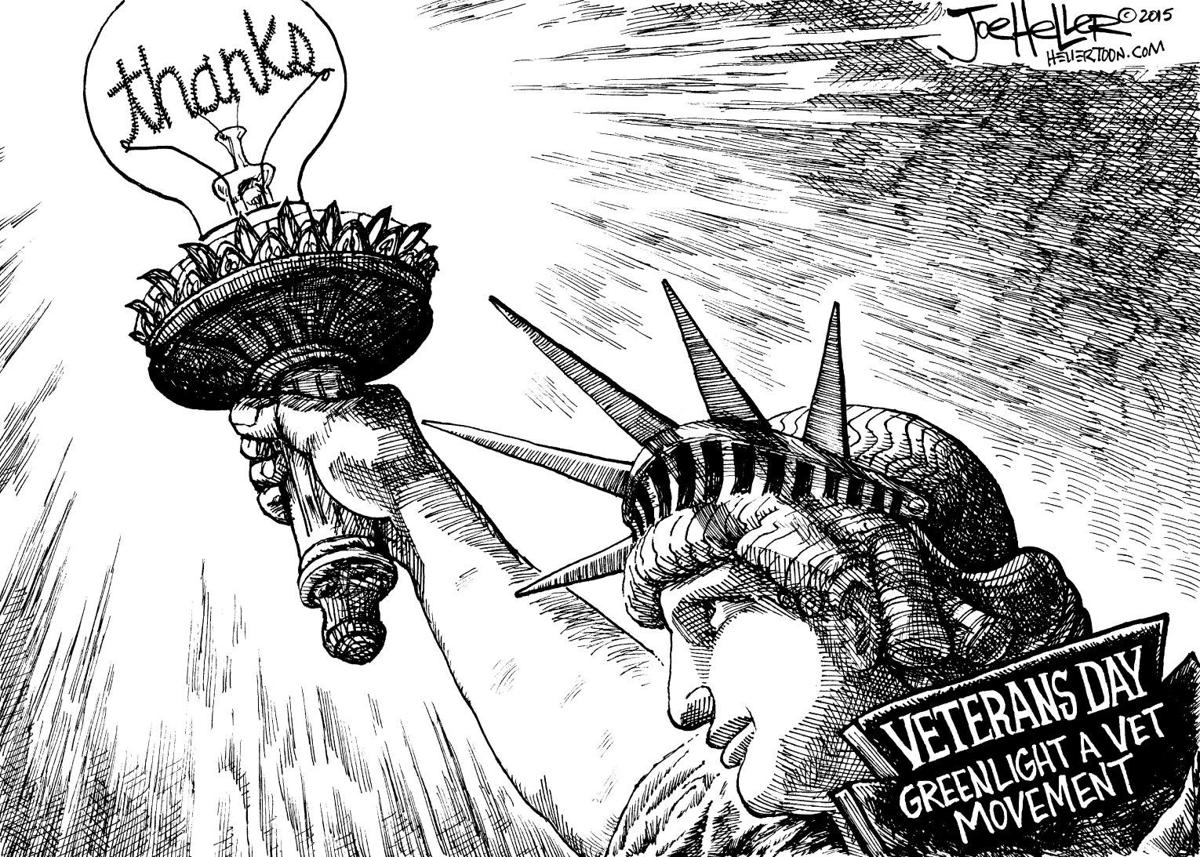 On Veterans Day 2015, the schedule of ceremonies reminds us that celebrating U.S. veterans is a longstanding, year-round tradition in our region.
At 10:30 a.m. today, an indoor celebration of veterans begins in Rimrock Auto Arena at MetraPark. The public event is organized by Friends of the Yellowstone National Cemetery and the United Veterans Council.
Voters for veterans
Yellowstone County is home to a beautiful national cemetery because local people worked hard for it over many years. Yellowstone County voters agreed to tax themselves to cover cemetery development expenses. Veterans and local government leaders lobbied to make the county veterans cemetery a U.S. cemetery for the additional benefits that would provide to veterans and their families. A change in federal law, promoted by U.S. Sen. Jon Tester, directly led to the designation of the Yellowstone Veterans Cemetery, which is a tremendous source of pride for our community.
Friday from 1:30 to 3 p.m., Volunteers of America will host an open house and Independence Hall, 710 Lake Elmo Drive. This supportive residence for veterans in recovery was established with public and private efforts and is sustained with funding from both the U.S. Department of Veterans Affairs and volunteer/donor support.
Montana Purple Hearts
At 2 p.m., the Montana Purple Heart Memorial on the Yellowstone County Courthouse lawn will be rededicated with the addition of the names of more Montanans whose combat injuries merited the Purple Heart. The Purple Heart Memorial was created with the dedication of Montana veterans and other volunteers who wanted to see all Purple Heart recipients appropriately honored.
You have free articles remaining.
Beyond today's special events, folks in our region remember veterans in many ways. Gazette readers this week heard about Dog Tag Buddies, the brainchild of a Shepherd family whose experience with their wounded warrior demonstrated the healing power of canine companionship. So, DeeDe Baker and her daughter, Kati, are starting a nonprofit organization to train rescue dogs as companions to veterans. The aim of Dog Tag Buddies will be to cover costs of adoption and 10 weeks of dog training, and to provide the canines at no charge to veterans. To learn more, check the Dog Tag Buddies Facebook page or email dogtagbuddies@gmail.com.
Roberts remembers
In Roberts, residents gathered Saturday with Gov. Steve Bullock and Montanan's adjutant general, Maj. Gen. Matthew T. Quinn, to honor local veterans. Roberts folks placed 44 homemade dog tag markers along the Beartooth Highway to celebrate living veterans and those presently on active duty, and 73 crosses to honor deceased Roberts veterans.
Huntley students started Pass the Hat last school year to raise money to help veterans. The campaign evolved into Pass the Helmet, which Rocky Mountain College students recently used at a football game to raise money that Volunteers of America will use for Montana veterans services.
On Saturday, U.S. military veterans were among the honored guests at Skyview High School for the annual powwow organized by School District 2.
These community efforts don't solve all the problems of U.S. veterans. But veterans should know there is welcome and appreciation for their service here in Montana.
The Gazette invites readers to learn about Vietnam veterans from their own words in Vietnam Voices, a special 24-page section published today. Also in today's Gazette, friends and family are publicly honoring their loved ones who served in various wars in a Salute to Veterans section.
The Gazette salutes U.S. veterans today, wherever you are, whenever you served. Thank you.