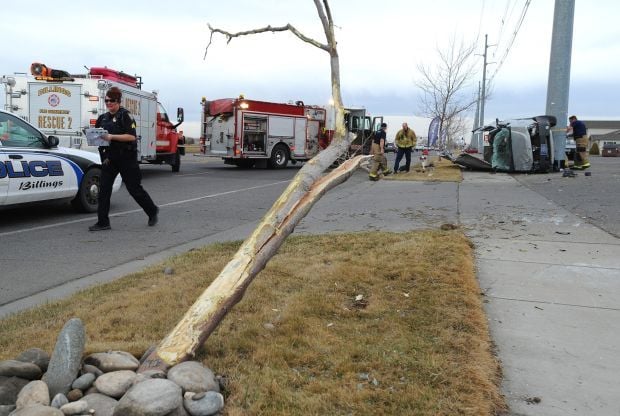 What's the connection between the Billings City Charter voters approved in 1976 and the city having zero police officers assigned to traffic enforcement in 2015?
About 50 people who attended a Tuesday forum at the Billings Public Library learned about the link between our self-governing document and Billing Police Department services.
A string of pedestrian accidents involving students over the past two months got more Billings folks thinking about traffic safety.
75 city crashes
Billings Police Department logged 27 motor vehicle-pedestrian accidents between Jan. 1 and Oct. 20., In that same period, police received reports of 24 motor vehicle-bicycle crashes and 24 crashes involving multiple vehicles slowing or stopping for a pedestrian or bicyclist. Those incidents have occurred all over the city.
Sadly, it took serious injury to children to bring public attention to safety problems that have been increasing as the city has grown faster than law enforcement resources. Proactive traffic patrols are important. The aim is to stop dangerous, illegal behavior before anybody gets hurt.
Billings used to have two officers assigned to traffic enforcement full time. Now there are none.
With demand for police patrol and detective services increasing, a hiring freeze imposed after the November 2014 public safety levy failed, uncertainty about state reappraisal, numerous recent retirements and resignations, the BPD is below its authorized strength of 141 sworn officers.
You have free articles remaining.
Police Chief Rich St. John said Wednesday that he expects to make several job offers soon. But considering the time it takes to train new officers, the limited number of slots at the Montana Law Enforcement Academy and the limited number of Billings training officers, it will take months to get the department back up to the number of officers the city budget has allowed for the past several years.
Meanwhile, the priority is regular patrols and emergency response. So St. John transferred the traffic officers to patrol duty. School resource officers, the public relations officer and the grant-funded domestic violence prevention officer all are pulling some patrol shifts.
The city should have enough officers to restore the traffic patrols by next summer at the latest, St. John said. By then, the BPD should be training another group of new recruits to fill several additional slots. The City Council should authorize the hiring of additional officers and emergency dispatchers when a public safety spending amendment is considered at the Nov. 23 session.
Voters control levy limit
What does this have do with the City Charter?
The charter limits the city to levying no more than 74 mills annually in property taxes. In every Montana county and every other Montana city (except for tiny Sunburst), elected local government leaders are permitted by state law to increase levies by a small, state-determined inflation factor annually. Larger increases require a vote of the people.
In Billings, the number of mills levied can't increase at all -- unless voters approve. So the city has asked the voters for levies dedicated to public safety. When the voters say "no," as the majority did last fall, the city has no alternative for raising public safety revenue.
Maintaining current police and fire staffing this year will require spending about $1 million in general fund reserves. On Nov. 23, the council will consider spending additional reserves to hire a several more sorely needed public safety professionals.
Drivers, pedestrians, bicyclists and skateboarders also have personal responsibility to make our streets safer. Pay attention, look in all directions before crossing streets and follow traffic regulations. Billings Trailnet, the city Public Works Department and School District 2 are collaborating on "Take the Hi Road," a program to educate the community about road etiquette. All Billings citizens should Take the Hi Road.